Erica Buettner is making a brief visit to these shore and will be appearing at Rough Trade West on Saturday 6 April at 5:00pm and The Slaughtered Lamb in Clerkenwell on Monday 8 April 2013.
Her debut album has been a long time in the making. As a 19 year old she swapped New England for Paris France, there she studied the language and literature. She also seems to have lived life lightly, constantly on the move around the city, exploring some of its secrets, moving though the districts, picking up jobs here and there to pay her way. Each time she moved, she left most of her possessions behind and explaining this she quotes Goethe "I am a voluntary exile, a wanderer by design, unwise with a purpose, everywhere a stranger and everywhere at home, letting my life run its course where it will, rather than trying to guide it, since, in any case, I don't know where it will lead me."
Through this time in France her reputation as a singer on the acoustic circuit grew and the years were spent composing the lyrical songs that were to become the debut. Having caught the ear of producer Pierre Faa, which set up an impromptu recording session, a collaboration was forged that took two more years to create the unique soundscapes of True Love And Water.
I managed to get Erica to offer a more detailed explanation of how her music has grown.
"I lived in Paris for several years, but there was a year right in the middle when I went home and lived in rural Connecticut while I finished up my degree.  My apartment was in the basement of a farmhouse, and I was completely isolated, literally buried in snow, reading and writing non-stop.  That year was marked by a lot of introverted reflection, and immediately afterwards my return to Paris introduced a more creative, communal spirit into my life.  It was in the crux of these contrasts that I started writing the songs on True Love and Water.
"Back in Paris, I spent most days alone with my guitar, and at night, I had a lot of ex-pat friends and a group of musicians I would play with.  We crammed instruments into tiny spaces, rehearsed at home and drove neighbors absolutely crazy.  Cello, banjo, accordion, guitar and clarinet – on the 4th floor of a Parisian apartment building with paper thin walls!
"Lyrics were important, because the same community was also made up of writers, and the place to try new songs in front of an audience was a spoken word poetry night. To put on concerts, we'd rent out a hole in the wall little theater every few months in Montmartre.  The theater didn't have a name, but somewhere inside there was a sign that said "Le Perroquet Bleu", so that's what we called it.  People brought their own bottles of wine, and we would all hang around and socialize after concerts."
[stextbox id="black" caption="GIG DATES"]Saturday 6 April at 5.00pm. ERICA BUETTNER
Rough Trade West – an in-store performance. Full details
Monday 8 April 2013 ERICA BUETTNER
The Slaughtered Lamb, 34-35 Great Sutton St, Clerkenwell, LONDON EC1V 0DX. Full Details[/stextbox]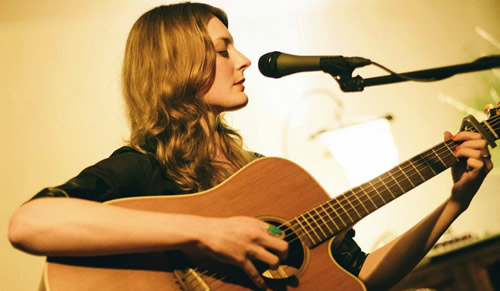 A longer version of my review that first appeared in Properganda magazine follows.
Erica Buettner – True Love And Water (Peppermoon Music)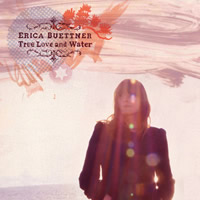 My first encounter with Erica's music was the title track from True Love And Water, a retelling of the Jack & Jill nursery rhyme, so clever that I found myself temporarily adrift of my moorings. Such a simple idea so perfectly realised, with the weight of a female Leonard Cohen wrought though the tune and dancing finger picking of the guitar strings, interlaced with a gossamer beauty as fragile and electrifying as a gentle caress.
It proves not to be an isolated moment as this CD beguiles from start to finish. You think at first the songs are fairly simply set, with Erica's guitar or banjo as the principal accompaniment, but there are embellishments that add a woozy reverie. It's there right from the start with the wheeze of an accordion offering up the Parisian streets, but as Time Travelling unfolds, a bass line plots a ponderous course, while musically the instruments slip in and out of focus. On the edge of perception a kind of clockwork logic takes hold, but the song emerging from the speakers seem to create a vortex and you find yourself spiralling into the mix.
Under The Radar starts with a banjo, but the cavernous echo and the way the notes bounce between the speakers heralds another steadily building, unique and vaguely disorienting soundscape. It seems to liberate the melody that Erica sings, which in another life might have been a big pop hit for some glamorous 60's chanteuse. The tune floats lightly on top of a gathering storm and paradoxically becomes the anchor that tethers the song to pleasure sensors of the mind. She seems blessed with a gift for melody and harmony that can take surprising twists, but do so with grace not grit and that really is the story of this CD. You might call it beautifully strange, yet not strangely beautiful, as the gorgeous tunes are indeed, utterly ravishing.
Then there's her voice, sometimes multi layered, possessed of an easy familiarity, yet totally Erica Buettner. Sure there are echoes of Joni Mitchell, yet there's also a slightly smoky edge that slips in from time to time. Still No Man's Land could have slipped out a demo session for Hejira or Hissing Of Summer Lawns.  Such a comparison is only useful to offer a reference point as in truth this sounds like nothing else and Erica's songs are uniquely hers.
Those songs, each a treasure, a gift, a little surprise, show you unexpected things that somehow you always knew. There are stories, evocative fragments and so many clever, quotable couplets, but therein lies another pleasure of this CD. Amidst all of the dreaminess there is real substance that will prick at your emotions, snuggle up to your senses conjuring atmospheres and images that will linger long after the CD has finished. Coincidentally mine involved the sense of comfortable isolation and a world blanketed in snow, with the crack, hiss and spit of a log fire and the bliss of love's fires lit. What yours will be I cannot say, but we are all of us dreamers after all.
Review & Interview by: Simon Holland


Photo credit: Fabio Teixeira
ericabuettner.bandcamp.com
www.facebook.com/EricaBuettnerMusic