Hot on the heels of St David's Day, a wealth of Welsh music and traditional folk arts will be celebrated in a rare event staged at Cecil Sharp House, London on Sunday, March 10, 2013: 1pm-10.30pm.
Curated by Welsh folk development organisation trac (Traddodiadau Cerdd Cymru), in partnership with the English Folk Dance and Song Society (EFDSS) the bumper Welsh showcase promises vibrant performances by some of the country's signature roots bands plus poetry, workshops, talks, family activities, an afternoon twmpath (ceilidh), Welsh clogging and much more.
A day that aims to capture the essence of the Welsh folk culture, it will be played out across three stages at Camden's Cecil Sharp House. The family friendly event will hardly pause for breath with non-stop entertainment from lunchtime to late, kicking off at 1pm.
Says trac director Danny KilBride:
"It will be a rare chance to totally immerse yourself in the very best of Welsh culture. The exciting project came to us from EFDSS who are keen to reinvigorate their relationship with the traditional arts of the rest of the British Isles. They wanted to know why Welsh acts were not accessing the English markets, how they could find musicians who were doing interesting things with our traditions and how they could help bring a showcase to London. They suggested that we curate a day there and we were delighted to rise to the challenge."
Leading the pack will be top young "of the moment" Welsh bands Calan (main image) and Jamie Smith's Mabon (read our interview). The five piece Calan will provide the finale with an evening concert while in the afternoon the award winning "Interceltic" act Jamie Smith's Mabon will take to the concert hall stage.
Calan, dubbed "the new ambassadors of Welsh cool" have come a long way since busking the streets of Cardiff. They are now festival favourites, blasting their way through old reels, jugs and hornpipes and then seamlessly morphing into mellow and haunting songs. With their unique instrumental blend, not to mention the percussive sound of the Welsh clogs, Calan's line-up is Patrick Rimes (fiddle, bagpipes, whistle,); fiddler Angharad Sian Jenkins; Bethan Rhiannon – main vocal, accordion and step dancing, Alaw Jones on harp and Sam Humphries on guitar.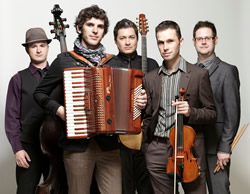 Taking to the stage at 4.15pm will be the prodigiously talented Jamie Smith's Mabon. Fast making their unique and vibrant mark on the roots scene with their signature "InterCeltic" music, the five-piece is led by tunesmeister and accordionist extraordinaire Jamie Smith.
That genius of comic rhyme Les Barker will be holding court in the library as he presents "Poems, Chairs and Cynghanedd". The "alternative Poet Laureate" is Mancunian- born but now resident in Wrexham and a self-declared "born again Welshman"! Festival favourite Les who has learnt Welsh, will deliver his punchy and pithy poems and show how he has mastered the intricacies of writing poetry in cynghanedd –an ancient form of poetic rhyme.
Bragod will bring their magical medieval Welsh music to the party. Instrumentalist Robert Evans and vocalist Mary-Anne Robertson form the only musical ensemble dedicated to exploring the performance of medieval and renaissance Welsh music and poetry in an historically-informed way. They sing Welsh poetry ranging from stanzas of the Gododdin (6th century) to ritual and popular songs of the 18th and 19th century. Robert, who will also deliver a talk-demonstration on the origins of string music, plays the ancient six-stringed lyre known as the crwth.
Other music acts appearing include: Rag Foundation-The South Wales band have perfected their electrifying brand of edgy, harmony-rich urban folk and have supported the likes of Robert Plant, Billy Bragg and The Levellers.
Jack Harris (read our review) –The 27 year-old singer songwriter from Builth Wells won the 2005 New Folk Songwriting Competition at Kerrville Folk Festival in Texas, the first non-American to do so and has been described as "a priest of song" by singer Anais Mitchell.
Alaw (Welsh for "melody") features guitarist Dylan Fowler and Mabon fiddler Oli Wilson-Dickson in collaboration with Mabon frontman Jamie Smith. At the heart of their set is a passion for the old tunes of Wales.
If all the music has got your feet itching to dance Huw Williams will demonstrate the art of Welsh clogging and dancers of all abilities are welcome while the Grassie Busville Band will provide the music for what promises to be a high energy afternoon family ceilidh.
There will also be a chance to learn about the Welsh midwinter tradition of the Mari Lwyd (Grey Mare) – a wassail-like, luck-bringing ritual in which participants accompany a person disguised as a horse from house to house, singing in the hope of gaining admittance and being rewarded with food and drink. Children will get the chance to make a mini Mari.
The entertainment will continue in the bar where there will be performances by harmony group Parti Cut Lloi as well as Plus DnA, Cerdd Cegin and Blanche Rowen & Mike Gulston. Bring instruments if you would like to join in – or just your voice!
Great value tickets for the day's entertainment are £12 adults and £6 for under 12s, Under 2s go free. They are available from www.ticketline.co.uk /0844 888 991 or via www.musicglue.com/cecilsharphouse
Cecil Sharp House, London on Sunday, March 10, 2013: 1pm-10.30pm
Links:
www.efdss.org
www.trac-cymru.org