Richard Thompson is on top form on his latest musical offering 'Electric' packing mighty punches in between homely emotive meanderings. Thompson chose to seek challenge and inspiration on familiar ground in the form of a brotherly trio with Taras Prodaniuk (bass) and Michael Jerome (percussion) who have supported him for many years now. The album was recorded at the home of producer Buddy Miller in Nashville who was also on hand as rhythm guitarist.  Miller's home studio provided the intimacy that Thompson was seeking to explore and create and the results speak very clearly for themselves. It was the perfect move.
The magic kicks in from the outset with the stomping opener 'Stony Ground' a warning tale about old man Morris who takes a fancy to a widow "lost his heart to Buxom Betty, Throwing out the compliments like confetti". Needless to say it doesn't end well…there's not too many happy folk songs after all and although this is an 'electric' focused album that even Thompson admits has its 'in yer face' moments it is still has that strong folk link and feel.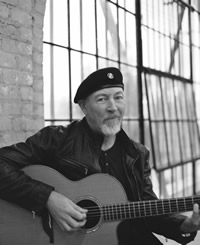 Thompson features a couple songs that have a an air of reminiscence or longing for the home soil…something the California sun can't sure: Salford Sunday positively beams in sunlight with the uplifting vocals of Siobhan Maher Kennedy (who does a splendid job throughout several tracks)…not your typical musical vision of an industrial Manchester town that was the birth place of Jimmie Miller better known to us as Ewan MacColl who viewed the place as a gigantic slum, a landscape where everything offended the eye. Just as Salford inspired MacColl to write his famous song 'Dirty Old Town' Thompson casts a much fonder eye back to nights out in "this ugly town".
Sally B drags us into real electric territory with some iconic rock guitar work that gives the tale that rebellious edge. Amongst the power tracks are characteristic relapses such as Another Small Thing in Her Favour and My Enemy on which the guitar notes soar with Stuart Duncan's fiddle providing added flight-like grace whilst Where's Home?  offers country tinged acoustic respite as Thompson reflects on the confusion around belonging and home. None are more moving than The Snowgoose which features Alison Krauss on harmony and a subtle atmospheric drone provided by Thompson on hurdy-gurdy. A melancholic dream about the pursuit of love and the possibility of loss.
And if you are wondering whether to buy the album with the bonus disc then yes, it's almost an album on its own and I Found A Stray is worth the extra cost alone.
Whilst this was clearly a challenging album for Thompson the beauty of it lies at the heart of what makes Thompson such an iconic artist. His music is honest and upfront and an absolute pleasure to listen to. He never fails to deliver but he has definitely excelled on this album, it's up there with the other treasures like Rumour & Sigh…another Grammy nomination? I hope so!
Album Stream: Electric
Electric is released on Proper Records (Feb 11)
Read our recent interview with Richard here.
Tour dates
Wed 20 Feb CARDIFF St David's Hall
Thu 21 Feb BIRMINGHAM Symphony Hall
Fri 22 Feb BRIGHTON Dome
Sat 23 Feb BRISTOL Colston Hall
Sun 24 Feb CAMBRIDGE Corn Exchange
Mon 25 Feb LONDON O2 Shepherd's Bush Empire
Thu 28 Feb EDINBURGH Usher Hall
Fri 1 Mar LIVERPOOL Philharmonic Hall
Sat 2 Mar SHEFFIELD City Hall
Sun 3 Mar GATESHEAD The Sage Gateshead
Wed 6 Mar NOTTINGHAM Royal Concert Hall
Thu 7 Mar BEXHILL DE La Warr Pavilion
Fri 8 Mar BASINGSTOKE Anvil
Sun 10 March SALFORD The Lowry