Now entering it's 6th year, the Big Whistle Festival is becoming somewhat of a traditional annual event at Bury's acclaimed Met Theatre and arts centre. Although not exactly what it says on the tin, audiences aren't faced with death by whistles throughout the weekend, which also features artists many of whom were offering  up their advice and guidance in a series of workshops throughout the event. What was clear from this years event, and overheard from several attendees was the fact that it was particularly splendid to be seeing a larger proportion of younger musicians and bands taking centre stage. Of course there were the old hands and well known names, but it won't be too long before the fresh faces at the 2013 event will be at the forefront of traditional music.
After Mary McMaster and  Donald Hay had started off proceedings in the Met's Studio, Hard Times opened events in the main theatre in an almost Fawlty Towers-esque 'don't mention the war' manner. It felt a little like panto season as any mention of whistles had the audience collectively pursing their lips and good naturedly whistling along.
The Old Dance School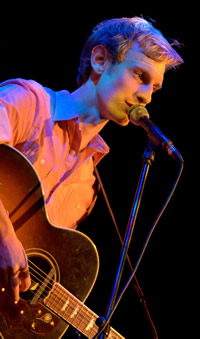 Friday night headliners The Old Dance School have been feted by no less a critic than Mike Harding. They gave a really classy performance to celebrate the first night of the festival with a high before having to be bright eyed and bushy tailed for a 10am Saturday start on their song arrangement workshop. Describing themselves as a 'cinematic folk septet' , they consist of a seven piece set up which includes the obligatory whistle alongside the more traditional folk instruments plus trumpet and an appreciation for atmospheric effects. Together they combine a whole range of influences which take the band beyond the traditional folk genre.
In a mainly instrumental set, they created almost a travelogue of sorts with the inspiration behind many of their compositions coming from their surroundings; from  the French coastlines to the  landscapes of North Wales where their Forecast album was recorded.  In contrast to the band name, the sound they create couldn't be classed as music to dance to but more like music to create and evoke atmosphere and  mood and in many cases to just sit back and let wash over you in the same way it creates visions of gentle waves lapping at the edge of a beach, of swelling seas and cascading waves or panoramic visions of coastlines and rugged hillsides. The greatest compliment to pay them would be a comparison with three piece band folk superstars, Lau – winners of the 'Best Group' title at the 2013 BBC Folk Awards. In fact, The Old Dance School are a little like a big band version of Lau, yet also embrace some of the dynamics of the likes of that other rather well known big band – Bellowhead.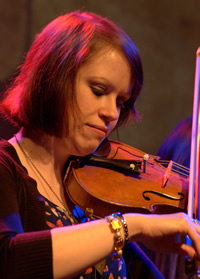 Impressively inventive pieces like Silver Tide, The Taxidermist and their interpretation of Andy Cutting's Spaghetti Panic demonstrated the ensemble playing at its best; moving from an impressive ambience and into more familiar territory with a nod to some jigs and tunes, but alongside their these compositions they showed they can write and perform songs as they did with Strange Highway (written as the soundtrack to a snowy descent down Derbyshire's Kinder Scout); one highlight of the set in particular being  a  rare foray into more mainstream song –  possibly viewed  as an easy listening song alongside the more traditional music on offer – a magnificent performance of the song John Ball by Sydney Carter which has also been recorded by veteran folkies Steeleye Span. It may not perhaps be of their more intricate or atmospheric pieces or a piece of music which is more challenging in its variations in tempo and mood, but a simple arrangement which shows that they have the nous to include some material which is likely to have wider appeal and attract new fans and admirers.
The Old Dance School certainly have an approach and a flair which shows they have something to offer which is both stimulating and fulfilling  and which adds to the folk canon rather than simply repeating a tried and trusted formula.
Saturday was crammed full of workshops and performances throughout the day. Amongst the performers in the main theatre were highly acclaimed  master of whistles Michael McGoldrick  (joined by 2012 Folk Award winner Brendan Power and local fiddler Emma Sweeney) and six piece all female outfit  The Shee.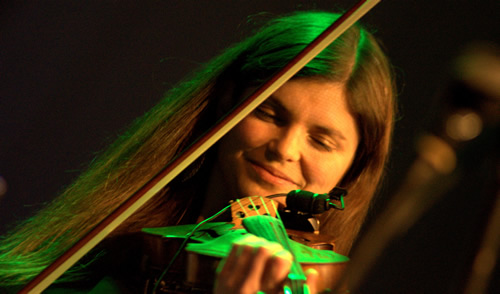 Review by: Michael Ainscoe
Photos: Michael Ainscoe Photography
In Part 2 & 3: Rachel Sermanni and The Shee