A man in a pub once counselled me with the maxim 'Money for Money's sake, Art for Art's sake'. Whilst I don't necessarily agree with this, even the most idealistic, lofty-minded folk musician has, on occasion, to deal with the ever-so-slightly murky world of the music industry – after all, we too have rent to pay and mouths to feed. At some recent point, the media- and publicity-friendly epithet 'supergroup' has become attached to Faustus, presumably with a view to selling seats and albums and making us our long-awaited and thoroughly deserved millions. Flattering though the term may seem, I'm here to dispel the myth and put the record straight (and possibly cheese off our lovely PR man).
Let's look at what the term means or implies. First, to my mind it suggests a collection of musicians already better known in other guises. That may be partly true, as between us we have worked with Waterson: Carthy, Bellowhead, Seth Lakeman, the Oysterband and other folk luminaries. However, the Faustus 'brand' pre-dates all of that other work, having been conceived way back in the late Nineties. Whilst I won't deny that the profile derived from our individual employment as folk tarts has helped Faustus to some extent, it isn't the full picture, and with the benefit of distance and detachment I view our older recordings as having achieved something of a classic status.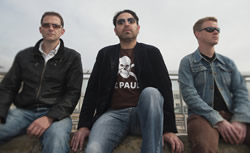 'Supergroup' also hints strongly at contrivance, as if the constituent members have been assembled to exploit their fame and make loads of money (I wish). This couldn't be further from the truth. Both our friendships and our collaborations pre-date the current line-up. As is now public knowledge, Benji and I met in the gents' at a pub session, and haven't looked back since; duo work, often in community settings such as old peoples' home and special needs schools, and of course Dr Faustus. Similarly, Saul and I met at pub sessions in Oxford, after which I guested with his band Dansaul. Benji and Saul first met when I booked them for a wedding ceilidh, and then dropped out and left them to it so that I could have a party at home. Pretty humble beginnings.
And actually, the reason we formed the band was because we enjoy making sweet music together. This was driven home when, having had a sabbatical, we played an impromptu set at my somethingth birthday party a couple of years ago, and realised epiphanically how much we had missed the experience. And it's not just the music. We are all fathers, and from the outset agreed that Faustus had to work around our families and domestic lives, which it does, and which is a pleasure. Plus there are our extra-curricular activities – pool and darts at The Bell or The Duke's, late night wine and smelly cheese, football on the telly, etc. etc.
I hope this apologia goes some way to debunking any emerging myths or misconceptions about Faustus, and explains why, although we are indeed a 'group', and playing together is without doubt 'super',  those two words should not be conjoined in reference to us. We don't think of ourselves in such terms, rather as jobbing musicians and mates. There's more than one reason for our new album being called 'Broken Down Gentlemen'. Faustus isn't a 'supergroup', it's a lifestyle decision.
Paul Sartin

Read our Review: Faustus – Broken Down Gentlemen
[adrotate banner="197″]
Broken Down Gentlemen is released on Navigator Records (11 Mar 2013)

For Gig dates and more visit: www.faustusband.com