Folk Radio UK will be featuring a new series unlike any other it has featured before. 'An English Love Story' is a project set up by M.N Hopwood, a musician, writer and broadcaster. Launched in January 2012, this project takes Matthew walking along the pathways and Ridgeways of England, meeting with local people in villages and hamlets and talking about the importance of love stories and sharing love stories together.
Through music and conversation love stories are shared and re-told. The act of remembering (piecing together) allows people to re-connect with those stories that have defined and shaped their emotional being. Through sharing people give something of themselves, something of their humanity, connecting with others and forging community.
Through archiving and recording these stories the project hopes to piece together a history of England, not defined by wars, or achievements, or economic value or voting tendencies but by the love stories of those local people who live and work in her fields and towns.
The journey so far has taken M.N Hopwood along 300 miles of footpath and Bridleway, through 8 counties, meeting local people, playing music from his new album 'And to this Last', sharing and recording people's love stories, and recording his experiences in a series of podcasts.
2013 promises to see the project continue with journeys along the Norfolk Coastal Path and The Peddars Way,  a return to The Cotswold Way and a journey through the Essex Marshes to name but a few.
M.N Hopwood is co-founder of Montpatry Press, a Fair Trade Music and Arts Organisation – "creativity rooted in fairness and personal communication".  His single "I am Yours" was released in May along with a beautiful Flicker film to accompany the release.
To hear more about 'An English Love Story' you can sign up to the project newsletter here
Series: An English Love Story along the Ridgeway
'A walk with M.N Hopwood gathering love stories throughout the English Counties'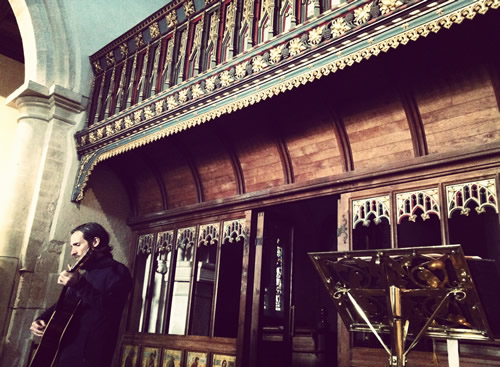 This series of Broadcasts follows M.N Hopwood as he travels along the ancient Ridgeway and the Ridgeway National Trail in April 2012.  Walking over 100 miles in 7 days, playing 4 performances, and meeting with numerous local people in the villages and on the trail.  These broadcasts take the form of a travel Journal, with thoughts and reflections as he moves through England, the country he loves, sharing his love story, his music, and his love for the land.  These reflections are combined with love stories from people met along the way who shared their stories.
Episode 1:  Day 1.   'The journey begins'   
This episode follows M.N Hopwood as he embarks on 'An English Love Story' along the Ridgeway, beginning his journey from Avebury Stone Circle and ending in Ogbourne St George.
Broadcast Schedule:
Episode 1:  Day 1. 'The journey begins' will be first broadcast this coming Sunday 13th January at 4:00pm (UK Time). Thereafter it will be repeated on:
Monday @ 9:00pm
Wednesday @ 1:00pm
Friday @ 2:00am