I first came across Armagh, Ireland born Barry Kerr back in 2006 when he released his album 'The World Looks Away'. There was a song on there that I fell in love called 'Raven's Wing'; the lines were poetic, moving and incredibly powerful…it was a song about the self-perpetuating nature of alcoholism. Since then it has been covered by his good friend Damien O'Kane on his debut solo album 'Summer Hill' (read our interview with Damien here). His songs and compositions have also been recorded by the likes of karan Casey, Flook, Beoga, Brian Finnegan and Kate Rusby.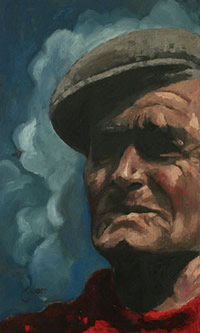 Barry's talents are many, not only is he one of Ireland's most accomplished traditional musicians, he is a multi-instrumentalist, songwriter and Painter. In all these skills there is a core connection…an uncanny ability to connect through music and art to the people and the land he knows best. His artwork captures expression and feeling that go beyond words and the same can be said of his music so it is with very great pleasure we can announce the release of his new single 'The Leaving Song', this is a beautiful song…like 'Ravens Wing' it is steeped in a melancholic air which although sad is strangely comforting "we're on the road again, travelling like the wind"…
Barry is certainly no stranger to the road having toured extensively with Celtic Thunder playing Whistles, Pipes, Guitar and Bodhran, with recent ventures into Australia & South Africa. Watch the video for 'The Leaving Song' below:
The song is available for download from iTunes and will also shortly feature in our playlist:

Dates
Barry Kerr will be joining Nanci Griffith and Morgan MacIntyre as part of the Belfast Nashvile Songwriting Festival on Thur 21 Feb at Empire Music Hall, 42 Botanic Ave, Belfast BT7 1FQ.
Keep up with Barry Kerr on facebook here.