With the imminent release of a new album and a major UK tour starting in Cardiff on February 20th, Folk Radio took the chance to talk with guitar and song writing legend Richard Thompson whilst he was in the UK in early January. Naturally enough I wanted to know about the new album, Electric, to be released in the UK on February 11th, were there going to be any surprises?
"I don't know if it's a surprise or not. It's basically recorded as a trio, guitar, bass and drums, and the songs were written with that in mind. Because I was writing for the trio, I was trying to think how to make the most of that musical format. The songs became a certain way, a certain rhythmic thing happened, it's a characteristic of the record."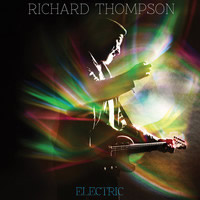 For a piece on his web site, he's coined the term 'funk folk' for this. A somewhat tongue in cheek remark perhaps? An impression confirmed as he promptly decided that maybe he should have called it 'folk funk'. But was there a serious purpose in him trying to categorize his music? Or was he maybe playing a little, thinking 'I'm gonna get in first?' Well, yes, maybe a little bit playful, he admitted, adding that trying to define your own record may just give an indicator of the way the record might have gone and, in the end, people will decide for themselves. Final words – "Hopefully it's a progression, we always hope for that."
These notions were coming across in a pretty light hearted way and the question and answer sessions he regularly runs on the Beesweb site are liberally sprinkled with humorous responses. So, how conscious is he of projecting a humorous side?
"I do enjoy humour and, if I'm sitting around with my friends, then jokes happen. I think that's a British thing. Someone said the British can't go 3 sentences without making a joke. So I think humour is culturally built in to me."
In interviews and with friends, but what about on stage?
"On stage, I use it as a tool to get me out of what I think might be embarrassing situations, and to help my stage persona. I'm basically shy and it's something I have to try to overcome so I try to be funny. Also, I think people perceive my songs as serious and so to have a humorous stage persona helps to break up the mood a little bit. So it makes those songs more effective."
The trio for the forthcoming UK tour features Taras Prodaniuk on bass and Michael Jerome on drums, two musicians Richard has played with extensively in recent years. They formed the core of the band that toured the Dream Attic material in 2010/11. The new tour will, naturally, showcase material from the Electric album, and, yes, Richard confirmed, there will be material from the 60s onwards, "5 or 6 songs from the new album and then a bunch of stuff that, hopefully, people would like to hear".
With such an enormous back catalogue, where, I wondered, do you start when trying to put a set list together? His response will be reassuringly familiar to anyone who's done this for performance at any level. Start by looking at the last few tours, what did we do then? Are there some songs I should rotate out? Are there songs that are fairly essential? "The audience are going to ask for them anyway, so I might as well do them. There'll be a few of those".
"A song maybe I haven't played for 15, 20 years would be a good thing to rotate in, just try to keep it fresh and interesting. Try to find a balance, do some acoustic stuff if it's an electric set, and then just balancing between fast and medium pace, trying to hit the right kind of curve for the set, the right dynamic curve." And then came the hallmark throw away quip at the end, "it's all incredibly complicated….and requires incredible professional skill, I need hardly add." Chatting with Richard you soon realise that these, often self-deprecating, remarks pepper the conversation. It makes for a very relaxed interview.
So, how sacrosanct are these carefully crafted set lists? Does he relish varying things in the light of what audiences call out? "Well, if possible." Obviously, he pointed out, it's a lot easier to do if it's a solo show but "if a band is on the road for long enough we can start to respond to requests, sometimes with varying results. I have taken requests from the audience in a band show and I've been the only person who's known the song, by about verse 2 or 3 other musicians are creeping in and by about verse 5, I think we got it. But I think that can be fun for the audience and interesting, an inside look at the process." So, Electric tour audiences, a challenge for you there.
Richard has made his home in California for many years now and, most years, plays more gigs in the States than over here. Yet, in many people's minds, he still has a strong association with British traditional music dating back to his Fairport days. Did he feel that his music had become more americanised over the years?
"Back in the Fairport Convention days, in 1969, we were playing traditional music mixed with rock, there was always a hybrid, there was always a bit of rock music which is basically American, mixed with the tradition… I don't really think I've added any more over the years. I live in America but I'm not writing Jan and Dean numbers. I could… I'm rushing to my own defence here."
But what about the audiences, does he prepare himself differently for US and UK audiences?
"I have to keep it really simple for the Americans; no I shouldn't say that, that's not fair. No they're the same. There's no difference." And in case anyone's feeling particularly sensitive, that was an RT joke.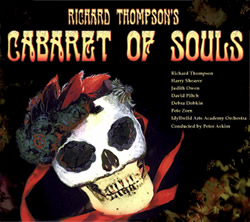 In 2009 Richard was commissioned by the International Society of Bassists to write a piece in honour of long time collaborator, double bass player, Danny Thompson. The result was Cabaret of Souls, variously described, by Richard on Beesweb as, "not quite a song cycle, an opera, a musical, a musical play or a bass concerto. A folk oratorio? A folkatorio? Perhaps better left unlabelled." It is set in the underworld and depicts an induction process into the hereafter for the recently deceased. It was staged in London in 2010 but as a concert, non-costume performance whereas the latest outing in Santa Monica was a far more theatrical staging. With the changes that have happened to it over the last three or four years, did he think of it as getting closer to his original vision? Or has it taken on a life of its own taking him on an unexpected journey?
"I think it's a bit more unexpected. I had an idea when I first wrote it, that it would look a certain way, it would sound a certain way. I think musically it's fairly consistent with the original idea but theatrically it has taken different turns. Turns that I'm not unhappy with. Having added different elements, I think it's really helped it to be a piece of theatre, and become something I wouldn't have achieved on my own. I'm very glad that the collaboration has taken it in this direction."
What are the chances of us seeing the production back in the UK? Well Richard was certainly enthusiastic for it to happen, but the biggest problem is it's an expensive show and staging it requires outside funding. "I'd love to be able to put everybody in the back of a van and take it on the road, but it requires a bit more than that, unfortunately."
Writing about the songs in Cabaret of Souls, Richard has listed some of the musical influences, a very eclectic mix, including Bartok, English folk, Shostakovich, Elgar, Gilbert and Sullivan, Egyptian strings, Nelson Riddle. He admitted, though, that this was a list compiled absolutely with hindsight. But even so when does such a prolific performer and writer find time to listen to, and take inspiration from, all these different strands of music?  Mmm, seems that long car journeys are the key.
In a piece like Cabaret of Souls he's writing for a variety of instruments, but what about playing them? Well, he'll admit to playing hurdy gurdy ("not great but getting better") and mandolin ("fairly well"). "The nice thing about other instruments, if you're a writer, because they're configured differently, they can give you different creative ideas. So you can write a song on a hurdy gurdy that's not going to sound like anything else. Playing a mandolin is great because it gives you different harmonic possibilities and your fingers are going into different patterns.. (on the guitar) your fingers tend to know where to go, so if you can play a different instrument then that confuses the process and maybe you'll come up with something different."
Richard has two children who are building careers in the music business, Teddy and Kami Thompson. Was this with parental encouragement or discouragement?  A kind of a middle approach he reckoned, saying that he was very scared of frightening kids off music, "so I never did the piano lessons at age 4 with the German piano teacher" but on the other hand, "as soon as kids showed an interest I tried to encourage it". Evidently, though, that wasn't always plain sailing in the case of Teddy, "He wouldn't allow me to show him anything, he'd say 'I know how to do that, I know how to do that' and he didn't. So he's someone I had to send to someone else to teach."
Our conversation headed back into pre-children days, Richard's first solo album after leaving Fairport Convention was Henry the Human Fly. He doesn't shy away from telling you about the Warner Bros in-house magazine reporting that Henry had recorded the lowest sales for the label. But, looking back over 40 years, what does he now think about the album?
"At the time I thought Henry was a good record. About a year later I didn't think it was a good record. But I really wasn't a very good singer … that was the main problem I think. There are some really good ideas … it's a very eccentric record. I think some of the songs are good, maybe it's a little too strange in places."
Richard has also been quoted as saying 'you're only as good as your last performance', so how tough was it to move on from Henry?
"You have to be fairly critical I think. I wouldn't aim for perfection. I don't think that's something that would give you any pleasure or satisfaction. It wouldn't give me any, anyway. I don't mind if a performance is a bit rough round the edges, but there's something fantastic happens with the audience and you feel this sense of communication, certainly that's the really important thing and gives you a sense of real fulfilment. The audience go away in a different state, in an elevated state, feeling better about life. That's such a fantastic achievement, it's such a great feeling that even if there's been bad notes you don't really care."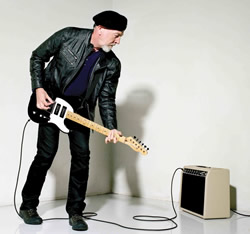 How did he feel about repeatedly performing his most famous, iconic songs? Do they still delight him or are they a trap? Yes, he agreed, do a song every night and eventually you might think "I have to give it a rest or I'm going to go crazy". He'd be honest with the audience and tell them "I'm sorry, I know you want to hear it, but for my own sanity….". But he singled out 1952 Vincent Black Lightning, a song he felt he could play 4, 5 nights a week without it bothering him. "I see different things in it every night; I get different pictures every night." Well, that's good news!
What was his connection with the Vincent Black Lightning, what made him choose that particular bike? "It was a black, beautiful, fast thing and it has a kind of mythology to it. In a song you need mythological objects and places to help with the story telling process." And, it turns out, when he was a kid, one of his neighbours had one. But hang on, Richard's mulling this over, "it wasn't a Lightning, it was a Shadow, no, it was a Rapide" Good use of artistic licence there, Richard, Red Molly on the back of a Vincent Rapide just wouldn't be the same.
Interview by: Johnny Whalley
Richard Thompson UK tour 2013
Feb 20: Cardiff St David's Hall
Feb 21: Birmingham Symphony Hall
Feb 22: Brighton Dome
Feb 23: Bristol Colston Hall
Feb 24: Cambridge Corn Exchange
Feb 25: London O2 Shepherds Bush Empire
Feb 28: Edinburgh Usher Hall
Mar 1: Liverpool Philharmonic Hall
Mar 2: Sheffield City Hall
Mar 3: Gateshead Sage
Mar 6: Nottingham Royal Concert Hall
Mar 7: Behxill De La Warr Pavilion
Mar 8: Basingstoke Anvil
Mar 10: Salford Lowry