We recently told you about The Great Big Digital Archive Project which Topic Record kicks off this month making available 84 digital releases from their archive along with digital booklets containing original liner notes, artwork and more. We couldn't pass up such an opportunity to talk to Topic Records about such a landmark project so we jumped at the opportunity to talk to David Suff who jointly heads Topic, he is also an internationally acclaimed artist whose work has been exhibited around the world.
David also runs his own Fledg'ling label that many of you will already be familiar with. Their releases include remastered re-issues of The Incredible String Band as well as the release of the Fotheringay 2 album which was put together from tapes found in various record company archives.
"I've been running the Fledg'ling label since the early 1990s" explains David "and have been working closely with Topic records throughout the intervening years.
"I compiled several historical sets for Topic including the Watersons' 'Mighty River of Song' and June Tabor's 'Always' box sets, Nic Jones' 'Game Set Match' and the 'Three Score & Ten' book and 7CD set.
"A few years ago Tony Engle (who has run Topic since 1972) asked me if I'd be interested in running Topic after his retirement. We've been running Topic together for the past couple of years. Tony slowly has less day to day involement and I've slowly had more."
David's long track record speaks for itself and I admit 'Three Score & Ten' is one of the loveliest boxsets I've seen (and proudly own). The plan to release 84 out-of-print albums seems like a mammoth task…where do you start? David explained the enormity of the task:
"Topic has been releasing records since 1939 and has an enormous archive of currently out of print titles. The economics of CD production have meant that much extraordinary music has been unavailable for sometime – the first 84 digital were chosen to be good examples of the many riches within the archive.
"We've sketched out a plan for the first six months of 2013 in some detail and I'm beginning to decide what will follow in the later half of the year. The plan is to have over 200 digital albums available by the end of 2013 each with an accompanying newly-designed digital booklet of all original sleeve-notes, artwork, photographs, etc.
"At the same time we'll be adding digital booklets to albums in our current catalogue. Each month we'll focus on a particular artist's back catalogue – in February the existing Waterson:Carthy albums will have new digital booklets for anyone who purchases the albums as digital downloads."
One of the aspects of the project which we were keen to explore was how a new digital project like this would be perceived. David explained how he felt it would enhance their listening experience.
"Physical sound carriers always came with artwork which often included sleevenotes and extra information about the music and the performers. It seems particularly disappointing for specialist genre music to lose this contextual information as we move towards digital distribution. At Topic we're endeavouring to re-connect all the contextual information with the audio recordings. We believe that this can only enhance the listening experience and might encourage people to research more information about the music and performers."
David's own artwork is very well known, he had his first solo exhibition in 1978 so we were keen to find out whether he had any favourite album covers from the archive…he also revealed that first Topic record he bought.
"I have a particular fondness for some of the graphic sleeves of the late 1950s / early 1960s including Dominic Behan's 'Down By The Liffeyside', Ewan MacColl's 'Manchester Angel' and the Jeannie Robertson 10″ album" he admits. "The first Topic record I ever bought was the Fisher Family LP from 1965 (front sleeve photograph by Joe Boyd). The artwork caught my eye and I've loved the music ever since."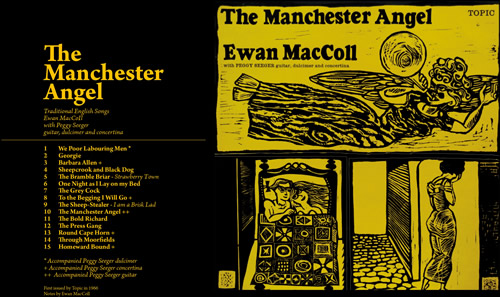 When we decided to approach Topic for an interview one of the aims was to give the public a better understanding of the process so people could appreciate the end digital product. The process, as David revealed could be tedious and time consuming.
"We're using OCR (Optical Character Recognition) software to scan original album sleeves and then turn the text into digital files. This requires a great deal of proof-reading to match the original text. Then we're photographing original sleeves and scanning photographs and other documents from our archive. After our designer has compiled all of this material into a digital booklet the whole thing requires another careful proof-reading. As you might imagine this is very time consuming and a huge investment of time and effort.
"The digital music files and the associated files then go for checking before finally being uploaded to iTunes."
Thankfully the hard work offers respite in the form of new discoveries, as original artwork and liner notes Topic are also adding other ephemera from the archive as David explains.
"There are some fascinating letters and the occasional postcard from performers to their record label. Where possible we'll include examples in the new digital booklets."
So for those of you wanting to get you hands on the new digital booklets you will need to go to iTunes initially but as David explains those that purchased a digital Topic in the past will not lose out.
"Initially the digital booklets will be available with the purchase of full album downloads from iTunes exclusively.
Anyone who has bought a digital Topic album in the past, who buys a digital album from another digital outlet or who would just like to have the digital booklet will be able to request a free download from our website."
The first tranche of albums will be available at the end of January 2013.
David Suff's Playlist
We asked David to hand-pick some of his favourite tracks from the archive, no easy task as we limited the number he could select…here they are:

To enjoy full length tracks sign up for a free Deezer account.