Put simply, without any of that pigeon hole nonsense, this is great pop music. The Fishermen Three was formed back in 2008 thanks to mutual friends and a tour of France and the UK as 'the Cutoffs' in Jack Lewis & the Cutoffs. Simon Beins and Raphi Gottesman loved playing music together so much, when they returned to their home town of New York they didn't stop.
Simon, it seems, is a bit of an old hand. He's played all the big venues and festivals throughout Europe and the states. Touring as The Wows with everyone from NME darlings The Cribs and The Thermals to some of Simple Folk Radio's favourite musicians, groups such as the Jeffrey Lewis Band, Herman Dune, Turner Cody and The Wave Pictures.
Despite the release of 'Rosina on Every Balcony', an amazing album that I wholeheartedly recommend to one and all, a string of singles including a split release with The Black Swans, they've received their biggest success so far working in cinema, winning Best Score at last years prestigious SXSW festival for The City Dark
This session is very much how we like it, a simple affair. You can hear the world slowly roll by a bedroom window in Brooklyn as The Fishermen Three serenade you with beautiful pop songs, or as as they describe it, "mystical country music and blues of every colour".
-Dillon/Simple Folk Radio
Broadcast Schedule – UK Time Zone
Sunday 16th December 2012 @ 5pm – on Folk Radio UK
Then repeated on the following:
Monday: @ 2am
Wednesday: @ 9pm
Friday: @ 1pm
www.thefishermenthree.com
shhhpromotions.net
www.simplefolkradio.com
Coming Soon@ On Simple Folk Radio from Sun 23rd December:
KIMYA DAWSON in session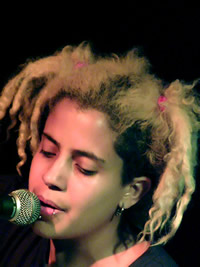 Kimya Dawson is a Grammy winning, platinum selling singer songwriter most widely known for her work on the JUNO soundtrack and her former band, The Moldy Peaches. She has released 6 solo albums, including a children's album "Alphabutt". She has been featured in Rolling Stone, Spin, Entertainment Weekly, NY Times, NME, Q, AOL, etc. She has performed live on the View, at the Independent Spirit Awards, TED/Boulder, was invited to perform on Sesame Street, and also performed at the REM Tribute at Carnegie Hall.
"Kimya Dawson straddles the line between precious and profound".- Rolling Stone
The Beer- Kimya Dawson from Ash L Brown on Vimeo.