To coincide with Hux Records' release of Incredible String Band 'Live at Fillmore East, 1968', an album that found Mike and Robin at the peak of their creativity, original ISB band member, Mike Heron is teaming up with Trembling Bells to perform classic String Band material from their hugely influential first four albums. They will be performing 'The Circle is Unbroken' at Celtic Connections on 24 January 2013 with the possibility of more concerts to follow.
We took the opportunity to talk to both Mike of ISB and Alex Neilson of Trembling Bells.
The live album finds Mike and Robin at the peak of their creativity, having their first 5 albums to call upon. They trade instruments like playing cards and Mike's sitar playing is incendiary. Robin's voice is at it's most acrobatic and stoned, making songs like 'Waltz of the New Moon' sound like news reports from the astral plane.
Live at Fillmore East, 1968 was originally recorded for WBAI Radio in America, Mike recalls how supportive they were…
"WBAI is a listener supported radio station in New York. It was very supportive of the String Band and stuck out among the other USA chart based commercial stations with its eclectic play list.
"As it relied on listener donations to exist it had many fund raising concerts and events. The ISB played quite a few gigs for them but the one at Bill Grahams Filmore East was the biggest.
"It was a key gig as it came during a tour in 1968 when the material for the first five Elektra albums was available to me and Robin, prior to the arrival of Likky and Rose. So the songs are intimate and performed as a duo."
This isn't the first time that Mike and Trembling Bells have collaborated thanks to an event that was curated by Joe Boyd.
"We met at a Joe Boyd curated Incredible String Band tribute event at the Barbican in 2009 and recognised each other as kindred spirits" recalls Alex. "Trembling Bells had only recorded one album at that point but ISB were so much a part of our shared musical diet that it had informed the aesthetic of the band in many ways. For example, the omnivorous appropriation of folk musics from throughout the world and colliding them with a more expansive conception of song writing. Retaining the elemental pulse at the heart of folk music but warping it by combining it with interests in art, gnostic writing, psychedelics etc etc etc."
Mike also has fond memories of that first colaboration…"In July 2009 Joe Boyd suggested that Trembling Bells, (a band he'd heard and fallen for) take part in a tribute to the String Band at The Barbican. We bonded fairly instantly and have done a few shared concerts since, with some success I think. Luckily for me Mike Hastings, the electric guitarist with Trembling Bells is a wonderful acoustic guitarist who now also plays in my band."
That collaboration was just a seed, one that would lead to further collaborations as Alex explains. "We recorded a split 7" around Christmas 2010 (which involved TBs backing up Mike Heron on his song 'Feast of Stephen' on SIDE 1 and TBs backing Bonnie Prince Billy on our song 'New Years Eve's the Loneliest Night of the Year' on SIDE 2) and have been expanding our repertoire of Incredible String Band songs since then. We have been mainly focusing on Mike's songs from the first five albums, but we are also going to work on some of Robin's songs which Lavinia will sing. Our first concert of 2013 will be at Celtic Connections in Glasgow in January but we hope to do more through out the year."
In discussions about the live album it had been suggested that ISB were trying to free themselves of the traditional folk song structure which become constraints to progressing their music, I asked Alex whether he recognised familiar ground in relation to the Bells and whether they also were pursuing an unconventional approach to their music.
"I don't really think of our music as being unconventional- it is the natural product of our personalities and we have forged a sound that speaks of shared enthusiasms. We just don't really discriminate that much between the music of David Munrow, Jeannie Robertson and Albert Ayler. To my mind all have similar qualities. If I can describe this connection, alongside an interest in the poetry of Ovid, the dramatic work of Dennis Potter, the artwork of Eric Gill and a long distance love affair with the Yorkshire landscape then that would go some way to formalising the music I hear in my head."
Alex went on to talk about the ISB influence on the Bells. "Like many bands that go on to have a big impact on me, when I first heard Incredible String Band's music I was incredulous. They had a playful attitude to writing and performing which made me feel all most uncomfortable to listen to it. They didn't just seem to be thinking outside the box- they had painted elaborate, techni-coloured fresco's onto the box, climbed back inside and forged an alternative Britain more connected it to its bardic traditions and its Pagan past and to the soul expanding music of the east and the mind expanding music of west coast America."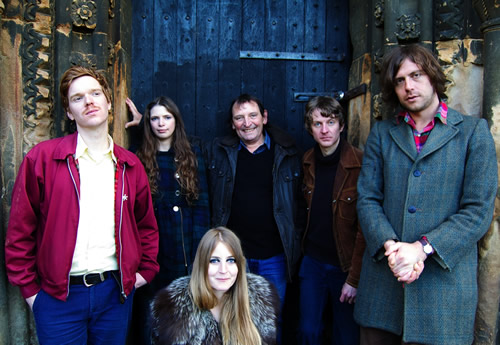 I asked Alex and Mike to tell our readers what they may expect from 'The Circle is Unbroken'.
Alex Neilson: "'The Circle is Unbroken' will be an expansion on the work we have done before in Mike's 70th birthday year. We will be dusting down more classic ISB tracks and unearthing some less familiar ones too. There are multi instrumentalists in the band and everyone sings so there will much opportunity for building on the maverick creativity of the albums. Lavinia will tackle some of the Robin songs as her vocal range can match the elastic quality of Robin's singing and Mike will duet with her on some Trembling Bells songs. So we will have a lot of material at our disposal and a shared aesthetic which is characterised by its eclecticism. "
Mike Heron: "[It] is an English hymn written by Ada Habershon that became well known through The Carter family who Robin and I were into.
"I'm speaking for Robin here. It's his song and I could be totally wrong but I think he used the positive answer variant The Circle is Unbroken to title his song– Seasons They Change,– about continuity of life through generations. It's pretty much my favourite Robin song."
'The Circle is Unbroken' will be performed at Celtic Connections on 24 January 2013, you can find the events page here: Celtic Connections Events page