Accordionist extraordinaire Sharon Shannon has never been shy of entering into a collaboration or two. After her time with The Waterboys in the late 80s her 'solo' career blossomed with the release of the 1991 debut album Sharon Shannon. Sharon was then in her very early twenties but, nonetheless, an enviable array of world class musicians as varied as U2's bassist Adam Clayton and ex-Planxty bouzouki man, Donal Lunny, participated in the making of the album. Subsequently, Sharon's albums and live performances have become a magnet, attracting collaborators from the best of traditional and contemporary folk, rock and world musicians. But surely, none of these projects has been as adventurous as the link up with the RTE Concert Orchestra that gave rise to the Flying Circus album. The album comprises 12 tracks, mainly written by Sharon and featuring full orchestral arrangements courtesy of former Riverdance musical director Joe Csibi.
So, I just had to ask, what was the inspiration for you to strike out in this direction? It turns out the idea had been germinating for some time. "First discussions were in the mid 90s and then I got asked to do a guest spot on a show called Ireland's Finest about 7 years ago with The Chieftains, Paul Brady, Declan O'Rourke, James Galway and many more, with full orchestra…" Sharon thoroughly enjoyed the 2 tunes she contributed and shortly afterwards seized an opportunity to do a live show with the RTE Concert Orchestra, "…and this is where it really began".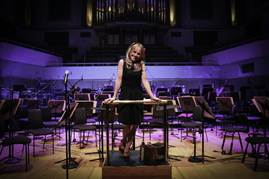 Serious work on the material that has now been released began a while after that and was developed over 4 years or so. I wondered to what extent the extended timescale simply represented the complexity of dealing with such a large number of people? "Well, yes it took a long time. When we started putting together the show with the concert orchestra, it was really starting at the beginning. It was a whole new process, because, when I write, generally, Jim Murray is involved in setting a chord structure and then it develops with other musicians in the band until over time we arrive at an arrangement that is complete." Jim Murray is Sharon's long-standing guitarist collaborator. So, it was much more a question of developing a new way of working? "Yes, it was a steep learning curve. We had a great arranger for orchestra, Joe Csibi, who was very patient. We would do an arrangement, then perform it and come back, often several times, until we had it nailed."
Having heard how the material was developed, I was intrigued to hear about how it was recorded. "We recorded all my band members at my studio and then took the files to the big studio in RTE where the RTECO records and over a two day period, with conductor David Brophy, we recorded the orchestra parts. I then went back to the studio and recorded accordion masters and mixed there."
The Flying Circus arrangements produce a distinctively different sound from almost anything that Sharon has recorded in the past. I asked if this had been the product of a conscious decision to try bringing her music to an even wider audience. I was thinking specifically of the recorded material but Sharon has grander ideas. "We always felt that if we had scores for orchestra for an entire show, and there are orchestras in most cities in the world, it might hopefully create a new way to tour for me." So keep an eye on the listings for your nearest concert orchestra, they could be adding virtuoso accordion to their repertoire before long.
Throughout the gestation period for Flying Circus, the more conventional strands of Sharon's musical career have been developing at a heady rate. She has been performing with her big band, a core group of seven but with the inevitable guests; as a four piece, currently with Jim Murray, Jack Maher and Sean Regan; and also as a duo with Alan Connor, of whom we'll hear more later. At the time I was talking with Sharon she was touring the UK with the quartet and will return for more gigs in February and March, after a brief trip to Australia. Would the tracks from Flying Circus find an outlet in any of these other formats, I wondered? "The four piece line-up is great and very adaptable. Jim Murray on acoustic has been with me for years and was a huge part of the orchestra project. Jack Maher on electric guitar and mandolin has been part of the big band and four piece and was very involved with the orchestra project. Sean Regan on fiddle and vocals has been involved for the last year and is great with the orchestra violin parts." So that seems like a pretty definite 'yes'.
And so, to return to Alan Connor. Just prior to the autumn UK tour, Sharon played several dates in Ireland with Alan, describing him as "outrageously brilliant", "spectacular" and "the piano madman". I just had to find out more. "Alan is a terrific musician. He plays piano, acoustic guitar, mandolin and sings. He has devised a looping system whereby he can play piano, guitar and percussion simultaneously and create a big sound from just the two of us." So, what of the material that the duo is performing? "We've gone through my back catalogue and the show with Alan features tunes from every album…some I've not played for 15 years!" Sharon promises more of this in the future, sounds unmissable.
Reading all this you may well expect that Sharon's life is completely focussed on her music, but there is a second, equally strong passion. "I'm deeply involved with rescuing animals and feel very passionate about 'Adopt Don't Buy'. It is meant to encourage people to take rescued dogs from their SPCA and pounds and thereby save lives. I am also encouraging people to support their local pounds and rescues." The first track on Flying Circus, Top Dog Gaffo, commemorates Sharon's dog that sadly died last year. But, as you'd expect, Sharon gives a home to a few more, I wondered how she managed with the hectic touring schedule that she keeps up, "I've 6 dogs, all rescued and 3 cats. It takes some juggling with sitters when I'm away" was the somewhat understated reply!
I've already mentioned that Sharon will be touring in Australia and the UK during the first part of 2013, but what more can we expect from this ever busy musician? More of the duo with Alan Connor and, yes, more orchestra work was the quick reply. In the meantime, have a listen to Flying Circus and appreciate the ever widening horizons of this most talented and generous musician.

Interview by: Johnny Whalley
Flying Circus (With The RTE Concert Orchestra) is released via IRL on Nov 19th 2012.