Last month we told you about Ceri Rhys Matthews latest venture 'Rambles Through Tunes', a beautiful project that was inspired by the long solo walks along the scenic Pembrokeshire coastal path he has been undertaking since the spring of 2010. Ceri, a folk musician, artist and founding member of Welsh group 'fernhill' set out on his latest travels which took in a number of live unstructured performances featuring new tunes, bits of remembered things from the day… snippets; creating a patchwork of song, flute, poetry, bagpipe, social history and memory. Not storytelling, but telling stories; not performing, but playing music; not chatting, but sharing histories.
The whole thing sounded to good to miss out on so we asked Ceri to capture some of the magic through a journal which you can read below, we've included tracks from yscolan: Music on wooden flute from west and south Wales played by Ceri. Spoken word by Beverley Evans. With fiddle by Christine Cooper. Dance tunes, airs, poetry and free verse.
From a very personal view, this is one of the loveliest things I've read in a very long time…thank you Ceri!
Ceri Rhys Matthews: Rambles Through Tunes – a log
to be where you want to be, to be able to think of nothing better than what you are presently doing is a privilege. to do so artistically is a rare thing too, and it lasted four days consecutively for me recently. it lasted the duration of a small tour round the byways of mid and south wales in the company of christine cooper and her fiddle.
i've been concerned for a number of years now of the position that the music i play takes in the world. it's an inherited music, compiled by the body of humanity that has touched it, and that it has in turn touched, and largely unwanted by those higher echelons of people who perceive a musical hierarchy. it's a music that i liken to fallen autumn leaves in that its golden riches, dun browns, musty smell and complex ecology is seen as detritus by those who think that leaves should be shiny, green and new and fluttering on the tops of trees, photosynthesising, rather than mouldering and decomposing and supporting the life-cycles of say worms, or fungi.
and so though arts centres and theatres and jules holland's programme are as valid as anywhere as places to play this music, i felt that 'the rest of the world' was being bypassed. and i like bye-ways. and so i focussed on the idea of rambles through tunes, for rambling is what i'm naturally inclined to do, be it on foot or with my tongue.
the idea was for the music to be only just an extension of everyday life, and to respond to what has only just happened, for stories to begin to unfold and fold back in on themselves so that life and art became only slightly separable from each other, both as magical as each other.
now these are tough times for delicate things, and people's lives complex, and so only a short tour was feasible. see, this is my work. how i put the bread on the table. and so to make it affordable to people who come to listen and simultaneously workable as a living is pretty difficult, but we managed to organise three places to host an evening. then, the band that christine and i play in, fernhill, got offered a gig in swansea slap in the middle, so that helped the finances but also contributed to the chiaroscuro of the trip by bringing in an urban element and a wholly different repertoire and set of circumstances.
alex gallacher asked would i keep a log or a journal of the trip with pictures and bits of sound recording, and gleefully i said yes, only to realise at the end of the first day that i was brain dead. or brain alive possibly, but anyway completely unable to focus my thoughts clearly on a daily basis. so then alex asked me to write it up anyway, for which i'm extremely grateful, and so this is for him…
it may be prone to exaggeration. i am prone to exaggeration…
day 1. i started a day early because i was excited. and because chris and i thought it better to remind ourselves of what songs and tunes were our favourites, and just how we play them, exactly. so i headed south to tenby. a place that always takes my breath away as it's by the sea. not tenby exactly but west along the severn sea, near manorbier. this is the birthplace of gerald de barry, or gerallt gymro, or giraldus cambrensis, or gerald the welshman, depending on your language. son of william fitz odo de barri and angharad, he was a twelfth century cleric who made an itinerary of his circuit of wales. he was half norman, half welsh, and the languages of the cultured court at manorbier were norman, cymraeg, latin, flemish, langue d'oc and langue d'oil. these were also the languages of a man gerald speaks of; a certain blehericus. bleddri in welsh, the fabulator, maker of stories, teller of the tales of peredur (percival), tristan, geraint (eric) and arthur. bleddri left manorbier and eventually ended up at the court of william ix duke of aquitaine, himself the first romance vernacular poet of the middle ages, one of the founders of a tradition that would culminate in dante, petrarch, and françois villon. willam was the grandfather of eleanor of aquitaine, she of the famous court of love, the birthplace of chivalry, unrequited love, the troubadour tradition based on bleddri's story of tristan, and the real life unrequited affair between herself and her troubadour, bernatz de ventadorn.
so, the week before we met up christine had lost her voice, completely. in an unfunny way. in a totally frustrating way. and it was still gone the day i got there, so choosing the music was largely a wordless affair, rich in gesture and face pulling. the evening ended with a tasting of mary cooper's fresh out of the oven guinness and chocolate cake.
day 2. the drive to dolgellau from tenby takes you firstly over the preseli mountains, known to some as the wall of independence of thought, within whose gentle slopes the river cych flows by the gates of annwn, or the underworld, where the battle of the trees, a conflict between arawn, king of the otherworld, and the children of dôn, amaethon, gwydion and lleu occurred. the battle was fought on account of the 'white roebuck and the whelp' stolen by amaethon from the otherworld. the giant bran is eventually identified by a sprig of alder he's wearing, which ends the conflict.
the otherwordly grey misty drizzle of preseli gives way to silver blue laced with gold clarity as you reach the coastline of cardigan bay, stretching a hundred miles around to the llyn peninsula and embodying vividly its comparison to the bejewelled rim of the sea god manawyddan's cauldron of rebirth.
chris had made a plan to stop off at a friend of hers living off the grid, under the radar, in a caravan (an invisible caravan, yellow on the inside) somewhere near machynlleth. they had been studying welsh together last summer, and she was busy writing a book about her rambles along the coast of wales. we sat in the tiny caravan and had tea and i told her fancifully of wolves. she told me the name of the stream which ran noisily and ceaselessly past the caravan, and it reminded me of a sixth century poem called yscolan, which i recited for her. she caught a bus to the gig at theatr fach (and home after) and wrote this: http://theyellowcaravan.wordpress.com/2012/11/10/fiddlesticks/
day 3. it's a long drive to swansea from dolgellau, but we broke the journey via my house to pick up julie murphy, the singer in fernhill. so we get to my home town late, just as it's gearing up for friday night shenanigans on wind street cheek by jowl next to the gig in ty llen (literature house). it's ugly lovely you see, swansea. tom, our trumpeter was waiting patiently as was bernard mitchell who had caught a bus in from the valley, just to take our photograph. bernard has archived the artists, musicians, poets, sculptors and so on of his hometown since he was twelve. he missed dylan thomas by six years, but he got everyone else. my favourite is his photograph of the poet vernon watkins. or maybe the one of fred janes by the gate. our turn tonight. i got talking to bernard and asked how he got into photography. his father he said, took him to the glyn vivian art gallery very young, took him to galleries in other towns, birmingham, bristol, cardiff, liverpool, london. engendered a visual perception in him. when bernard was sixteen, his father packed his suitcase, took him to high street station, and told him he was sending him to vienna to study philosophy, which bernard duly did via the schönbrunn, the bationalbibliothek, looking at beethoven's manuscripts, attending the coffee houses. bernard came back at nineteen. trained. what was your dad's background, bernard? was he a painter? no, a plumber. it's ugly lovely, swansea.
the evening was beautiful with all the swansea heads there. paul the griff, nigel jenkins, the chapel people, the freeform jazz poets, all the heads…
day 4. pretty shattered so a lie in followed by a gloamin' drive through the heart of the cambrian mountains up through tregarron, llanddewi brefi, pontarfynach then over the watershed into the eastern facing slopes. i'd forgotten it was classic rally country. so a drizzly black rear view mirror was suddenly stabbed by lights tearing up behind me. i've recently lost crossness at this kind of stuff and i let it just happen. then on an uphill stretch, screaming past me goes… a ford anglia. later a zephyr. into the dark rain and the ghostly remains of the lead mines…
the evening in llanidloes is hosted by the great oak cafe. so we eat excellent food before playing, and before we play isaac and his teacher cornelius play sublime mandolin duets. during our bit i was merrily dissing edward jones, self styled 'bardd y brenin' ('kings bard' – based on nothing more concrete than having once glimpsed georgy porgy through a window…) and becoming agitated describing how he tried to get the secret police of william pitt to have iolo morgannwg killed, when i noticed a woman in the audience change expression. after the gig she told me that her great great great grandfather had in his later years tried to help iolo get his papers in order – to no avail. earlier in their relationship, iolo had stolen his (george roberts') poems and tried to get them published in his own name. thus having established iolo as all round good egg and total genius, christine and i played some of iolo's cywydd deuair tunes. and sang a song he had 'plucked from the lips of a ploughboy'.
day 5. we stopped in the griffin in llyswen on the way to abergavenny for some nosh. top tucker. sunday dinner. the landlady asked had i been in the week before. yes i said. a gang of you with with a frenchman she asked. again yes, that's right. were you musicians. yes, why do you ask. you were all humming, i was hoping you'd play some music. we'll play some now if you like i said, and so we did. just for her, until a couple in their late sixties came in half way through me and chris playing pant y pistyll and some other jigs. they were plainly delighted and appreciative in the particularly joyous way that southern welsh people are. that's gaelic music he enthuses to jean, his wife. gaelic music, love. and when we stop he says excitedly after they'd clapped loudly, gaelic music is it..? lovely. yes, i say. do you sing love? she asks, sing us a song. so i sing jâl cyrdydd to see what happens. then when i'm singing he more excitedly says to jean, welsh! it's welsh love. they're singing welsh. anyway, we get talking afterwards and he tells me his name is david thomas and he used to be a boxer. i could see that. but my father was welsh he said, as if he wasn't. caradog meredydd thomas. born in 1890 came to tonypandy to work in the mines. was there during the general strike. and the tonypandy riots when churchill ordered the troops to fire. he was late having me see. but before he came to tonypandy, he lived in carmarthenshire, and when he was a boy on fair days he'd box in a tent at the fair before he came to tonypandy. he lived in a small village called llanfihangel-ar-arth, hardy anybody known where it is. that's where i live, i said.
the house concert in dylan fowler's house is where we finished the journey. in abergavenny. i dropped christine off at the station to catch her train to brighton. poor christine still wordless, but with music pouring from her. then i drove home. sad first, then happy…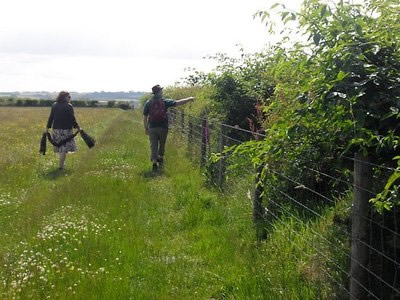 http://yscolan.tumblr.com/
http://www.facebook.com/ceri.rhys.matthews