Bombay Bicycle Club have today announced they will be performing at Camden's KOKO on December 22nd as part of 'Freedom from Torture Presents…' – a festival of music taking place throughout December in support of survivors of torture.
The band will be supported by Trophy Wife and Dan Croll to show their support for human rights and Freedom from Torture's work in caring for survivors of torture and organised violence who have sought refuge in the UK.
Their headline performance is the climax of a series of concerts the charity is organising in London and Manchester around International Human Rights Day on December 10th.
The show is 16+ and tickets can be purchased at the this pre-sale link now
Jack Steadman, Bombay Bicycle Club lead singer said:
"We are really pleased to be part of this festival to support victims of torture and raise awareness of Freedom from Torture's incredible work."
Kit Monteith from Trophy Wife said:
"We're looking forward to playing this gig at KOKO with Bombay Bicycle Club for Freedom from Torture. We are extremely proud to support the charity and their work providing survivors of torture with the specialist help they so desperately need."
Bombay Bicycle Club have released three albums in the past three years culminating in 2011's 'A Different Kind of Fix'. The band won the best new band at NME Awards in 2010 and recent tours have seen them headline to 10,000 at Alexandra Palace and play major festival slots at Reading, Leeds, Hyde Park and Glastonbury.
Marika Chaplais, Freedom from Torture's events fundraiser, said:
"We are thrilled Bombay Bicycle Club , Trophy Wife and Dan Croll are taking a stand against torture and raising vital funds for our work.

"We want people to come to KOKO to hear the brilliant music and learn about our work to help and support survivors of torture and to raise awareness of its devastating impact.

"Everyone who buys a ticket for this event will positively impact on the lives of torture survivors as we help them to rebuild their lives."
Tickets cost £20 and are on general sale from Monday, November 12th from here:
http://presents.freedomfromtorture.org/events/bombay-bicycle-club/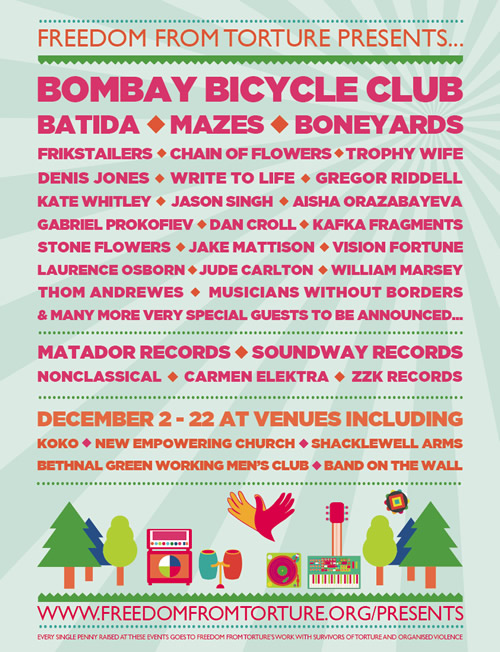 Freedom from Torture Presents… is a music festival put on by people who want to speak out against the unspeakable.



Top musicians, labels, venues and supporters are joining forces to create an incredible line up of music events because they, like Freedom from Torture, want to help survivors of torture and organised violence recover from their trauma and support them as they begin to piece their lives back together.



Every year over 2,000 men, women and children are referred to Freedom from Torture. These people have suffered unimaginable cruelty and horrific abuses of their human rights.



You see it every day in the news. 100 days of horror in Rwanda; those searing images that shot around the world from Abu Ghraib; the continuing widespread use of rape in the Democratic Republic of Congo; the terrifying recent images from Syria.

But what happens to the people who are forced to flee for their lives when the headlines fade? And the many more who are tortured under the cloak of darkness, far away from the eyes of the world.



Our clients so often have stories of amazing bravery, having stood up for what they believed to be right in the face of appalling violence and intimidation. Frequently they have been targeted because of their ethnicity, religion, gender, sexuality or political stance. All have overcome incredible brutality having been subjected to physical, sexual and psychological torture at the hands of others.



While some who suffer are unable to ever escape, those that do face a terrifying journey to safety, often not knowing where they are going until they arrive. When they do they face new frightening obstacles in the very place they thought they would be safe.


The lucky few are able to access services at one of Freedom from Torture's five treatment centres around the UK and receive the specialist help that they desperately need. These needs go beyond the scope of any one doctor, lawyer, psychologist, or care professional, and it takes a concerted, coordinated and specialist team effort, often lasting years, to help them rebuild their lives.



Without your support these people would have nowhere to turn.



More than 100 states have ratified the Convention Against Torture. That means they have accepted obligations to take effective measures to prevent acts of torture and to ensure that any act of torture is an offence punishable under their criminal law. Many national Constitutions, criminal codes, laws and regulations proclaim the prohibition of torture.



Yet, even in some of these countries, torture is still widely reported.



And so, more than a decade after the Convention Against Torture came into force, we must place a spotlight on these practices. 



We hope that Freedom from Torture Presents… with the help of everyone involved, will do this while raising awareness and funds for our vital work.