Su Blackwell is a UK based artist who creates book cut sculptures. She turns books into incredible paper sulptures featuring birds, trees and dream like fantasies…but I wasn't expecting this (see below), the level of detail and imagination that goes into her creations is staggering. She reads the book first and begins to create the work, adding detail that brings her work that special magic. Although se has an idea of her creation at the outset she lets the material lead her. As you can imagine from looking at the work below, it is a tediously slow preocess taking from a week upto two months to complete.
"I often work within the realm of fairy-tales and folk-lore. I began making a series of book-sculpture, cutting-out images from old books to create three-dimensional diorama's, and displaying them inside wooden boxes".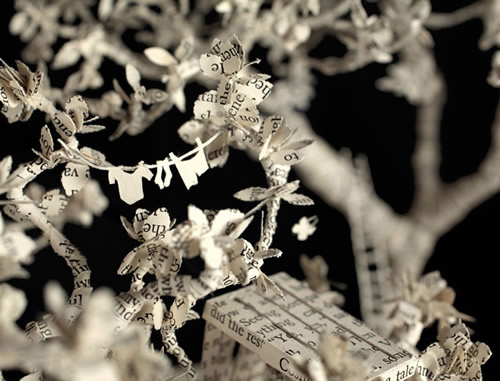 "For the cut-out illustrations, I tend to lean towards young-girl characters, placing them in haunting, fragile settings, expressing the vulnerability of childhood, while also conveying a sense of childhood anxiety and wonder. There is a quiet melancholy in the work, depicted in the material used, and choice of subtle colour."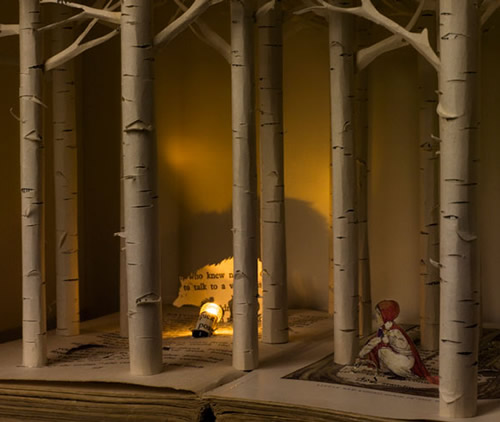 Paper has been used for communication since its invention; either between humans or in an attempt to communicate with the spirit world. I employ this delicate, accessible medium and use irreversible, destructive processes to reflect on the precariousness of the world we inhabit and the fragility of our life, dreams and ambitions.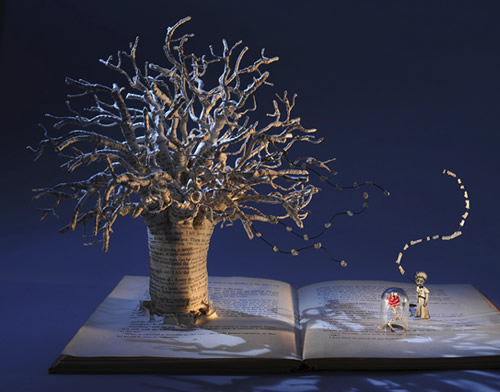 She has been commissoned to do many commercial projects which include this one for Pilsner Urquell:
And Crabtree Evelyn: