Burlesque dancer, visual artist, teacher of wilderness survival – a fairly non-traditional work-history for someone who decided to immerse himself in traditional song. But Sam Lee did exactly that, and Ground Of It's Own is the remarkable album that was the result. Sam learned song and story from travelling families the length and breadth of these isles. Most notably, he flourished under the tutelage of Aberdeenshire's Stanley Robertson, who inherited a rich tradition from his much revered aunt, Jeannie Robertson, and devoted his life to the promotion and preservation of the oral traditions of Scottish travelling people.
Ground Of Its Own has generated a lot of press and just as much praise since its release, so we felt it was time Folk Radio UK put a few questions to Sam about his adventures in Traditional music, his inspirations and his own approach to those traditions.
FRUK: You've said that you first discovered singing 6 years ago – how did that happen then?
SL:I discovered I could sing really as a means to try and understand the songs. I had heard of this singing thing long before and been obsessed (and I use that term lightly) with singers all my life. But it was hearing the first field recordings of Harry Cox, Jeannie Robertson and Copper family that knocked me for 6. My first response was ' need to learn every single song off this album' and promptly tried to do so, I had to have them inside me otherwise they were not really real. By learning them I exorcised a latent power in them that only held potency when in ones mind. The cd seemed like a prison to them.
On Ground Of Its Own, the songs are no prisoners. As the album opens The Ballad Of George Collins makes it clear that Sam really does relish the chance to sing. His rich baritone comes across like someone steeped in song from the cradle. From its mellow opening the song moves quickly to trance-like tempo backed by an electronically enhanced jaws harp. Dance music for a new acoustic age?
Sam Lee's background may not be one that cries out 'this lad was born to sing folk songs', but something in his soul must have cried it to him….
FRUK: Was this also your first introduction to traditional music/song or was there already an interest?
SL: Well I had long unknowingly been singing old songs and new ones with my fellow campers all my life around the campfires of my childhood. I went off to Forest School Camps and we sang collectively our hearts out, These were my greatest singing experiences, and still are in many ways, it was what we did every night and how we celebrated. I however had no idea they were of a greater tradition, only they were our songs and I assumed members of the camp had written them some years ago. I never questioned them, you didn't really, only now do I see what a privilege it is to have grown up amongst them. I still get a bit tearful when I hear the teenagers who have also been on camp burst out into a bit of 'Larks They Sang Melodious'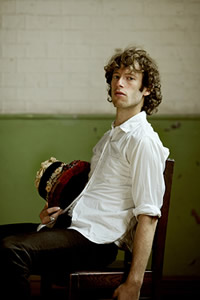 That emotional attachment to the music comes across clearly in the album. The trance beat employed in The Ballad Of George Collins may seem somewhat flippant, but it works; and it enhances the dream-like story matter. Sam's whole approach to making music has been far from superficial. Having discovered the 'greater tradition' he refers to, Sam seems to have received his calling and spent four years visiting travelling families and communities around the UK to learn more.
Much of that time was spent learning from Stanley Robertson, Aberdeenshire custodian of a vast traditional repertoire. During his time with Stanley, Sam himself seems to have become one of the heirs to this tradition…
FRUK: Learning from Stanley Robertson, did you feel an essence of Jeannie Robertson there in the music?
SL: Absolutely she was always present in the room and Stanley talked about her endlessly, he even wrote a chapter on his last book about how Jeannie and I (disguised as a eastern European survivor of the holocaust called Leigh Samuel!) met and became friends. Although we never met I feel very touched by her and her parents and family all of whom have long since passed. Stanley was a master of bringing the past forward and communicating with the ancients he was a high priest in many ways.
FRUK: Did Stanley Robertson have a particular approach to his role of custodian of Jeannie's repertoire?
SL:
Stanley invented his own way of teaching and being but when it came to the songs there were several that Jeannie taught him and his teaching me was all about showing just how Jeannie had learnt him. He would sing the first line and in excitement exclaim 'and ye feel aw the energy rush upside your head' you could feel the same 'Maize' (as Jeannie and him call it) this 'spiritual essence' flow so strong through his body as he sung, however he was also highly liberal with his music and just wanted it to be out there. He was not precious that I was southern and English and sang in my own accent, a very liberal guy who knew for it to survive it had to travel and change. Very open minded and progressive for a man born out of an ancient world.
It's clear in Wild Wood Amber that Sam isn't afraid to experiment. Combining a 1920's recording of a Jules Massenet intermezzo with a lyric that seagues The Colour of Amber with Johnny Lovely Johnny and I Wish, I Wish. The sampled violin is complimented by clarinet while the dulcimer adds a further, unexpected dimension. The combination places the song in an rather unorthodox time frame and challenges pre-conceptions about the provenance of traditional song.
FRUK: Jeannie Robertson had strong ideas about the purity of the tradition –  "Sing it right, sing it proper and sing it real". You've taken a very liberal line with the music that works beautifully, was Stanley supportive of this approach? How about the other travelling communities you've learned from?
SL:
It changes from person to person. Some have insisted I don't sing it unless it has the same Doric accent (which I cant pull off convincingly) others have just wanted their songs recorded and what happens next is of no concern, others have said how they want a lovely bit of guitar and keyboard behind, it changes from person to person. And some want it unaccompanied the good old way. I think Jeannie and Stanley's stand-point was more about the place from where you sing. I heard stories of their criticisms of some very fine singers because of a supposed dishonesty when they sang, and then again a love of some pretty 'chronic' (as the Robertsons called them) singers because they believed in their belief in what they sang. I once did a radio 3 broadcast and sang Stanley's 'Up a Wild and Lonely Glen', learned from his Father (Jeannie's Brother) and the whole family listened and phoned me straight after and exclaimed I was like a 'polite version of Stanley' I've dirtied up a bit since then, I love the wildness in his voice always taking risks.
We can be grateful Sam resisted urges to employ a Doric accent, or any other, while learning these songs. His own rich, baritone voice is wonderful to hear and any attempt to regionalize the music would cry of insincerity. In the archetypal transported convict's lament, Goodbye My Darling, both vocal and accompaniment result in a dramatic delivery in which the story is the star. Purists may complain about the songs feeling a little lost among the dramatic accompaniment (and without purists, we'd have lost a great deal of the oral tradition we hold so dear), but those who enjoy a spot of music with their theatre may well relish it… it's just another development of the tradition and this isn't the place to enter that debate.
FRUK: Stanley Robertson worked in Aberdeen's fish houses right up until 2002, despite a prodigious body of published, recorded and live work. Is there more scope now for a keeper of folklore, such as yourself, to carry out this work and still earn a living at it? did Stanley Robertson ever discuss this issue.
SL: I quote "Why make money when you can make history?" actually its a specious comment but has some truth and in fact the travellers are the best teachers of the entrepreneurial spirit. They all had other means of income and I too am cut from that cloth. With good PR I think the 'promotion of the Lore' in a respectful way is a profitable world to be working in and I have so many projects and ways of reinventing this material and celebrating it that I worry at the amount of work I could generate. Its not the keeping it that is hard it's the giving it away in the right way that requires so much thought and dedication.
There's a world of difference between music that has endured and music that verges on obsolescent. Although the latter would be more easily applied to 70's pop, there are interpereations  of tradiotnal song that lose their lustre. The songs themsleves, however, endure – no matter what guise they've been subjected to. In On Yonder Hill the Hang and Trumpet, combined with its gently rousing 'high-hos', take Sam's explorations in yet another direction.
FRUK: Ground Of Its Own is often billed as celebrating the British folk tradition – given strong regional variations, would 'the various folk traditions of Britain' be more accurate?
SL: Hmm, good question, I guess the repertoire on the album is mostly songs that you will hear as quickly in the north as you would in the south, There are no songs which are specific to any one region, so it celebrates the holistic nature of the British tradition, however versions are radically different depending on the communities who sung it, then again, versions are radically different in style melody and words between family members as I have observed. Northlands (or The Outlandish Knight / Pretty Polly) I have now recorded from 3 members of the same Cassidy family and they all approach it differently. British folk song is wildly varied and ever changing
No album of traditional song is complete without a taste of the macabre. In Jew's Garden Sam's strident vocal, violin, atmospheric Cello and haunting Jaws Harp  conspire to make Sam's rendition of Little Sir Hugh as dramtic as any could be. Another dark tale is presented in the 'Outlandish Knight' variant – Northlands.. Just as the dulcimer and hang combination draw together the ancient and modern, this song combines an age-old story with a modern setting. Despite this, you can place yourself around a camp-fire listneing to this dark tale.
FRUK: Did the crossover in songs from area to area (especially apparent in Wild Wood Amber and Northlands) influence or inspire your approach in any way?
SL: Each song identified its own arrangement and called for a unique assemblance. It was exciting what seemed to work and how some songs made themselves, Northlands arranged itself in many ways, I had always heard that modal melody in the sound of the Hang drum, which I have loved for years and once we recorded the vocals and Hang together I new I wanted the energy of the Dulcimer to balance out the frequencies and create the drama. Chris Coe who played it is such a theatrically minded person I was so thrilled she could contribute, Originally I wanted her playing concertina on Wild Wood Amber but soon realised it wasn't working and that The Dulcimer was once again the right flavour.
FRUK: Was the merging of these various voices or flavours something you sought from the start or did it grow as you learned?
SL: On an instrumental level I guess I would look at the instrumentation as a being more a very varied set of flavours and ingredients but all have been cooked in a particular way that gives the continuity of sound. I think I have asked the instruments (and their players to respond outside of their usual stylistic and respond to the free form nature of the songs, the pulse in it less so than always the rhythm.  In terms of the singers i have learned the songs from well they are just songs I loved and there was no conspiracy that I should do Scottish, Irish, Gypsy Traveller songs it just happened to be a nice spread. These communities were learning songs off each other so a traveller song becomes a settled song very quickly and visa versa.
In contrast, Tan Yard Slide's under-stated vocal and minimalist Shruti Box backing wouldn't sound out of place alongside the likes of more fashionable masters of the minimum – such as Spiro or Penguin Cafe Orchestra. Not that Sam Lee is one to eschew trends….
FRUK: The Vogue connection seems incongruous but at the same time irresistible. Convincing the shallow, fickle and inescapably commercial world of fashion about the importance of traditional art – that's quite a feat! How did it come about?
SL: My Sources will have to stay secret – well ok go on then, I guess Folk has its unlikely yet brilliant agents and in this case it was a mix between the mighty Simon Costin of the Museum of British Folklore and Alexandra Shulman the editor who was also a trustee on the arts foundation the year I won their folk award. Basically Vogue, editorially, is actually quite a good read (from the one issue i have ever read -they once said the same thing about Playboy too I hear) and so folk being the last frontier was a good subject for a back of mag feature. And well often it takes something as massive and unshakable like Vogue to just say fuck it lets do a piece on folk to shock their readers. They'll as quickly do a feature on adornments for female circumcision the next month for exactly the same reasons, provocation is the new institution darling.
FRUK: In relating a tale through song, how important to you are the historical references to you (where they exist)?
SL: Oh its all mere detail really, I love it and am a bit of a nerd for it, but as the great quote goes, "If your art speaks for itself, shut up" sometimes the academic acknowledgements are such a turn off and can be a real  'butterfly pin and glass case' to remove the life out of a performance. It's a bit like living in old house we like the period features but we also like the modern appliances and I would hate to live in a house that is untouchably ancient and precious. As my album's inscribed Ovid quote goes 'praise the old ways but live today'. One must make them relevant and if they are completely ancient in every detail then emphasise the humanity and core emotions don't dwell on the petty coats and armour.
FRUK: You must have collected a sizable repertoire while learning these songs, was there a lot of narrowing-down to decide what should be included in A Ground Of Its Own?
SL: Nope not one song was started and not used. It is possible that if I had chosen different songs the album would not be much different, it's hard to say. The songs were ones that spoke to me then. Often a song revealed itself in response to a sound or texture of an instrument and so ended up in the set, like Yonders Hill, I heard the tank and that scale and it hopped out ready made. Like lovers catching eyes across a room I'm just the dating agency that hurries up that introduction.
Ground Of its Own is a wonderful, uplifting and highly original album. It has been crafted and delivered with love and care – and that shines through. John Wood's peerless production skills and the instrumental contributions from Francesca Terberg, Cello; Jonah Brody, Japanese Koto (Harp) & Ukelele; Steve Chadwick, Trumpet & Cornet; Camilo Tirado, Tabla, Percussion & Cantele; Flora Curzon, Violin enhance the songs themselves and Sam's appealing vocals (I would even venture to suggest that, at times, he croons.). Sam seems to savour every note of the melody, cherish every word of the song, and delight in every nuance of the story. What more could you ask for in a collection of traditional songs?
Review by: Neil McFadyen
Video
Sam Lee performing unplugged at Mosely Folk Festival during a brief power out. "He brought the early Sunday morning crowd down to the front for an unplanned unplugged track which ended up as a real treat and made the set!"
Ground of Its Own is released via The Nest Collective and is available in our store.
Photo Credits: Rick Pushinsky, Ian Whitaker