Kathryn Tickell's musical journey through life is hardly what you would call ordinary. If anything it is a surprising one, not one that is born of luck, more one of great inventiveness and a continued perseverance that is driven by a deep relentless passion for her Northumbrian roots.
Born into a family in 1970 which were steeped in the local traditions of Northumbria, Kathryn Tickell fell under the spell of this land at a very young age. From its beautiful landscape to the shepherds, colourful characters and of course the all-important village dance that played such an important role to these rural communities; all these things were to shape her life beyond the imagination of anyone. Besides being the foremost exponent of the smallpipes today she is also a fine singer, fiddle player, composer, Artistic Director of Folkworks and founder and Director of Folkestra, the north east's dynamic young folk ensemble.
We caught up with Kathryn to discuss her latest touring venture (and CD) 'Northumbrian Voices', a celebration of everything that has made her what she is today and which provides a greater 'sense of place' than anything she has done before. Through song, tunes and spoken-word narrative as well as being performed by a six-strong cast spanning three generations which includes Kathryn's father Mike, it leads listeners and audiences on a magical, moving, humbling and often hilarious journey through the culture and lore of her family's native North Tyne Valley where words and voices play a vital role.
"Yes – it has music in it, performed live, but it is very much about words and voices" Kathryn explains. "I felt that it should be something somewhere between a concert and a play and I brought theatre director Annie Rigby on board to help work out exactly how it could work. I knew which musicians I wanted and was delighted that they all agreed to put their faith, time and talent into a project which at that stage wasn't even sure exactly what form it was going to take…
All the musicians take their turn to speak – using the words of older musicians from Northumberland."
Putting together the whole performance was no easy task. It called upon some artists to step outside their comfort zones to become actors almost…this in itself led to an interesting and somewhat humorous outcome…
"When I was putting the show together I knew that we were going to be using lots of words and voices. I had my team of musicians on board, but although some of us are ok about speaking on stage, some of the group were a bit worried about that aspect, and none of us are actors, so I knew that we were going to need someone else to read some of the words. Hmm….who to choose? There was one very obvious name that kept springing into my mind and, although I tried extremely hard to ignore it, other people kept on suggesting the same name. Grudgingly, I had to admit he was the man for the job…my Dad!
…and so 'Northumbrian Voices' was born and off we went on tour. I had been worried about how it would be, touring with a band whose ages spanned three generations, but it's lovely. We are the only band I know who tour with an armchair; it's for my dad to sit in on stage…he's in his seventies and we want him to be comfy!"
Kathryn revealed a side I'd not considered before when she explained that she'd not initially considered Arts funding for the project which she put down to a 'generation thing'…something I feel is also a reflection of a woman with great determination.
"I knew I wanted to do the project and was going ahead with it in my usual way (e.g. decide to do it, ask the musicians, book the tour in and work our socks off putting it together) and it hadn't occurred to me to look for funding – I come from a generation when Arts funding was 'not for the likes of us'! However, I had recently found myself writing references for several University students who were applying for funding for various things and I thought "hang on a minute…I should be doing this for myself!" so I approached (for the first time) the Arts Council and applied for a grant. I could only apply for a small grant because there wasn't time to do anything else – I'd missed the deadline for the bigger grants and we'd already started booking the tour. I was really grateful to get the grant as it meant that we could pay ourselves for the rehearsal time, which meant that we could afford to spend more time putting the show together collaboratively, rather than me trying to work everything out and then get the musicians to just follow my plan. We spent a lot of time reading through my transcriptions of the interviews, and we were all involved in choosing what to keep and what to leave out, and how to combine the words and music."
It was clear from reading about Northumbrian Voices that this was no ordinary performance, I asked Kathryn what she hoped to convey to an audience during the performance and what she hoped they would take away from that experience.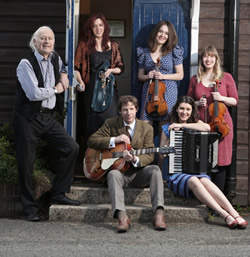 "Well, this concert is a bit different to my normal concerts   (it's got my Dad in it for a start…) and I suppose that I would like the audience to feel that they have been transported to a different world and a different time and for them to come out of it with a real sense of connection with what they have just seen/heard. The show is all about connection really, and how tunes, songs, people and stories can live on through us and become part of who we are.  Oh heck! That sounds terribly serious…it's got some funny bits in too, and some toe-tapping tunes…"
Many of the conversations and voices in 'Northumbrian Voices' were recorded by Kathryn as a young girl, all she told me, quite by accident.
"I used to go to visit the older generation of musicians and take my portable tape recorder to record tunes I might want to learn, and occasionally I'd forget to press 'stop' and would end up recording bits of conversation. At the time the recordings were all about the music, the tunes, but as the years went on the voices became more and more important to me, particularly when they were voices of the older musicians, who are no longer with us. Over a period of about 20 years I amassed quite a collection of recordings of musicians, friends and family without ever having a plan of what, if anything, to do with them. It just seemed important to record those people and that knowledge. My lack of technical expertise meant that the recordings (mostly on cassette) were so bad that there was little hope of ever actually using them, but still, I felt better knowing that they existed."
The decision to revisit those tapes and to begin transcribing them was a big undertaking and more besides as Kathryn revealed.
"…as I wrote down the words, sometimes rewinding the tape many many times to decipher a particularly difficult or uproarious bit, I found myself laughing out loud, crying, and, most of all – remembering. Several of the people, like Willie Taylor, Will Atkinson, my Granda Robson and my Aunty Stella were no longer alive and it was simultaneously wonderful and devastating to hear their voices again. Others are very much part of the modern world (my neighbour, my cousin's husband, both Northumbrian farmers). There was more than enough material contained within those interviews to make the show, in fact we had major problems deciding what we could leave out!"
Just as words play a part there are tunes and compositions linked to those same memories to choose from…another task in itself.
"The other aspect of the show is, of course, the music. There is a whole wealth of repertoire there to choose from! I included some new compositions, but I really love the fact that often throughout the evening you will hear someone's words and at the same time a tune that they wrote, or that was written for them."
I asked Kathryn whether there were memories she was particularly fond of…
"To be honest they are all special to me" she explains "it's a very personal show; we are speaking the words of my friends and family – people I grew up listening to, and pretty much every night I get a catch in my throat at some point in the evening. It's not always the same thing that gets me though – and sometimes it depends on who's in the audience…if I know there's someone there who knew one of the older musicians like Willie Taylor or Will Atkinson (whose words and tunes feature heavily in the show) then that adds poignancy. "
Kathryn had been taught the Northumbrian smallpipes by shepherd musicians such as Will Atkinson and his cousin Willy Taylor in outlying hill farms near her home, a unique connection that played an important part in her life.
"I was extremely lucky to have that connection – it was through my mum's side of the family (she's a Robson) who have lived and shepherded in the North Tyne Valley, the Warksburn and Redesdale for centuries. The traditional music seems to have stayed longest in those very traditional, geographically remote, hill sheep farming areas, and my grandparents introduced me to many of the older musicians, and I was related to some of them anyway, so would see and hear them at family gatherings. That incredible connection between people, place and music has always influenced and inspired me, and I lament its decline. Of course it does still happen in certain places and we should do all we can to foster and encourage that. But you can't artificially 'preserve' these things, and there are many other ways of enjoying, playing, being involved in and learning about folk and traditional music."
For an artist whose music is so linked to the Northumbrian landscape I asked Kathryn whether the land she remembered as a child was still there today.
"Yes, in part: the land itself is there, but the communities and the way of life are different – shepherding is a very different occupation today than it was 70 years ago. Having said that, even the land has changed to some extent; Kielder Water has swallowed up an entire valley for example…However there is a section of the show where my mum is talking about her childhood and going to school past Goatstones Crags…and I drove out there a few weeks ago and that landscape it exactly the same as it was then, probably the same as it's been for hundreds of years."
Despite the personal nature of Northumbrian Voices and the hardships those older generations endured Kathryn points out that there are moments of great joy and humour in Northumbrian Voices.
"Really it's the people of my parents and grandparents generations that lived through very hard times, in extremely isolated areas of Northumberland, and coping with extreme weather conditions (the shepherd "perishing in the snow" was a recurring feature of remembered conversations from my childhood) but a lot of what comes across is not about hardship but about community, about a sense of place, about loving music and dancing – and the important role that the village dance played in the lives of people at that time.
"There is a lot of humour in the show though, but it's hard to describe…you'll have to come and see it…or buy the CD!"
Northumbrian Voices features at Lawrence Batley Theatre, Huddersfield tomorrow (Sep 19, 2012) Tickets Here
"It's not just a nostalgic look back to the past though. Many of the people whose words we are using are still alive and very much of the modern age: my neighbour, my cousin – both Northumbrian farmers. I always wish that audiences could meet some of the people I learnt from — they were such characters — and this show feels as if we are letting those people speak." Kathryn Tickell
Buy Northumbrian Voices
Northumbrian Voices is released on Park records and is available from the Folk Radio UK Store here.
Other Useful links
Folk Archive Resource North East (features archive interviews with the likes of Willy Taylor and Will Atkinson)
Willy Taylor's Obituary written by Alistair Anderson (Guardian: Nov 2000)
Photo Credits: Shaun Bloodworth, GS Studios, Johnny Handle