The more you learn about New Orleans based 'Hurray for the Riff Raff' the more prophetic their name becomes. 25 year old Puerto Rican front woman Alynda Lee Segarra told us "Hurray for the Riff Raff reflects my love and feeling of camaraderie with the underdog. It's a celebration of all of those living on the fringes".
Despite finding solace and kinship in the fringes their latest album 'Look out Mama' speaks loud with a broadened palette of sound that has been attracting well deserved attention from the mainstream music press. 'Look out Mama' is the result of an accumulation of fringe encounters and experiences that saw her hook up with a honky-tonk touring band called the Tumbleweeds. The results are spectacular, just as she can lift you with those sweet yodels she throws in on the title track she can drop you down to the soulful yearning depths on 'What's Wrong with Me'. Her psychedelic 'Ode To John And Yoko' makes it clear that the wind-vane on this album is spinning, it covers a fusion of influences from front porch folk 'n' blues, country, soul, roots and rock n roll, a mirror on her adopted city of New Orleans from which this album proudly germinates.
All of her songs and music have a genuine home-grown feel to them, a natural conclusion maybe to a young woman's experiences and encounters following a decision to leave home at the tender age of 17 and take to the road, a decision that she admits was not an easy one. "Leaving home young is not easy, it was not easy for me to figure out what I was going to do." Her life on the road has attracted a lot of attention along with romanticised perceptions. "It does make me feel uncomfortable when people talk about it, I guess it's interesting for them, but I know what my experience was, and it made me who I am. So I try to ignore what I read that sounds fluffy and romantic. A lot of my life has been romantic and extremely lucky, but leaving home was not all that."
Hurray for the Riff Raff were made for the road and they thrive on performing in those small bars and clubs, a far cry from their current UK tour dates (see below). "I'm always on the road!" explains Alynda, "whether it's touring or just exploring I'm normally on the road". Despite her roaming lifestyle she is as close as settled in New Orleans, a place she has a close attachment to and one that has had a big influence on her music. "The Music scene of New Orleans is the most welcoming, encouraging and passionate I've ever witnessed. It is still very vibrant. That place is tough, it's not going anywhere." She has built up a network of friends and close supporters in New Orleans, if you want to see that in action then head to The Allways Lounge on St. Claude Avenue. "The Allways Lounge is my favourite spot in New Orleans" Alynda reveals, "The People who work there treat us so well and our shows are always great nights full of people treating each other right".
Alynda's gift of re-shaping old into new is something she clearly thrives on, she takes inspiration from those around her as well as personal heroes such as Gillian Welch. " I am influenced by my fellow musicians who are learning from the old records and trying to build something new from them. There are sometimes I'll see a band I really respect, and I feel the urge to write a song right then and there while watching them. I gotta try to keep the feeling with me till I get home and grab the guitar. I love those moments! I also really try to write songs that I think a hero of mine would feel, Gillian Welch does that. I am a huge fan of hers and I think that exercise in writing has been helpful."
From her tribute to world peace seekers John Lennon and Yoko Ono on 'Ode To John And Yoko' to the anti-war statement on the back of the album cover, Alynda's sentiments about war are clear, she believes we can "rise up and turn their hate machine around…I want to encourage us to be peaceful." Her personal conviction is invigorating and offers hope to many, whilst writing protest songs is not easy she explains "I know artists who are voices for our generation, and I believe they'll write the songs we need." Putting pen to paper to form words of protest is not just difficult it's also beset by some false perceptions. "I am saddened by the attitude that believing in a political movement or feeling passionate about change in our world is considered 'corny' or 'played out'. We need to get over the idea and realise that it has been fed to us, it's an idea to keep us bored and stagnant."
Alynda's story is one of courage, strength and determination, something that is very transparent and open on this album, she'll continue to raise the bar I'm sure and this is a great great album that's way out there in front, hopefully leading others to the fringe!
The Trivia Round
What Album are You Listening to right now?
I've been listening to a love performance of Nina Simone in England in 1968.
What are your reading?
Badasses of the Old West tales of outlaws and bandits.
Tell us a band or artist you'd like to introduce to our readers / listeners.
Feral Foster of New York City
Tracks
Album Stream
UK Tour Dates
Sep 04 Glee Club, Nottingham, United Kingdom
Sep 05 Greystones, Sheffield, United Kingdom
Sep 06 Night & Day, Manchester, United Kingdom
Sep 07 Norwich Arts Centre, Norwich, United Kingdom
Sep 09 The Railway (SXSC), Winchester, United Kingdom
Sep 10 Bordeline, London, United Kingdom
Sep 11 Green Door Store, Brighton, United Kingdom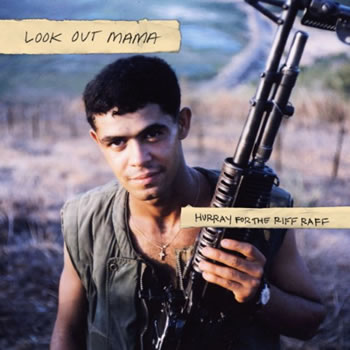 Look Out Mama is released on Loose Music 20 August 2012. Order it from our Store