Marry Waterson and Oliver Knight release their new album 'Hidden' on 24th September 2012. We've been looking forward to more from this lovely brother/sister duo since the release of 'The Days that Shaped Me' which we reviewed last year. This latest offering is filled with tales of characters who are brought into focus through clever lyrics and animated by arrangements which draw on ragtime, music hall, ska and traditional folk that we associate with them both.
We jumped at the opportunity to talk to Marry and Oliver about the making of 'Hidden' as well as getting some behind the scenes stories which add some new angles and insights to this great release.
Unlike intimacy of 'The Days that Shaped Me', 'Hidden' portrays a series of characters who are given vivid life-like qualities through the music. "It seemed fitting for 'The Days…' to be intimate and acoustic" explains Oliver "where-as 'Hidden' needed to show the characters off a bit more and 'make some noise'."
These characters took on a life in the mind of the Marry Waterson which she found gave a natural leaning towards certain music. "The characters in some of the songs dictated where the music was heading to me, I instinctively veered towards music hall when writing the tune for stage performer 'Starlet Scarlet' I wanted a full, heavy sound for 'Goramandizer' to reflect the lyric, similarly the Emo-clan of 'Professional Confessionals' had to be represented with a relevant sound, it would have been ridiculous any other way. It was pure inspiration on Olly's part to add Ska beats to 'I Won't Hear'."
The strength of the characters and a personal intrigue in the traits of such people led to a common theme emerging which the album title hints at. "As a contrary Mary myself" reveals Marry "multifaceted personalities intrigue me. A common thread developed whilst writing these songs whereby hidden traits are found out in tales of Mutton dressed as lamb, vulnerability hidden behind strength, comfort food numbing senses, Clans and altered egos, all manner of deflection, whether the character is aware of this or not."
The arrangements on 'Hidden' are given a big helping hand thanks to members of their extended family which include Eliza  and Martin Carthy. Guests also include
Coope Boyes and Simpson
, Reuben Taylor (The Atheletes), Barney Morse Brown (Duotone, The Imagined Village), Pete Flood (Bellowhead) and Miranda Sykes (Show of Hands). As Oliver explained, they hadn't worked with all of them before but the results speak for themselves. "Barney supported us at a show in Bristol and Marry and I both thought it would be good to get Barney in. You're never quite sure when you ask someone you've not worked with before if they'll be interested but he was and he did a great job. I've worked with Miranda and Pete before and I knew they would be able to do the job no problem."
Marry was more than happy to take advantage of two relatives who are household British Folk names. "Well, we're very lucky in having a choice relative or two which I've fully taken advantage of on the song 'Benign' here Martin Carthy plays guitar. I often write free, unstructured tunes and Martin excels at melding words and tunes together, he's great to work with. Everything is always doable in his book, In fact when I first started writing lyrics I thought I wouldn't be able to write music as I didn't play an instrument, Mart just smiled and pointed to my mouth…of course!
"We wanted a bit of a party going on, with Going, going, gone and I suggested an Andrew Sisters style harmony to Eliza Carthy, she nailed it with sassy 5ths and 3rds. Coope Boyes and Simpson also feature happily, having sang with them in the group 'Blue Murder' I always hoped they would come and sing on something. They have beautiful voices. Barry and Lester were able to come to the studio, as Jim lives abroad now he emailed his parts through."
Marry and Oliver didn't have the luxury of being able to put tracks down in a one or two week sitting so the actual recording took place over a 'periods of time'. Whilst sporadic recording suits some Marry explained this wasn't her ideal approach. "I write on and off in intensive bursts" she explains "and I couldn't accurately say how long the album took to record as studio sessions were shoe horned around Olly's day job. So a few hours on an evening here and there, some time on free weekends, which is like torture to me as I'd love to get stuck into a week or two of creative time."
"When you're in the thick of making an album it's sometimes difficult to see the wood for the trees" explains Oliver, reflecting on the experience, "but when you've finished and had a break from it and then play it through, that's when you start to think "We've done a good job there."
Marry had her selective highlights which sprang to mind as she looked back at the experience and reeled them off. "It's always exciting when I sing various parts and come back later to hear how Olly has weaved them together, or when he slips in a stonking new guitar part and emails it over, as was-the-case with 'Starveling' I love that guitar at the end.
"Reuben Taylor's outrageous piano part on 'Starlet Scarlet' always makes me smile and he actually thanked ME for 'allowing' him to do it. His organ on 'Gormandizer' is very cool too.
"When Barney Morse Brown sent his cello part through my heart nearly burst out my chest, so beautiful."
Those highlights go beyond the music, just check the very catchy album cover which sees Marry and Oliver sporting colourful floral outfits that match the wallpaper behind them…a clever play on the 'hidden' theme. Marry reveals she chose the design. "It took me ages to find the right fabric, William Morris you know…classsy! I recovered my living room lamp and my pal Allison did a great job making our outfits, everyone wants us to tour in them but Olly's not that keen somehow…". We think he should make at least a few festival appearances in this glorious floral garb…people won't forget and that album cover will provide an enduring memory!
Choosing the right floral design is not the only area where Marry has been exercising her visual artistic leanings, she's also been using stop motion photography. "Ah, the video's, I'm picking it up as I go along" she explains rather humbly, "I bought a camera at Christmas and it's a wonder I have any hair left after teaching myself to edit film. Beyond the creative desire it's all just bloody mindedness. I'm hoping to get by with novelty of naive charm. Stop motion takes a very long time, but I'm addicted now, even if the air is a little blue some days. This will be my 5th offering, having done two previously for us, one for Eliza Carthy and another for Kathryn Williams."
We have an exclusive of her hard work and you can watch Going Going Gone below for the first time which will be released as a single on 17th September!
Folk Radio UK Exclusive: Going Going Gone
Album Stream
The Trivia Round
What album are you listening to now?
Oliver: On the outro of a film I was watching (can't remember the film) there was a band playing called Grand Funk Railroad and the song was "Sins A Good Man's Brother" I'd never heard of them, it's good stuff.
Marry: Currently in the disc player: Pandemonium Shadow Show by Harry Nilsson. On the turntable: Desolation Angels by Bad Company. Last played on ipod: Atomic by Blondie.
What are you reading?
Oliver: Just Finished Ian Rankin "A Question Of Blood"
Marry: I've just finished 'The Night Circus' by Erin Morgenstern, I'm dipping in and out of 'Life' by Keith Richards and the book always handy under my bed: Under Milk wood by Dylan Thomas.
A band or artists you'd like to introduce to our readers and listeners.
Marry: Emily Scott is a singer-songwriter and multi-instrumentalist based in Edinburgh. She writes odd-ball string compositions. I love 'If I Am A Thing' and 'Wendy's Party' from her album 'I Write Letters I Never Send'
Dates
Marry and Oliver will be performing tracks from their album for the first time on Monday 17th September 2012 at London's Slaughtered Lamb. They will joined by Reuben Taylor and Miranda Sykes. Don't miss it, full details and tickets here: www.pulluptheroots.co.uk
Also catch them performing at Musicport Festival 2012 which runs from 5-7th October.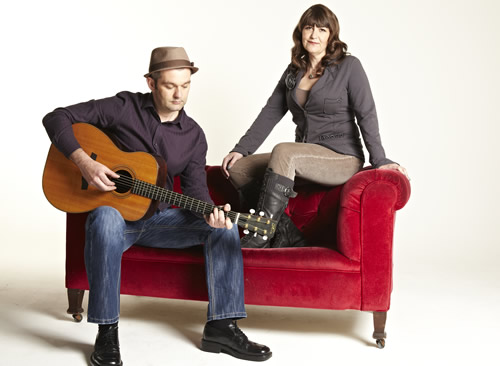 Hidden is released via One Little Indian on 24th September 2012. Available from the Folk Radio UK Store here
Visit them here: watersonknight.com