kNIFE & fORK is the befitting band name adopted by its core members Laurie Hall and Eric Drew Feldman whose music is plunged through a history of progressive influences. Feldman's biography brims with a flood of names from some of the most influential and pioneering artists in rock that he has played with including Captain Beefheart, Snakefinger, Pere Ubu, The Pixies, Frank Black/Black Francis and PJ Harvey.
It was at a PJ Harvey concert that Feldman was playing that they both met and became friends. Following a car accident that put Laurie out of play for a while Feldman began a long distance correspondence, sending her tracks which she wrote songs to whilst convalescing. A similar approach was adopted by John Parish who often wrote the music first which PJ Harvey then put lyrics to. As with Harvey the results of this approach are equally rewarding for kNIFE & fORK.
After a hiatus of eight years they are about to release their second album The Higher You Get The Rarer The Vegetation the title for which is a quote from the Spanish Surrealist Salvador Dali which is apt for a band whose expansive work rests outside the rigid structure enforced by commercial expectations.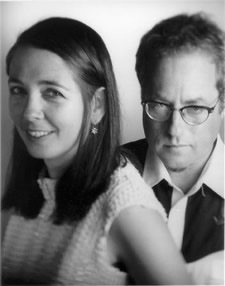 On The Higher You Get The Rarer The Vegetation Laurie Hall's lyrics speak loud and heavy with melancholy with that edge of hope gently sparkling in the background as if the exercise of writing the words is a therapeutic necessity. Vocally she has a striking voice instantly reminiscent of Patti Smith and Polly Harvey who is also a fan of the band.
Like their influences the album is sonically broad, a roller-coaster of emotions that opens on a pinnacle with the percussion driven Tightrope a post-punk crossed Ennio Morricone soundscape before sliding down into the malancholic underworld of Chariot on which Feldmans synths create an intense field of loneliness and isolation. The climb out is a welcoming upbeat I Count the Days. Feldman's alchemy shines through on Tailspin in which he allows an eeriness to creep in which is banished by the following guitar grinding Pocket Rocket a beautiful punk infused euphoric release. The emotional highs and lows feel like a natural progression rather than a concerted effort to keep a balance on the album.
Any fans of PJ Harvey or Patti Smith will get hooked on Laurie's vocals whilst Feldman's arrangements are masterful and reflect his wealth of experience and ability.
The album was recorded in part at Feldman's home studio and at an old haunt, the infamous Hyde Street Studios in San Francisco. The venerable space has hosted recordings of many seminal records, including Captain Beefheart's Shiny Beast (Bat Chain Puller) – Feldman's first album recorded with Mr Van Vliet.
To celebrate the release of The Higher You Get, The Rarer The Vegetation we have an exclusive video to Tightrope which you can watch below:
Exclusive Video: Tightrope
Background
Laurie Hall is also part of underground San Francisco band Ovarian Trolley. Plus, for nearly two decades she has composed, recorded, and toured with the family vocal trio 'The Hall Flowers' and folk-noir outfit Ruby Howl.
Eric Drew Feldman, a keyboard, bass and synthetics player, composer, producer and sonic architect, had been studying at UCLA with electronic music pioneer and analog synthesist Dr Philip Springer, when Beefheart asked him to join his Magic Band. He then spent five years touring the US and Europe, and featured on the albums Shiny Beast (Bat Chain Puller), Doc at the Radar Station and Ice Cream For Crow.
Throughout the 80s Feldman worked with many people including Serge Tcherepin, designer of the Serge Modular synthesizer. Known for his collaboration with Snakefinger up until his death in 1987, Feldman co-produced the records Manual Of Errors and Night Of Desirable Objects.
In 1988 Feldman then joined David Thomas's Pere Ubu line-up. He played synths and keyboards on the Cloudland tour, plus Worlds In Collision. By the following year Pere Ubu were supporting the Pixies on tour; it was here that Black Francis and Eric Feldman met, which led to an invitation to perform on the final Pixies album Trompe Le Monde.
Since then Feldman has produced FB's solo albums Frank Black and Teenager Of The Year. Feldman and Francis continued to work together from his 2000 album Dog In The Sand to The Golem, a score to the 1920's silent film classic of the same title, and NonStopErotik.
By the mid-nineties Feldman then joined PJ Harvey's touring band as well as playing on Is This Desire and Dance Hall At Louse Point – her project with John Parish.
Feldman's association with Harvey continued through the new millennium on tours and albums including Uh Huh Her, White Chalk and the Harvey/Parish collaboration A Woman A Man Walked By.
In between, he has toured with The Residents and produced several albums, including the Polyphonic Spree's Together We're Heavy.
Other E.D.F projects include producing dEUS's album In A Bar Under The Sea and Sparklehorse's UK hit Happy Man.
Album Stream