Canadian based chamber-folk ensemble The Wilderness of Manitoba have a new album 'Island Of Echoes' due out in September which promises to be a bigger more expansive sound than previous releases. They recently touched down on UK soil where they will be playing a string of dates including WOMAD Festival.  Nearly a year on from our last interview we catch up with their Vocalist/multi-instrumentalist Will Whitwham to talk about the band as well as their new sound and how the band has changed over time.
We also have recent video of their performance at The Lexington, London which you can watch below.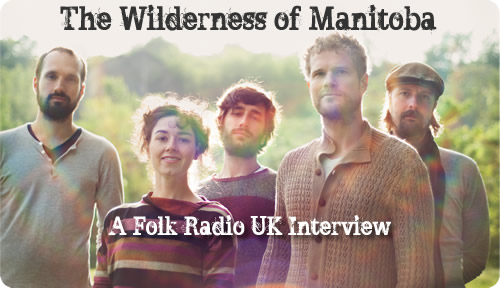 If you're going to come up with a name for a band you should at least make it memorable…The Wilderness of Manitoba can't be faulted in that department with a unique name which conjures up imagery that fits them so remarkably well, ironic in that the name more or less found them.
"The name was originally inspired by Noam Gonick, a Canadian filmmaker and artist from Winnipeg who had created a film installation called the 'Wildflowers Of Manitoba' which Scott & I had been asked to be a part of in a roundabout way through a friend of his. But we misheard the name, mistaking it for 'The Wilderness Of Manitoba' and it remained as our band name and description of what we were aiming to create at the time. Our music has evolved a lot since then, but I think we're constantly bridging the gap between what the name means (to us) and what the music is depicting. It's as though we started out with the name owning us, but now we are owning (or earning) the name."
Island Of Echoes promises a different sound…whilst this creative leap is in some part an organic natural progression of a band's growth in popularity and the need to have a larger 'sound presence' in the spaces they find themselves performing it also brings new challenges which effects the overall band dynamics.
"I think that if anything, it has created a better dynamic amongst the band. We were due for a change creatively and also, wanted to take the music we were making and expand it tenfold. I've always been more intrigued by an album that has a wider range of dynamics. Some songs lend themselves to a full band arrangement with synthesizers and electric guitars while others are hush quiet throughout. I also think that when you create a record with this mentality, you're more likely to achieve that timelessness or lasting quality that some of the older, classic albums have."
The development in sound of The Wilderness of Manitoba has led to changes over the years. Drummer/percussionist Sean Lancaric's addition in late 2009 helped add that extra level of intricacy to their arrangements although he wasn't always present, more recently vocalist/violinist Amanda Balsys has joined their ranks, a welcome addition.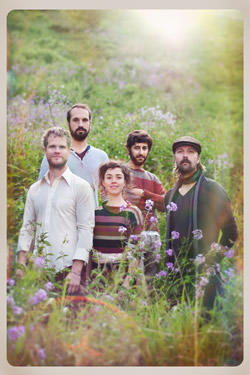 "We often found ourselves in a position where it was just easier to tour without drums for the EP that was being promoted at the time (which was quite bare & sparse arrangement wise). But we aren't the same band that we were then. Our sound and vision has grown a lot and drums/percussion are essential to that. Amanda has been a friend of ours for quite some time and we met through playing with her band 'The Gertrudes,' a lovely 12 piece folk band from Kingston, Ontario. After collaborating & recording some music together, we asked her to sing the female lead on a few songs for the new album (we were in a position where we wanted to find the right female voice for each song). We liked the vocal blend to such a degree that she ended up singing on most of the record and started to play shows with us on her violin & effects. In looking for a female lead singer, we've also acquired another songwriter and instrumentalist who fits into and rounds out the new sound perfectly."
The inspiration for their music is of course wide and varied, each member bringing their own personal contribution but they still have their influences which have played a part. "Fleetwood Mac, CSNY, Yo La Tengo, YES, Fairport Convention and Joni Mitchell to name a few."
In a band where three and four part harmonies have become a key signature part of their sound I was curious as to whether vocal precedence over instruments ever came into play when making musical arrangements.
"The instruments have always taken precedence in leading the melody and where the song is going to go direction wise. We have always put the vocals on top of that as a signature of our sound and continue to do so. I think we will always continue to expand upon the instrumentation however, and push ourselves further. It's nice to know that none of us can determine what our next record will sound like (after 'Island Of Echoes') when we actually get around to recording it in a year or so."
The band seem to be endlessly touring which always raises the question of how they balance that creative element which feeds new material. Does that take place on the road or are there still moments of peaceful retreat from it all to allow that head-space to function clearly?
"Speaking personally, I think I'm always writing songs in some way. It's just that a lot of them end up on the cutting room floor in order to sort through and pick what best suits the direction we are moving in as a whole band next."
Of course a growing band also brings more creative inputs which also brings its own challenges, but so far, it sounds harmonious…
"We work on writing our songs independently of one another for the most part, but Stefan and I collaborated on a few of the songs on the new album. We've never had the volume of creative input that we have now however. We are featuring a song of Amanda's for instance, that was recorded last winter at the house called 'Yellow Yard' and I'm pretty excited about that. It will be released on our upcoming 'Delaware House' EP."
The roots of the band are steeped in community…to quote from their biography 'To understand The Wilderness of Manitoba, you have to go not to Manitoba but to a music-filled house in Toronto. Long before the band got rolling, the property hosted concerts by local artists in addition to being where both Scott Bouwmeester and Will Whitwham laid their heads and practiced with previous bands.' The band also used to live together matching 'fingerprints of '60s folk music from both sides of the Atlantic – from Crosby, Stills and Nash to Pentangle.' Despite living in such close proximity the natural use of modern technology meant they were regulalry sending ideas to eachother via email…whilst in the same house. Things have since changed…
"We no longer live together as much of our time is already spent on the road together in a moving time capsule (or van!). It's also easiest to complete your ideas alone and in solitude before you present them to everybody else. After that, we go into feedback mode and other ideas are presented to possibly add to the song. Kind of like being in school in a way; you sometimes work on group projects but the bulk of writing you complete is on your own."
With a busy tour schedule ahead there is always some highlights that stand-out and WOMAD must be rank amongst them.
"We've been excited about WOMAD for a solid 8 months. It's an honour to be on the bill with so many great & inspiring artists. Not to mention, the unveiling of Robert Plant's new band."
The Wilderness of Manitoba have the rich Toronto music DIY scene deep in their roots, no easy task to stay connected to when you're touring so hard.
"We didn't have a lot of time at home in the past year or so, but since recording our new album and EP, we've played some really nice shows and have come back into connecting with the warm musical community that we call home once again. Whether it be that you're a band, a painter or a ballet dancer, I think it's important at times to disappear for a while in order to reinvent & creatively establish what you're trying to accomplish. I feel that we've finally achieved that over a period of the end of last autumn until now."
Quickfire
What album are you currently listening to?
Here We Go Magic 'A Different Ship' (generally) and Patsy Cline's 'Greatest Hits' (right now, literally)
What are you reading?
David Sedaris 'Dress Your Family In Corduroy And Denim' and Raymond Carver 'Where I'm Calling From'
What new band/s would you like to introduce to our readers?
These might not be new to anybody but I love the following: AA Bondy, Thom Gill (or THOMAS), Dusted and Snowblink
Free Download: The Ark (from Delaware House EP)
At The Lexington, London (filmed by TheBoudicca3)
Chasing Horses | Echoes | First Snowfall | Morning Sun | Orono Park
Tour Dates
27th July / WOMAD Festival
28th July / Underground, Cheltenham
29th July / Prince Albert, Brighton
31st July / Windmill, Brixton
1st August / Portland Arms, Cambridge
3rd August / The Paradiso, Amsterdam
4th August / Duizel In The Park Festival, Netherlands
5th August / In Vervoering Festival, Netherlands