In March this year we introduced you to  the music of the The Beguilers (article link) "a recently formed F-IRE Collective band that bring together tender, melliflous singing and sensitively crafted song-writing." The music is composed by Fred Thomas for singer Ellie Rose and clarinetist Dave Shulman, we caught up with Fred to talk about inspiration, influnces and more.
A glance though Fred Thomas's biography will reveal a busy individual who has worked with a wide range of artists from the likes of Iarla Ó Lionaird to Stephen Cracknell (The Memory Band). His other projects include F-IRE klang codex which is influenced by 14th Century French radical musical developments, however it was through The Beguilers that we first came to know of him, the music of which is influenced by an 18th and 19th century English poet William Blake. For the majority of artists we interview the direct references to music beyond the last century is by no means commonplace but for Fred Thomas this seemed a weighter and more influential factor.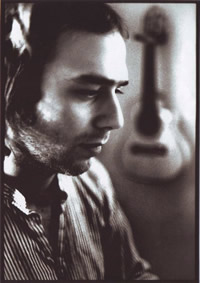 "Of course……everyone's work is influenced by art from the past…how could it be otherwise? Having said that, they don't really feel 'historical' to me; they're very much alive. I'm in love with all sorts of music, from the 12th Century mystic Hildegard von Bingen, whose compositions have certainly influenced The Beguilers, to contemporary classical composition and improv. Old art for me is something to love and cherish, something to play with, something to just be inspired by, something to steal from, something to take deadly seriously and treat extremely irreverently at the same time. All this with respect but without dogmatism….you just need a healthy dose of irony to approach these 'historical elements' in this way."
Although Fred had co-written songs The Beguilers was his first attempt at writing songs by himself.
"Well, I've been setting poetry to music for a number of years, and had also spent a lot of time co-writing songs with bands such as The Magic Lantern and others; but I'd never actually sat down to seriously write a body of songs by myself, even though I've composed all my life. So after a F-IRE Klang Codex concert based on palindromes called 'Experience of Songs of Innocence' at which we played a few of my Blake songs, I decided to carry on writing and from then the songs flowed pretty quickly….I've written about 40 songs in the last 9 months.
"The idea though is not mine, of course. People have been setting music to poetry for centuries! It's a bit of a dying art, at least in contemporary popular culture, but in the classical tradition from the Baroque onwards most people didn't dream of trying to write their own words……only a few ego-maniacs like Wagner…
"So, the concept for The Beguilers is not mine at all, but the band did spring from a coming together of various wonderful musicians at St. George-in-the-East Church in London.
"I also wanted to push myself to get further into poetry, something that I wasn't really brought up on…..for me The Beguilers is a really creative way of discovering poetry."
The term beguile is an unusual middle English term which translates as 'to deceive', but it can also mean 'to pass (time) pleasantly' or 'to amuse or charm; delight'.
"Well, I made it up, after much sweating and disagreement with our singer, Ellie Rose…at first she hated it, then she came round. 'Beguile' is such an amazing, complex word, with multiple meanings, both positive and negative. Etymologically, the word derives from 'guile' which means a kind of artful deceit; 'beguile' has that meaning, but also carries the positive idea of charm, magic, bewitchment…..it's just a great word that's used a lot in poetry in general, including William Blake.
"So many great band names actually have no meaning outside the band itself, but in The Beguilers' case I really wanted the name to contribute something poetical to the general idea. Maybe it's a bit self-assured to call ourselves The Beguilers, but the name does have things going for it I think."
The narrative to the songs on the EP are all focused exclusively on William Blake who although largely unrecognised during his lifetime (28 November 1757 – 12 August 1827) is now considered a seminal figure in the history of both the poetry and visual arts of the Romantic Age.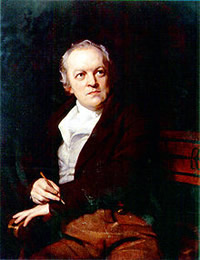 "People get obsessed with Blake……I certainly can't put into words his importance or influence, but  I can recommend two great books: Peter Ackroyd's biography of Blake and Eric Wilson's book 'My Business is to Create', whose title is a Blake passage from 'Jerusalem' that reads "I must Create a System, or be enslav'd by another Man's. I will not Reason & Compare; my business is to Create". To me, that is fascinating.
"It's also worth a visit to the Blake Society: www.blakesociety.org"
William Blake's work is extensive but as Fred explained, some of his work just lent itself to song-writing.
"Most of Blake's works, especially his epic poems, would be hard to set to songs of this kind. It's really the 'Songs of Innocence & Experience' and other poems written in that deceptively simple style that lend themselves to song-writing. One day I'd love to try and set his later poems to music, but the style would have to be very different, mostly because of the intensity of Blake's invented mythological language and characters. So in this sense, if you have a clear idea of the style you're writing in, choosing from his body of work is easy; poems feel right or wrong quite quickly, after one or two read-throughs.
"It's obviously also very important to be able to really relate emotionally to the poem; it's not really enough for me to admire it from a distance. As is the case for many people, the poems that move me the most are the ones that crystallize in a very pure and focussed way a sentiment that you've felt or experienced in your own life….something that you yourself didn't have the words to articulate. When someone else does it for you with such eloquence and precision, it can be overwhelming."
The setting of William Blakes work to music is not  new, some of the poems chosen by The Beguilers  are from Blakes 'Songs of Experience' which had previously been set to music by many the likes of Ralph Vaughan Williams. Whilst not drawing any inspiration from them Fred was influenced by The English Madrigal School: 'the brief but intense flowering of the musical madrigal in England, mostly from 1588 to 1627, along with the composers who produced them. The English madrigals were a cappella, predominantly light in style, and generally began as either copies or direct translations of Italian models. Most were for three to six voices.' [wiki]'
"Well, I'm not really a fan of Vaughan Williams or other English composers of his period. Nor have any other Blake settings inspired me in writing these songs. But the English composers that have hugely influenced me are those of the English Madrigal School….Dowland (an English Renaissance "singer-songwriter"), Byrd, Gibbons, and Thomas Morley, who wrote the only two surviving contemporary settings of Shakespeare. It would take an age to mention all other influences, but the songs of The Beatles, late Beach Boys, Joao Gilberto, Webern, Schubert, and The Chantilly Codex are always with me."
William Blake is not the sole focal point of The Beguilers as plans are already afoot for new EPs: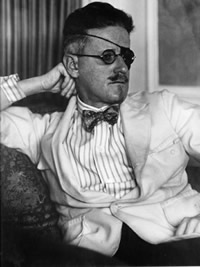 "We've started to record another two EPs which will focus on different poets such as James Joyce (photo left), John Clare, Shakespeare, Thomas Carew and others. I'm discovering so many new poets as I go along, it's hard not be overwhelmed by the quantity and potential of all this material. But the next EP might focus just on James Joyce who wrote an early cycle called 'Chamber Music' which has also been set to music many times before. The Elizabethan poets are especially fruitful, in part because many of their poems were set to music by composers and lutenists of the period. I also find their obsession with melancholy very seductive."
Fred Thomas, as mentioned earlier is busy with a number of other projects on the go:
"Lots of other styles of music…..my first instrument is piano. One new project is a piano trio with two amazing string players – Aisha Orazbayeva and Lucy Railton – which plays the incredible Chorale Preludes (originally for organ) by J.S. Bach. Another new project is a duo with one of my favourite musicians in the world, Tuba virtuoso Oren Marshall; we play each other's compositions as well as lots of improv, extended technique, prepared piano…..we just came back from playing at my favourite festival, Aldeburgh Music. Other long term projects are with The Magic Lantern, Jiri Slavik, KK Sound Archive, F-IRE Collective etc…..my musical life is a big collage of styles, genres and instruments."
You can find out when The Beguilers are next playing by visiting their gig page here.
Their latest EP is free to download:
Other Notable Projects: The Magic Lantern
A documentary on The Magic Lantern (members of London's F-IRE collective and a six piece Contemporary Folk band that incorporate elements of Jazz and Chamber music).

A World In A Grain Of Sand [720p] from Mr Teackle on Vimeo.
Jamie Doe – vocals
Phil Stevenson – guitar
Dave Shulman clarinet
Lucy Railton – cello
Fred Thomas – percussion, arrangement
More Folk Radio UK Articles related to The Magic Lantern
Visit Fred Thomas's Website:
fred-thomas.co.uk/the-beguilers