In association with Pull up the Roots we are offering our readers a chance to win a pair of tickets to see Emily Smith and Jen Ord at the Slaughtered Lamb, London on May 14, 2012.
Dumfries & Galloway's Emily Smith is one of the leading singers of the contemporary Scottish folk scene. Her powerful, clear vocals have gained her award winning, worldwide recognition. As a songwriter Emily has been likened to 'a Scottish Joni Mitchell', but as a passionate collector she is equally adept at presenting fresh and evocative interpretations of traditional songs.
Emily has released three solo albums with her fourth, 'Traiveller's Joy' (read our review), launched at Celtic Connections in 2011 and featuring songs written on the road throughout 2010, alongside traditional material sourced from the travelling people of Scotland.
Alongside her solo career Emily has worked with an array of artists from the folk scene and beyond including Phil Cunningham, Danny Thompson, Eddi Reader, Beth Nielsen Chapman, Karine Polwart and Chris Wood.
Emily has two nominations in the 2012 BBC Folk Awards for 'Folk Singer of The Year' and 'Best Traditional Track'.
"As far as I'm concerned she can walk on water" – MIKE HARDING, BBC RADIO 2

"Smith could become to Scottish folk what Joni Mitchell is to its Californian cousin" – Q MAGAZINE

"Smith deserves to become yet another new folk celebrity" – THE GUARDIAN
Jen Ord will also be performing on the night: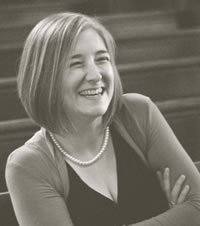 Cumbrian singer and multi-instrumentalist Jen Ord descends from a rich heritage of English folk music, beginning her career at the age of 8 playing recorder & accordion for her mum's clog side. She now produces innovative arrangements of traditional folk songs by combining her extensive classical training and diverse musical experience, including symphony orchestra, operatic training, contemporary classical choral repertoire, ceilidh band & big band jazz.
Jen's unique flair for developing an original approach to traditional music is characterised by rich vocal layering & a harmonically distinctive piano style.
Giveaway Details
For a chance to win email us here: alex [at] folkradio.co.uk, please include 'Emily Smith' in the subject heading and your name in the message body so the event organiser can add the winner to the guest list for the night. Closing Date/Time: Friday 11th May 12:00pm
Venue Details
May 14, 2012 19:30
Slaughtered Lamb
34-35 Great Sutton Street, Clerkenwell, London, EC1V 0DX