It would be a slight understatement to say that this album has been hotly anticipated.
Ever since The Levellers toured their classic Levelling The Land record in its entirety for its 20th anniversary last year, rumours have been rife that a return to the homespun, organic sound which made them chart and festival fixtures two decades ago was on the cards.
It's a delight to be able to confirm that those rumours are almost wholly correct.
The Levellers have delivered what should be seen not just as a great album, but as an important album. An album which will soundtrack a summer of parties and festivals, just as Levelling The Land did years ago.
For Static On The Airwaves, the comfort zone of their Metway, Brighton, HQ was left behind. Writing took place around assorted kitchen tables in south west England, then the band and producer Sean Lakeman decamped to Sono Studios in the Czech Republic. A change is as good as a rest and what we have is the sound of a band reinvigorated, with no distractions from the recording process, rediscovering what made them unique.
The surroundings may be new, but the themes are familiar – war, society, injustice all cropping up like old friends.
The title track sets the scene with foreboding electronic effects, its trancey bleeps underpinning the intro to opening track-proper 'We Are All Gunmen'. For a moment you wonder where the record's going but then in kicks a mid-paced anthem, with a Simon Friend vocal and an absolute killer chorus. Lighters will wave, crowds will sway in unison, arms will be clasped around shoulders.
'Truth Is' is the jaunty lead-off single which, if anything, sounds better in the context of the album. It wouldn't have gone amiss on Weapon Called The Word – a proper Levs stomper with a biting anti-corruption lyric and a defiant cry on behalf of the manufacturing classes
'After The Hurricane' passes in an amiable campfire strum before 'Our Forgotten Towns', a swirling, swooping fiddle-led lament for the loss of High Street identity. 'No Barriers' turns up the chugging guitars, with Mark Chadwick's vocals noticeably better than for years, and adds another classic Levellers chorus.
'Alone In This Darkness' is a lament over gentle acoustic guitar – think 'Believers' with added personal reflection. Catch your breath because it's followed by the two tracks that, for many, will probably prove the centrepiece of the album.
'Raft Of The Medusa' staggers in on a skittering sea shanty rhythm overlaid with fiddle, fully befitting the subject matter – a tale of shipwrecks and cannibalism.
'Mutiny' is a slow-burning, heartfelt tale of Jesse Robert Short, the Northumberland Fusilier sentenced to death after the Etaples Mutiny of 1917 (subject of Alan Bleasdale's TV series The Monocled Mutineer). With Mark Chadwick putting himself in Short's position, you can almost feel him radiate underdog pain, in a song which signals both new lyrical territory and a seemingly renewed confidence threaded through the band.
'Traveller' mixes pastoral, strummed acoustic guitar and ethereal piano, while 'Second Life' is a banjo led shinkicker of the old school, threaded with flute and organ, its lyric dealing with the dangers of online obsession and withdrawal from the real world.
Closing track 'The Recruiting Sergeant' reworks the Black Watch anthem 'Twa Recruiting Sergeants', brought up to date with the story of a petty criminal cajoled into signing up for service rather than face the consequences of his actions at home. Needless to say, he finds himself in Afghanistan, where the abundance of weed and opium make up for more worldly deprivations.
It's not the done thing to say that you've been disappointed by some recent Levellers albums. Instead, the band inspires such loyalty that the accepted default position is to swallow hard and praise the records for their willingness to throw away the blueprint and pursue different directions (then rarely play them again).
But Static On The Airwaves delivers, in spades, what those of us who've followed the band for a long time coveted – a record which sees the players come of age, settle comfortably into their skins and take confidence from what they do best: older maybe, certainly wiser, definitely less frantic. And, most importantly, contenders to stand shoulder to shoulder with that which initially made them great.
Review by: John Atkin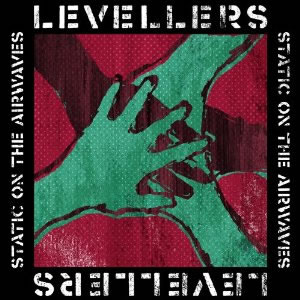 The Levellers – Static On The Airwaves is released on 'On The Fiddle Recordings' (25 Jun 2012)
CD (OTFCD006)
Digital (OTF006D)
LP (OTFLP006)
Deluxe 12" Box Set (OTFLP006X)
Levellers November 2012 Tour Dates