As the 5th Anniversary of Record Store Day fast approaches (Saturday 21st April) a large number of bands have signed up for playing gigs across the country at their local independent record stores. As you'd expect, London based Rough Trade Shops have a series of gigs running at their two stores which include Johnny Flynn, Stealing Sheep, Cate Le Bon & Smoke Fairies whose new album titled 'Blood Speaks' is due for release in May (expected for May 21st). They will also release a Record Store Day exclusive EP The Three Of Us for which they recently released a video for.
Tracklisting: Blood Speaks (deluxe version)
LET ME KNOW
AWAKE
THE THREE OF US
DAYLIGHT
BLOOD SPEAKS
TAKE ME DOWN WHEN YOU GO
FEEL IT COMING NEAR
HIDEAWAY
VERSION OF THE FUTURE
FILM REEL
(bonus) RADIO CLICKS ON
(bonus) BELLS
(bonus) THE WIRELESS
One for the fans: Amongst the various formats to choose from Blood Speaks also comes in a number of packages including this online limited exclusive (200 Only):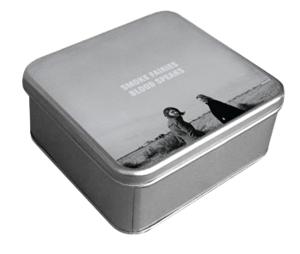 Packaged in 17cm-square tin box:
This exclusive online release includes the deluxe version of the BLOOD SPEAKS album on CD inc bonus tracks, 10 silk screen prints designed by the band, an exclusive Lyric book, 2 original one-off photos taken by Jessica and Katherine themselves, a poster, a retro-style Smoke Fairies camera and some other surprises. The box comes with a hand-numbered certificate of authenticity signed by Jessica and Katherine.
All formats and versions of Blood Speaks are available from the bands own store here.
Tour Dates
They will be playing a one-off UK date on May 28th at The Tabernacle, London so try to catch them if you can!
May 28 – UK – London, The Tabernacle (tickets)
June 4 – Netherlands – Amsterdam, Bitterzoet
June 5 – Belgium – Brussels, Botanique Orangerie w/Richard Hawley
June 6 – France – Paris, Bouffes de Nord w/Richard Hawley
June 7 – Germany – Berlin, Roter Salon
Record Store Day gigs at Rough Trade
Rough Trade East gigs
Johnny Flynn
Becoming Real
Keane
Wet Nuns
Little Boots
Rough Trade West gigs
Stealing Sheep
Cate Le Bon
Tom The Lion
Gemma Ray
Allo Darlin'
Smoke Fairies