Back in January we mentioned that Alasdair Roberts & Mairi Morrison had collaborated on a Gaelic album titled Urstan. After listening to the album it struck me that Gaelic song has moved way beyond what many maybe expected from its future a few years ago. To give a greater insight into the album and Gaelic culture we asked Alasdair and Mairi for an interview.
The interview is largely un-edited simply because what they impart is so valuable an insight I would be doing them, and many others, an in-justice by cutting chunks out, as Mairi says:
It is important to breathe new life into traditional music to make it more accessible to a new or younger audience however I feel it is equally important to keep Gaelic traditional music and culture to the forefront to ensure its survival. There has to be a respect and understanding of past traditions and music. If you don't know where you came from it's harder to know where to go.
Collaboration
Can you tell us the background behind how you both met?
Alasdair: We were introduced by a mutual friend Ishbel Murray – the woman who did the cover art for 'Urstan', as it happens – at the Centre for Contemporary Arts in Glasgow. Ishbel is involved with the Ceol 's Craic club there, which promotes Gaelic language and culture within the city; the Canadian Gaelic singer Mary Jane Lamond gave a beautiful set that night as I recall, and then I remember ceilidh dancing with Mairi after Ishbel introduced us. I thought she was a great dancer! I suppose that shortly after that first meeting, Ishbel suggested that we should make some music together, so we met a few times after that to talk about what we might do.
Alasdair and Mairi, along with fiddler Alastair Caplin, first performed at the club on 31 October 2009. This was also Alasdair's first time at singing in Gaelic to a public audience (and Gaelic speaking ones). This was meant to be a one off collaboration.
Can you tell us how your initial collaboration, which was meant to be a one off, evolved into this album?
Alasdair: I suppose that Ishbel and the Ceol 's Craic team enjoyed the music that night enough to suggest that Mairi and I do some recording together. There were some funding applications made, for which I'm very grateful to Ceol 's Craic, as that enabled us to expand the line-up to include a lot of good musician friends who helped shape the record into what it is. It would have been a much different beast without their contributions.
Gaelic Roots and Culture
Mairi, can you tell us a bit more about your background in terms of your Gaelic roots and also maybe shed some light on why the Isle of Lewis is so culturally strong in this area.
Mairi: Well, I guess I struck lucky by being born in Lewis with Gaelic as my mother tongue and a rich culture on my doorstep, unfortunately my appreciation of such things only developed with age. It wasn't really cool to speak Gaelic when I was young, (probably not cool to use the word 'cool' now either), so it was only whilst singing or speaking to my elders that it was in common usage for me. Gaelic was old-fashioned. Fortunately, I realised how precious my language was and how being surrounded by Gaelic, Gaelic singers, songs and the culture would actually be the best gift I would ever receive.
I'm not sure why the village I grew up in, Bragar, produced so many great singers and bards but creativity definitely remained in family blood and continued down through the generations. In years gone by one house would be ear-marked as the 'cèilidh' house where singing, song-writing and story-telling would be the essential pastimes. People could write songs in minutes about the most beautiful girl or the most uneventful of events. Sadly, many songs were lost as the oral tradition diminished but thankfully we have an abundance of traditional music that is appreciated far and wide with websites such as Tobar an Dualchaisproving to be an invaluable resource.
Is the interest in Gaelic culture and arts growing? What do you put this down to?
Mairi: There is definitely a wider interest in Gaelic culture and arts nowadays compared to even 10 years ago and this is partly due to the level of interest and support that the language itself now receives. Personally, I find people's attitudes have changed vastly towards Gaelic over the years and with more recognition from the government, (both educational and financial), this has now created a more positive awareness of Gaelic – it's not so commonly viewed as a pointless, sporran-draining language spoken by a bunch of kilted 'teuchters'. Speaking Gaelic has almost gone from being a floggable offence to becoming a fashionable statement and as you cannot separate such a language from its culture, the arts can only gain from its healthier recognition. Such festivals as the Hebridean Celtic Festival, the Fèis movement, a dedicated Gaelic School, the Skye-based Gaelic college Sabhal Mor Ostaig and more recently a Gaelic TV channel, BBC Alba, are only a few of the major contributing factors. It's so encouraging to see so many talented young musicians with an interest in Gaelic music too so I'm really excited to see what the next 10 years will produce.
Singing in Gaelic
Alasdair, you sang in Gaelic publicly for the first time in 2009 at the CCA. Was that a daunting experience?
Alasdair: Yes, it was a little daunting as although I am interested in Gaelic culture and language, and had (and continue to) spend a lot of time listening to and absorbing Gaelic music (particularly older recordings of traditional singers such as, for example, Flora MacNeil, William Matheson and Calum and Annie Johnston – in terms of style alone, separate from language, I regard such singers as these and also the great old sean-nos singers of Ireland such as Nioclas Toibin and Joseph Heaney as big vocal inspirations; I cannot deny that I have a strong, visceral emotional reaction to the Gaelic music of Scotland and Ireland) – despite all that, it was slightly daunting as you say to sing in front of an audience of Gaelic speakers. The songs we sang were fairly simple – mostly I just sang refrains, 'vocables' as they call the syllables which punctuate verses in many Gaelic songs. We also sang a popular old song called 'Mhic Iarla Nam Bratach Bana', 'Son of the Earl of White Banners', for which I had to learn a lot more words, but that was very rewarding to do.
How fluent are you in Gaelic, are you continuing with Gaelic studies to further your knowledge?
Alasdair: Well, it would definitely be an eventual aim of mine to learn Gaelic fluently, but over the past couple of years other aspects of life and work have intervened to make that possibility difficult. Ishbel, who introduced Mairi and me, is a teacher of Gaelic, and when I have more time and am in Glasgow for a longer period (not on tour as I am now in Spain) then I'd definitely love to attend some of her classes. At the moment, most of my Gaelic language knowledge comes from absorbing and learning about traditional songs, which has given me some very basic grasp of the tongue, but it also means that most of my vocabulary is to do with love and death, perennial Gaelic song subjects – but then, I ask you, what other subjects are there, really?
Urstan: The Album
Was it a goal of the album to produce a contemporary sound and do you think this is needed today to challenge the traditional perception of Gaelic music, literature and art in order for it to thrive?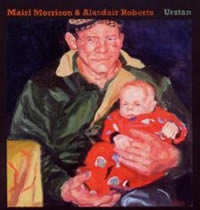 Alasdair: For me the goal wasn't to produce a 'contemporary' sound but rather just whatever sounds would naturally emerge from whomever was involved in the session. By one definition it is contemporary simply because of the fact that it was recorded nowadays with living, breathing musicians; but on the other hand I'd say it's hardly radically up-to-the-minute in terms of the musical and technological approaches involved in it. All the sounds were produced by the old-fashioned means of manipulating instruments of wood, wire and skin and by the ancient and elemental practice of pushing air through larynxes – so hardly futuristic. On the other hand, it was definitely important to try to make an interesting sounding and feeling record and one which steered clear of certain cliches about Scotland and about Gaelic culture and music, and gently and sensitively to push into new areas.
Mairi: I agree, we didn't gather round and deliberate on how contemporary or radical we could be with this album as we are far from being the first to bring a new slant to Gaelic music. It is important to breathe new life into traditional music to make it more accessible to a new or younger audience however I feel it is equally important to keep Gaelic traditional music and culture to the forefront to ensure its survival. There has to be a respect and understanding of past traditions and music. If you don't know where you came from it's harder to know where to go.
Can you tell us about the process you went through of choosing the tracks? Did you collaborate during research?
Alasdair: A lot of the songs, it seemed to me, were ones of which Mairi was very fond, had already been singing (in some cases songs she had known pretty much all of her life) and knew inside-out. Others were researched specifically for this project… for that, Mairi and I visited the School of Scottish Studies in Edinburgh, the sound archives of which, under the care of the gracious and helpful Cathlin Macaulay, contain thousands and thousands of hours' worth of recordings of Gaelic song, reminding both Mairi and me of the sheer scale and vastness of that tradition. Some of the Scots songs were ones which had personally been on my own mind to work with for a while and I thought that in terms of subject matter (predominantly to do with gender relations, I'd say) and so on, they would suit this project. For example, 'The Tri-Coloured House' – which is basically an Irish version of the well-known 'Scarborough Fair' – is a song which I heard on a CD of recordings of Irish Traveller singers made by the late Tom Munnelly – the singer being Mary McDonagh. It's such a hoary old chestnut of a song and one that I thought I would never really sing – I mean, after Martin Carthy's version, you know? – until I came across Mary McDonagh's way of it and the song kind of stuck with me. Similarly with 'The Laird o' the Drum' – I had heard William Sharp Lonie singing this about five years ago on a CD of recordings made by Hamish Henderson and loved the song and particularly Mr Lonie's singing of it – a high quavering counter-tenor, almost Alfred Deller-like and slightly feminine, more feminine than one would expect from a male Scottish traditional singer of any generation… that appealed to me a lot. It felt apt to honour the great Scots ballad singer Jeannie Robertson too with our take on 'Never Wed an Old Man', which is quite different in mood than the version by her from which we learnt it.
Mairi: Many of the songs are ones that I have been long familiar with and I make no excuses for their weighty Lewis connection! It was fantastic to have time to research in the School of Scottish Studies and supposing I camped there every night for the next 3 years I would still discover some delightful archives. There is an incredibly vast, and well cared for, amount of recordings to be found in that beautiful building. It was important that we included some fairly new or unfamiliar Gaelic songs on the album too so it was especially nice that one of them was passed on to me by my Auntie.
The other artists you have involved in this album come from a rich array of musical backgrounds; did you have a sound in mind when you chose them?
Alasdair: It was more just that they're all musicians with whom I've played with before and get on with personally… although they might not all have played together on a session before – for example, Alex and Stevie – so it was partly a desire to bring them all together to tackle this new music. The core band of Alastair Caplin, Stevie Jones, Alex Neilson was really chosen for this reason and also of course for their impeccable musical talents. Then other musicians were brought in to do overdubs as and when it seemed that the song called for it – for instance Ross and Richie who played trombone and trumpet on a couple of songs, playing through some early attempts at mine of writing arrangements for brass instruments, which is an unfamiliar world to me, and Peter Nicholson to play 'cello, some parts scored by me and some parts more improvised, a skill which Peter possesses in abundance. It was a real thrill for me to have Allan MacDonald, a towering figure in the world of piobiareachd, Gaelic song and the interconnections between them, and a man I have heard described as a musical genius, appear on the record also.

Have you performed the album live as yet? What has the reaction been?
Alasdair: We had a launch gig at CCA in Glasgow last month which I think went well overall, but I am looking forward to us taking the music on the road as after a prolonged period of touring it can surely only improve – probably to the extent that at the end of the tour, it'll sound as good as it possibly could!
The Highlight of the Project
Alasdair: It's exciting for me to think that we are introducing Gaelic music and language to people who might not otherwise know a great deal about it – non-Gaels who may or may not be familiar with my other work, and I suppose vice-versa, that Gaelic speakers might find out more about Scots traditional song and balladry. Also, it's just been a lot of fun spending time with Mairi and the rest of the musicians.
Mairi: How could I possibly choose one moment? It has just been such a pleasure to meet and work with the loveliest of talented musicians.
The future
Would you both like to produce another Gaelic album together in the future?
Alasdair: well, sure, if the opportunity arose I would love to, and I would hope that it would be completely different, a new direction entirely with the material. As I said, there is such a wealth of material in the Gaelic song tradition to work with – possibly a lot of wonderful unearthed gems to be found and revitalised, which is an exciting prospect either for us or for other musicians who care about these things.
Mairi: Are you kidding? I would be delighted to. I wonder how differently we would approach things now that we know each other better. Musically, Alasdair is my comfy jumper – he has the skill and loving attention to detail to unravel that jumper and beautifully re-knit it into a fine masterpiece of a 'geansaidh'. So yes, it would be lovely to think we could collaborate in the future. I did recently suggest a Gaelic/Mongolian/Scots fusion album, so I would definitely watch this space…
Làrach do Thacaidean (Rough Trade East, 19th March 2012)

Leanabh an Óir (Rough Trade East, 19th March 2012)

Urstan is released on Drag City (March 26th) and features in the Folk Radio UK playlist (so listen out!)
Tour Dates
May 11th, Cumbernauld, UK
May 12th, Reading, UK
May 17th, Edinburgh, UK
May 20th, Glasgow, UK
May 22nd, Milton Keynes, UK
Wednesday 23 May @ Slaughtered Lamb, London Alasdair Roberts & Mairi (Elle Osborne Support) Tickets Here

More Tour details and dates can be found here on Alasdair's Website