We've been fans of Simple Folk Radio for a while now so it is with great pleasure that we can now announce that we will be including their weekly show in our broadcast on Folk Radio UK from 24th March (full details below).
We go live with their first show on Saturday 24th March which includes a live session by the incredible Charlie Parr. The following three weeks include live sessions from Emma Gatrill, Great Lake Swimmers and Rozi Plain! David Thomas Broughton has also been confirmed for a future session. We believe this will be a great partnership and a valuable addition to the service we already provide listeners.
About Simple Folk Radio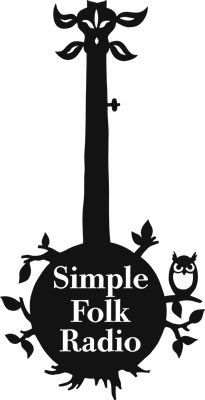 Since modest beginnings in 2005 we've been crafting Brighton's Simple Folk Radio as a way to champion live music and to promote artists 'outsider' or otherwise who are in no danger of bothering the pop charts anytime soon. The show is presented by a small, rag-tag group of friends with a common love of modern musics with folk and country sensibilities who take turns playing records and airing exclusive sessions and live recordings while attempting to join the whole with liberal helpings of hokum and questionable insight as we share our latest obsessions with one another.
Our portfolio of sessions and live recordings is already the stuff of legend, being made up of numerous unique and exclusive slabs of sonic joy running at twenty-, thirty-, sometimes even forty-something minutes apiece. Long enough, in fact, for you to feel like you've actually spent time in the room with the band (yes, escapism – what good radio used to be about) the antithesis of the usual radio session cop-out which often amounts to little more than a promotion for the band's latest chart-hopeful single, performed exactly how it will sound on every other radio station.
We have thus far been humbled by the contributions of such prestigious singers and players as Jeffrey Lewis, Great Lake Swimmers, Kimya Dawson, Charlie Parr, The Handsome Family, King Creosote, Akron/Family, Josh T. Pearson, James Yorkston, Phosphorescent, Strand Of Oaks, Viking Moses, Stanley Brinks, Okkervil River, Joe Gideon and the Shark and Mumford and Sons. Needless to say, we've a cartload more acts lined up and we look forward to sharing them with SFR's loyal and growing listenership.
www.simplefolkradio.com
Twitter
Facebook
The Broadcasts
Charlie Parr – First broadcast 24th March
I've heard people talk about how Charlie is up there with the long gone greats of the blues world, and they're right, he is that good. He's a folk and country blues musician who is routinely labeled "authentic" and "the real deal". He lays it on you, and you sense that the gamblers, the union workers, the criminals and the sinners that wander around his songs are peering right over your shoulder. The stories he tells get into some dark spots; that place where regret and remorse part company. A bit of a modern take on timeless conditions. Check him out and you'll probably agree.
Emma Gatrill – First broadcast 31th March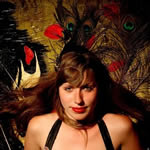 Presented by Simple Folk Radio's resident host Daniel Green (Laish / Sons Of Noel And Adrian / Willkommen Records)
Gatrill sings for and plays with a long list of amazing folk bands including: Laura Marling, Mariner's Children, Sons of Noel and Adrian, Rachael Dadd.
Solo work consist of intensively beautiful, intricate and delicate harp playing, folk lyrics and a pure enchanting voice – an absolute wonder.
Great Lake Swimmers – First broadcast 7th April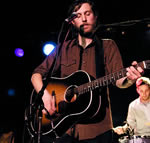 solo session from Tony Decker, lead singer of GLS.
'Dekker squares the circle between Nick Drake, early Neil Young and Will Oldham'- Uncut
'wonderfully understated, heart-wrenching music…their haunting sound finds its roots in vintage folk and alt-country colourings, shaped by accordion and piano, lap steel and acoustic guitar, with a voice that seems to come from the walls'
Rozi Plain – First broadcast 14th April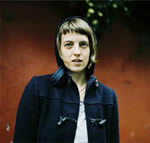 The unassuming charm of Rozi's live show has led to tours across Europe, the UK & USA. Notable tours include supporting Devendra Banhart (who fell for her debut album, and named it one of his albums of last year), James Yorkston and Viking Moses. Whether performing alone or joined by an assembly of her regular musical allies (including François & The Atlas Mountains, This Is The Kit, Rachael Dadd and Sleeping States) her songs possess both fragility and a sense of plucky charisma in one fell swoop – Fence Records
Broadcast Times from Saturday 24th March 2012*
GMT: Sat @ 5pm / Mon @ 2am / Wed @ 9pm / Thu @ 10am / Fri @ 1pm
CET: Sat @ 6pm / Mon @ 3am / Wed @ 10pm / Thu @ 11am / Fri @ 2pm
EST: Sat @ 12am / Sun @ 9pm / Wed @ 4pm / Thu @ 5am / Fri @ 8am
PST: Sat @ 9am / Sun @ 6pm / Wed @ 1pm / Thur @ 2am / Fri @ 5am
*Times may vary by a few minutes
Listen to previous shows & watch videos of some of Simple Folk Radio's best sessions on www.simplefolkradio.com
Video
Jeffrey Lewis & Seth Faegolzia (back-to-back radio session)
Recorded infront of a small studio audience for Simple Folk Radio & Glapagos Presents. Brighton U.K. November 2011
Photo Credit: Lucy Anstey