A Room for London is not a typical room by any stretch of the imagination. It can be found perched like a washed up riverboat from a catastophic flood on top of the Queen Elizabeth hall at the Southbank Centre. This temporary structure was commissioned by Living Architecture. The riverboat is named Roi des Belges after the boat upon which the author Joseph Conrad entered the Congo in 1890, a journey which later inspired his novel Heart of Darkness, which much later inspired Francis Ford Coppola's cult classic Apocalypse Now.
It is a one bedroom installation that seeks to go beyond the mundane ordinary everyday existence to inspire the poetic and extraordinary through a carefully curated interiror:
There is a deck, a crow's nest and a cabinet of visual curios – and a centerpiece bed which slides on rails to make the most of the views over London. Before departure, guests will be invited to fill in a logbook in the 'bridge' of the boat, detailing what they have experienced during their stay, out of the window as much as within themselves. An octagonal library with a carefully curated selection of books and twin desks looking out across the river enables visitors to use the Room as a remarkable studio space.
A number of artists and writers have been invited by Artangel to stay in the room each month during which they will use their time there to create new works or performances. Andrew Bird recently performed there which you can watch below. Other artists booked in include Wildbirds and Peacedrums in April.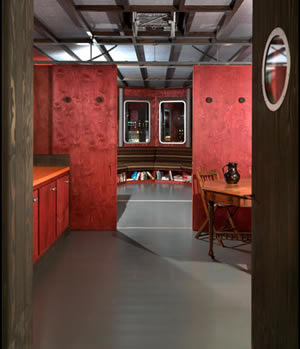 Each month a different writer is also invited to stay for seven days to write a new work, a reading of which will be recorded in the octagonal library and boadcast as one of twelve installments of A London Address.
The author Juan Gabriel Vásquez was the first to record a reading on-board. Prior to his stay he explained:
"For any novelist, the prospect of working on the Roi des Belges would be intriguing; for a devotee of Conrad, it is nothing short of magical. The ghosts of Kurtz and Marlow will mingle with the million ghosts of London, which is not a city, but a metaphor. In my days on board, I hope to discover what it stands for."
[audio:http://www.aroomforlondon.co.uk/docs/ALA_JuanGabrielVasqu_1328091128.mp3|titles=A London Address|artists=Juan Gabriel Vásquez]