HI54LOFI Records are releasing a Valentines Day Record Compilation titled 'I Love You & Stuff' which you can grab at Bandcamp on a 'pay what you want' model with a minimum of £3 which is an incredible bargain for 15 tracks! But this is a special album with an added bonus:
When you purchase the compilation, you will receive an immediate download in whatever format you desire AND… HI54LOFI Records will also send a physical Valentines Day card to the person of your choice (to anywhere in the world). And this is no regular Valentines Day card, it comes with a FREE download of the entire album. How cool is that?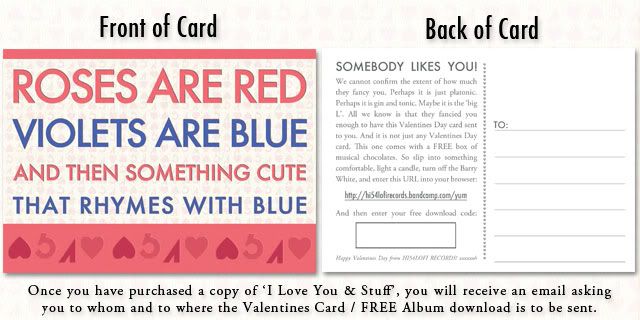 But there is still more… they have made the compilation 'pay what you want' so that you have the option of sending out more than 1 Valentines Day card / FREE album download. If you pay £5, they will send out 2 Valentines Day cards to the people of your choice. For every £1 over the £5 mark, they will send 1 Valentines Day card on your behalf. So, if you pay £8: you get an immediate download of the album AND they will send a Valentines Day card / FREE download to 5 people!
Followers of the label will be very pleased to know there is a brand new Patrick Porter song (see our Bachelor Pad Blue… review) which he especially wrote for this compilation (and for his valentine of couse) titled U U U.
There are also two A Singer of Songs side projects: Bellybird and Shedding Feathers which is the debut Collaboration with Craven Canary.
Any newbies to the magic of HI54LOFI Records should read about them in our label feature here…then you should maybe spend some time over at HI54LOFI and get to know some of their artists. There isn't another label like'em so why not do something a bit different this Valentine's and help spread the word (and love of course)!

Grab the compilation here
BIG LOVE from the Label:
When I think of Valentines Day, my fondest memories of it are when I was a young chap, and didn't really think about things like 'love'. They were innocent times, and you'd give everyone in your class (even the ugly / stikny ones) a cute little card that asked them to be something neither of you were willing to commit to. It was easier to throw around words like 'be mine forever' back when forever meant, at tops, about a month. The older we got, the more complex things got. You either were forever alone or stressing out about another last minute stab at being romantic enough to make it through another year. And the cards stopped coming (except from Grandma).

This year, we hope we can help you recapture some of those warm and fuzzy feeling that Valentines Day once brought. So we've put together a digital box of 15 musical chocolates for you to not only gorge on yourself, but send it to everyone in your class (even the ugly / stinky ones), via a special Valentines Day Card.
The opening track is just a small taste of the diversity of talents that this album contains and features the lovely vocals of Kaila Abruzzo:

Listen in full:

Dig Deeper: hi54lofirecords.com