Simone Felice of the Felice Brothers; and later the Duke and the King died and was reborn. His debut self titled record is released at the end of April.
"The album was recorded over a year's time from October to October. I set out to try to break the cycle of what most bands get into of two or three weeks in the studio, the clock is ticking, the money's been paid, $1000 a day whatever it is you've got to perform something. [Having] recorded now eight or nine albums in my life with different projects, I learned from mistakes in that way and I wanted to set out to not rush, to take my time [and] to let the organic magic happen when the time was right. You never know when you're gonna get that take you know, the take!"
Living a particularly self-sufficient lifestyle up in the Catskill mountains, Felice "live[s] on an east facing cliff, the sun coming up and waking me in the morning so I'm up at the crack of dawn. I did a lot of my recording at sunrise – the magic hour – recording alone in my barn". An old cow shed, the attic of which was converted into a studio, has allowed Felice the time he desired to let this organic creation process flourish. "I could go there at midnight or five in the morning when I woke with the sun."
These self-made studios and recording spaces are nothing new to the former drummer of troubadour brothers The Felice Brothers. "We've recorded everywhere from a chicken coop without a roof, five or six years ago, and those are some of my favourite recordings. We were inspired by the field recordings, the old time players and we've been in world class 'million dollar studios', but the atmosphere's not there unless you work really hard at creating it yourself. I always lean towards a balance between the two."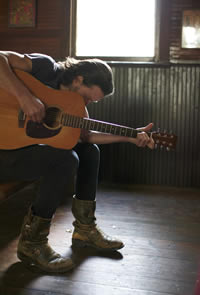 On the debut self titled solo record infact there is something at the literal heart of it. "I wanted it to feel alive", Simone tells me. And it does, on the closing track 'Splendor in the Grass' you can hear, if you listen closely, the mechanical valve in his chest, ticking in time with the music. A human metronome. "When I had my open heart surgery I woke up and I'd survived" he recalls of his more than brush with death in the summer of 2010. His second infact, having flatlined as a twelve year old after suffering a brain aneurysm. "All of these songs from my new album are sort of inspired by the dreams I had on the painkillers…anaesthesia, rebirth, being alive. Really this album, and the reason why I wanted to move forward as a solo artist, shake the dust off my wings and become Simone Felice for the first time in my life as far as a recording artist goes [was for the fact that] it's too personal of a story to have any collaborative writers on. It's nice to have collaborative producers, singers and players, and I've always been in ensemble groups…but this is no longer a bicycle built for two. This is very personal work and these are stories that I need to tell, stories about me, inside of me. And even if it's 'Courtney Love' it's still me, 'The Ballad of Sharon Tate' or 'Hey, Bobby Ray', these are all different aspects of myself. I've been a giving person with my energies and with my work, and I've helped projects come to life and I'm very proud of that, but I feel like I've come to the place where now I can tell my own story. I feel vindicated and I feel liberated to be able to be me and really to take off all the armour."
Location and atmosphere were an integral part of the recording process, and with four locations from the barn, a derelict high school in Beacon, NY; where he reunited with his brothers for recording and producing; a church in London's Crouch End, working alongside friend and fellow musician Ben Lovett of Mumford & Sons, onto a New York apartment whose recording location he married with the titling and theme of the album's third track 'New York Times', for which he was "right there in the city, with the ghosts of the Twin Towers around [him], and all of the ghosts of New York City around [him]…" all conspired to bring the songs to life. "My intention was to just follow my nose, it was important to let it fall into place and not force anything. It would be an album and a collection of songs that spoke to one another and complimented one another. I want[ed] it to feel alive. I feel like all of those idiosyncrasies and weird sounds; whether it's a dog barking in the background or rain, that's part of life and music is life.
Storytelling is a huge part of the Felice philosophy and a sentiment Simone feels extremely strongly about, and not merely as a novelist but as an arist, songwriter and lyricist. It's about that human connection: "When you get a real letter…a proper letter, there's an essense to it. The cold flat screen of the email is simply cold. The old letters you would open…you would smell your friend or your lover, your nemesis…" It's important to keep such a tradition alive he asserts. In fact he believes that 100%. "That was really the essense of what we started out doing" he recalls of he and his brothers James and Ian beginning the Felice Brothers, who initially busked on the NYC subways. "We were so inspired by novels and storytelling: American stories, Dostoyevsky, Charles Dickens, American writers like Faulkner, all the great storytellers. So for me to write short stories and then write a novel, while they are different mediums and different disciplines and you need to study both – which I've been [doing] for fifiteen years probably, since I was a kid – but they are still branches of the same tree. This is the oral tradition that I am really fascinated by; human kind passing down stories and whether it's from around a camp fire in the old days, or from scratching it into the wall, the printing press…I've just always wanted to be part of that tradition and I feel blessed that I can be part of it. For me the lines bleed into one another, though they are different disciplines, they are [still] different buttons on the same coat."
"The [projects I've worked on] have all had different chapters and they've all had their own laughter and tears, and joy and magic and pain: all the things that make life worthwhile. And each of the projects I've worked on have been a moment in time. I think with every relationship, with everything in life, it has an arc – a beginning and an end. Things run their course and I think it's really important to know when that has happened. I have been guilty, and I know we all have, of lying to ourselves and trying to keep something fresh and magical after it's run its course. Sometimes my heart leads me down dark alleys and sometimes it leads me into a bright field. There's an old Russian saying: "we're born in a bright field, and we die in a dark wood" but I feel like I'm always looking for that place inbetween; where it's just on the edge of the field and you can see the woods. Maybe there's a storm cloud coming, it's right there, right in that electric place. So I'm searching for that place. I'm hunting…always. I think you have to as an artist."
Speaking of his daughter's birth, during a thunderstorm just a month after his surgery, it is no wonder Simone Felice's work teeters this line between the fields and the woods so expertly…or daringly. "Absolutely" he says, Pearle's birth has taught him a great deal. "Just watching her be born and being in the room with her, welcoming her onto planet Earth…it was a rebirth for me. Now I'm ready to be me. To do the work I've always been working towards, that I was born to do. But it's what my heart tells me to do. It's not been an easy road by any stretch of the imagination but anything worthwhile, anything that's going to last is. We are born in blood and pain and that's how we come into the world. Any kind of medium of art I think, at least the art that moves me, a lot of it is born out of pain. Whether it's a van Gogh painting, or a Joni Mitchell song, or a Charles Dickens novel, it's them channelling the pain of the world. For better or for worse that's the job I've been handed."
It's not all so maudlin and macarbe as that, and while he completely agrees with the notion that penning a sincerely and genuine and yet positive piece of art can be testing, he does "believe in spontaneous joy. The song 'You & I Belong', the single from the album, that's me prasing every new morning like "I'm alive!" We belong to the day, we belong to the morning, we belong to the woods. We belong, even if the world doesn't make us feel like [it]. I do feel like the system, the powers that be, the way the world is, they would like to siphon the magic out of your life, out of your heart. The magic you're born with. They would like to beat it out of you like you would be an old rug, they set up the school system that way, they make you sit up straight, they make you pay attention to something that you don't really care about when you'd rather just dream, and I've done my damnedest in life to give the big middle finger to the Man because I feel like he's always been trying to tell me that it's not OK to dream. And I really feel it's important; to maintain that wonder, a childish wonder of like 'Wow, look at that bird on the wire!' To understand that the world isn't just a slave market. It's a dark place, but there is beauty here and there is magic here and that's life."

UK Tour
I have a magical new band that I've been working on bringing on the road for the new album and I can't wait to be out there with them, and just to bring these songs to life and share them with the people that want to hear them. A new live set up it is! It'll be myself, my friend Matthew on the lapsteel and mandolin, my friend Aurora on the drums, Simi Stone from the Duke & the King on the violin and my friend Arthur on the piano. We're all singing so it's a big vocal group, five part harmonies, so that's the band for the album release tour and I'm just so excited to travel with them. They're great friends and we've been working hard at bringing these songs to life. We had a cycle of reheasals yesterday here in London and it feels amazing and I cannot wait to share it.
Track from new Album
Hey Bobby Ray – Live Acoustic Version
New York Times
UK Tour Dates
APRIL
Wed 4 BRIGHTON, Komedia (www.alt-tickets.co.uk)
Thu 5 BATH, Chapel Arts (www.alt-tickets.co.uk)
Fri 6 WINCHESTER, Railway Inn (www.railwaylive.co.uk)
Sat 7 OXFORD, Jericho Tavern (www.alt-tickets.co.uk)
Mon 9 BIRMINGHAM, Glee Club (www.glee.co.uk/birmingham-music)
Tue 10 NEWCASTLE, Cluny (www.alt-tickets.co.uk)
Wed 11 EDINBURGH, Electric Circus (www.gigsinscotland.com)
Thu 12 GLASGOW, Oran Mor (www.gigsinscotland.com)
Fri 13 KENDAL, Arts Centre (www.alt-tickets.co.uk)
Mon 16 MANCHESTER, Deaf Institute (www.seetickets.com)
Tue 17 CARDIFF, Club ifor Bach (www.seetickets.com)
Thu 19 BELFAST, The Empire Music Hall (https://openhouseconcerts.ticketsolve.com/shows/126522228/events)
Fri 20 KILKENNY, John Cleere (www.cleeres.com)
Sat 21 DUBLIN, Whelans (www.ticketmaster.ie)
Sun 22 CORK, Cyprus Avenue (www.cyprusavenue.ie)
Tue 24 SWANSEA, The Chattery (http://homepage.ntlworld.com/thechattery)
Wed 25 SHEFFIELD, Lantern Theatre(www.lanterntheatre.org.uk)
Fri 27 LONDON, Bush Hall (www.alt-tickets.co.uk)
Sat 28 BRISTOL, Colston Hall (www.alt-tickets.co.uk)
Sun 29 POCKLINGTON, Arts Centre (www.pocklingtonartscentre.co.uk)
Mon 30 LEEDS, Brudenell Social Club (www.jumborecords.co.uk)
MAY
Wed 2 NOTTINGHAM, Glee Club (www.glee.co.uk/nottingham-music)
Thur 3 CAMBRIDGE, Junction (www.junction.co.uk)
Artist Link