[rating=5]
Moving on from their earlier busking days, and following their 2008 Mercury prize nomination for their debut album Knee-deep in the North Sea, it seems fitting that Portico Quartet should choose to eponomously name their 3rd album. Although the music is familiar as Portico Quartet of the past, the band's personnel changes have resulted in some interesting evolution. Less reliance on the 'Hang' (a hugely versatile idiophone) in the creation of textures, and more belief in their own abilities with percussion, sax, bass, technology and in the production of the album (they've perviously benefited from John Leckie's expertise) have resulted in an album that is as engaging as it is experimental. Following Nick Mulvey's departure last year, to pursue solo projects, the current line-up is Jack Wyllie (soprano and tenor saxophone), Duncan Bellamy (drums), Milo Fitzpatrick (double bass), and Keir Vine (Hang and percussion).
Although still clearly influenced by their jazz roots, and still appealing to a broadly jazz-orientated audience, Portico Quartet's move towards experimentation and a more systemic approach widens that appeal.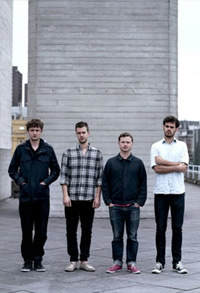 Part of the beauty of this album is that it's so open to interpretation. The opening track, Window Seat, represents Protico Quartet boldly in the ever-changing approach to their art. Chattering percussion and industrial atmospheres masking a plaintive bowed cry, like something organic striving to break free from a mechanized soundscape.
Ruins, in contrast, offers more in the way of rhythm and melody. Percussion and bass support a repeated sax phrase that progresses into freeform improvisations. The familiar approach continues in Spinner, adding raw energy with its emphatic bass.
Lacker Boo is one of the longer tracks on the album and very much representative of the band's development. Electronica and programmed beats with a rich bass give way to ambience that envelops the listener in a futuristic embrace. Further diversity is evident with the addition of a vocalist in Steepless. Swedish singer Cornelia Dahlgren delivers her own lyrics in an enchanting, bluesy vocal that offers a colourful diversion from the album's predominant voice, Jack Wyllie's saxophone.
Portico Quartet's fondness for experimentation and diversity, understanding of the sparse use of melody, and their genius with live electronic performance are sure to bring them more acclaim and a widening audience. Their creativity continues to impress, and their output is as unpredictable as it is fascinating.
Video
Tracks
'Coy Carp' is taken from Portico Quartet's 5 track bonus CD offered exclusively via Rough Trade stores (only obtainable when you buy the new album).


Download 'Ruins' for free here
Live Dates

Portico Quartet is released on Real World Records (30 Jan 2012)
F.R.U.K. Store