[rating=5]
The title of Nils Frahm's latest album, Felt, conjures up the soft and delicate, an almost reverse polarity to his last live album which used the large inner-sanctum of a church to echo and reverberate his creations. Felt is the microcosm of parts that go to make up the larger sounds we are use to hearing, the parts that engineers spend hours zoning out of the master recording, a thing of beauty that he brings to life.
For the album to even work, a special time and place was chosen, it was recorded late at night in Nils Frahm's own Berlin studio, a place he could settle into, in complete comfort and ease. A home of sorts, that allowed late night introspection and expansive creativity.
Originally I wanted to do my neighbours a favour by damping the sound of my piano. If I want to play piano during the quiet of the night, the only respectful way is by layering thick felt in front of the strings and using very gentle fingers. It was then that I discovered that my piano sounds beautiful with the damper.
He not only discovered new sound, he was able to hear and explore new levels, which for a composer like Nils is a unique and exciting opportunity. The results are blissful and inspiring. The sounds that he allows to come to the fore on the recordings range from those of his own breathing to the inner workings of the piano which are surprisingly beautiful.
I hear myself breathing and panting, the scraping sound of the piano's action and the creaking of my wooden floorboards – all equally as loud as the music. The music becomes a contingency, a chance, an accident within all this rustling. My heart opens and I wonder what exactly it is that makes me feel so happy.
Nils Frahm has yet again demonstrated that his unconventional approach to composition, play and recording is both natural and straight from the heart, you can hear the joy in his music and experience the beautiful solitude and graceful escapism. Felt is an incredibly moving work of musical art that balances modern classical alongside the rich natural sounds that play at the edges of our consciousness, it is nothing short of a masterpiece.
Tracklisting:
Keep
Less
Familiar
Unter
Old Thought
Snippet
Kind
Pause
More
Track: Snippet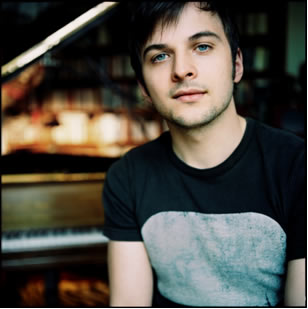 Felt is released in the UK on October 10th and will coincide with a European tour in November 2011.