Peatbog Faeries will release their forthcoming album, Dust, on 8th August which you can preview on Folk Radio UK in full from today for one week. This new release is special in many ways, not least because of the arrival of new band members who have added a new impetus and drive to the bands creative direction.
Dust sees the addition of fiddle player Peter Tickell who brings his own dynamics and youthful enthusiasm to the band. Also drummer Stu Haikney makes a debut appearance and brings a vast store of experience. There were many new approaches on the album which set it apart from their other work. Some were very orignal, not just down to new studio techniques but also doing final takes in the studios of Cumbernauld College.
All those new steps and decisons have paid off, Dust is, in our opinion, their best release to date! Not surpisingly long time producer Calum McLean has a lot to feel proud about, as he put it, it was "the best musical experience of my life".
We spoke to the Peatbog Faeries about the making of Dust.
The Making of 'Dust'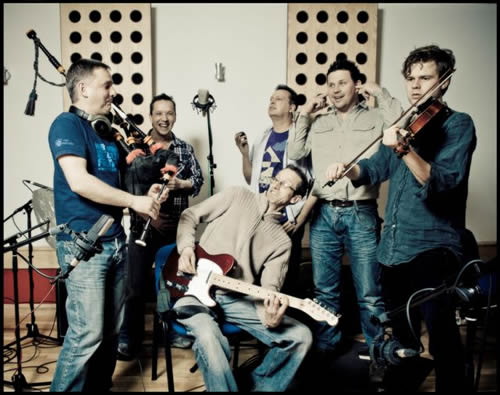 Melodies and Tunes
Essentially we have been gathering tunes for the last 2 or 3 yrs for this album and we wanted to be in the situation where we had an excess of material to choose from. The melodies were written by Peter Morrison and Peter Tickell. We would meet up in some location on Skye but latterly our new gaff at Orbost on Skye and try out ideas.
Peter Tickell / Stu Haikney
Peter was depping for Adam Sutherland for about 4 yrs. So he was always the natural successor to Adam. He writes a very large variety of music, which encompasses a lot styles. The band had masses of tunes to choose from that he put forward. Peter also plays with Stings band so he is bringing a very high standard of professionalism to the band.
When Iain our drummer left last year it left a big hole to fill. But we were very lucky to find Stu. At the run thru we had with him he had written everything out so he counted us in and off we went. Simple. He has a natural affinity with technology which he has been using to great effect on our live show and got completely immersed when it came to making the albums.
Experimental Fiddle Techniques
He [Peter] basically can't stop buying effects pedals. But also on the album, himself and Calum got into recording things like. Playing lots of individual notes on the fiddle and assigning each to a channel on the desk then Peter would play the string parts using the faders on the desk.
Feel of Album:
We definitely wanted to bring a bit more of the live feel to the album and that you could also really hear the band playing. It sounds obvious really but our previous few album were recorded over a much longer period. With a greater emphasis on building it part by part. A few of the tracks don't have click tracks so that we could push and pull the timing.
Final takes at Cumbernauld College
It was really about taking us out our comfort zone and having to work really hard. The students were great fun. We had them dress up in lab coats to look the part. But they were also fast to learn and always willing to be helpful.
Calum kept tabs on everything that was going on. Each track was assigned a sheet where everything that had been done to that track had been logged. So by looking at the sheet you could see where the track was at. You weren't allowed to work on a track unless you had the sheet. So the sheets were flying round all the different studios.
Highlight
I think my highlight was hearing what Jarlath Henderson had put down on the track "the naughty step". He is a fantastic piper from Northern Ireland.
Touring
This Summer starting at Hebcelt fest in Stornaway. Then on to Cambridge folk fest and many more incl trips to Switzerland,Croatia, the Azores and Slovenia….
Future
We have been Discussing some collaborations as a possibility at some festivals next year so fingers crossed. We have some great tunes that did not make it onto this album so will continue to work on them over the winter at our studio in Orbost, Skye.
Order it
Dust
Artist Link