Devon Sproule's latest recording I Love You, Go Easy fleshes out the contemplative jazzy folk of this Ontario born and Virginia based musician, and her live performance at Notting Hill's The Tabernacle, the perfect setting for these crisp, new arrangements and their personable lyricisms and vocals to take shape.
With a seven-piece supporting band comprised of fellow Tin Angel record labels mates, collectively known as The Unmarked Animals, the set traversed the heartrending frankness of opener 'Body's In Trouble' with further weight provided by the lonesome cello accompaniment, onto ruckus barnstorming numbers 'Julie' and 'Now's the Time'.
Some technical hitches midway through marked a slight delay – Sproule's vocals often lost in the mix where full band accompaniments seemed to smother her honey sweet hue – but thankfully these were all but forgotten thanks to the championing of the band's rendition of Megan Huddleston's pre-murder ballad 'One Eye Open': closing lyric "your last breath is gonna set me free" as inspiring as it was somewhat sinister.
It's in this Canadian's live performance that she becomes so captivating however, and while her records hold so much weight and personality, it is really in a live setting that you begin to get a sense of the playful character behind such an array of emotional songs. 'Don't Hurry for Heaven' exposed a deeper personality and humour perhaps not apparent on the recorded version, it became more character driven, more pandering and yet in an endearing manner. While 'If I Can Do This' allowed Sproule to hypnotise with nighttime imagery and the buzzing of a lakeside with her clarinet's woody opening; it's songs like these where finding her likenesses to the wordy worldly wisdom of say Bill Callahan or Micah P Hinson's solemn folk, are most strongly observed, even more so with the recent full-bodied compositions her lyrics are cocooned within.
Proving herself every bit the versatile songstress with an r'nb style cover of Mantler's 'I've Been Destroyer' gave a bit more edge to her voice. Her band too easing from the carefully nuanced percussion of drummer Euan Roger into the bassline groove of 'The Unmarked Animals', all with wonderful 1970's high school prom nostalgia, encapsulated in bassist Mason Lelong's suit, sparkly waistcoat and ironic dancing, who too performed his band Don't Move's song 'Love Me (If There's One Thing You Ever Do)'.
Closing with the timeless 'Let's go Out', followed by 'Ain't That the Way', with some kind of seven-person accapella ending, loveable synchronised hand actions and circular choruses, Sproule proved herself to be not just a pretty of face and voice, but of jubilant character which makes her performances a joy to behold.
---
Images from the Night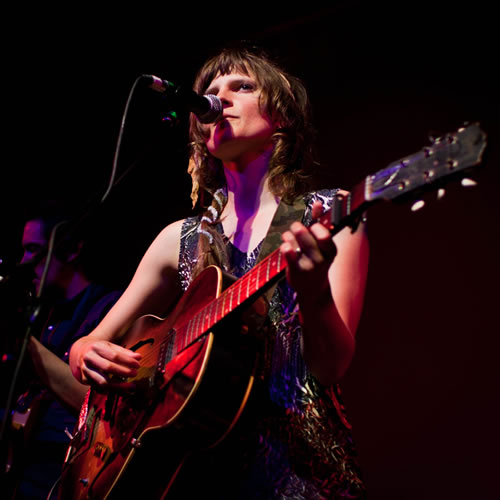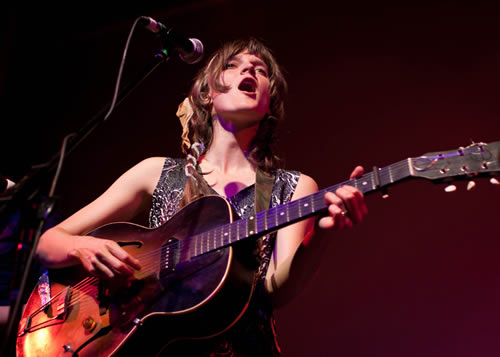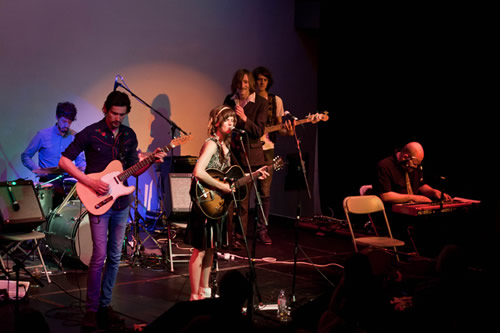 Photo's by Michael Farrant (All Rights Reserved)
Video
How to stress out an artist at the airport!

Buy Link
Amazon UK: I Love You, Go Easy (CD)

I Love You, Go Easy (MP3)
---