Fellside Records are to release a double CD of A L Lloyd's Bramble Briars and Beams of the Sun. This is a landmark release for anyone with an interest in British Folk Music as they were never released in the UK.
Anyone with an interest in Traditional English folk music will have heard of A L Lloyd. Rob Young, author of 'Electric Eden' described him as the closest thing Britain had to an Alan Lomax. He was also incredibly influential as a performer being not only supportive of younger performers but setting the standard 'within the English revival being taken up and widely popularised by singers such as Martin Carthy, Peter Bellamy, Anne Briggs and Frankie Armstrong and groups such as Steeleye Span and Fairport Convention.'
His life story read like something out of an advernture book from sheep shearing in Australia to sailing the Antarctic in a whaling vessel in the 1930s!
A L Lloyd recalling his sheep shearing days in Australia:

He also appeared in the 1956 version of Moby Dick (the best version in my humble opinion)…singing Blood Red Roses. Lloyd had experienced working as a whaler in the Antarctic for 7 months back in the 1930s. Here he leads the song: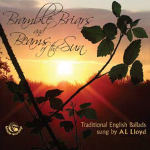 In the early 1950s A L Lloyd set about recording English versions of the great Folk Ballads to be found in Francis J Child's five volume monumental work 'English & Scottish Popular Ballads'. The complete set of recordings is on this new double CD collection. The CD set is wonderfully packaged, as you'd expect from a label like Fellside, but the biggest bonus is the extensive booklet written by Dr Vic Gammon, former Director of the Folk Music Degree course at Newcastle University. Every track is described as well and ofetn includes an explanantion as to how and why Lloyd constructed his version the way he did. It's a perfect companion to the ballads and very authorative with extensive footnotes and referencing which demonstrates the length of research that has gone into this work.
It's worth its weight in gold to any folk club singer!
Tracklisting:
Disc 1:
Scarborough Fair
The Outlandish Knight
Bold Sir Rylas
The Banks Of Green Willow
Lord Bateman
The Cherry-Tree Carol
Herod And The Cock
Dives And Lazarus
Lord Thomas And Fair Eleanor
Fair Margaret And Sweet William
The Unquiet Grave
George Collins
Long Lankin
The Prickly Bush
The Knight And She Shepherd's Daughter
Robin Hood And The Tanner
Disc 2:
Robin Hood And The Bold Pedlar
Sir Hugh; Gypsies O
Geordie; Robin Hood And The Bishop Of Hereford
The Daemon Lover
The Lover's Ghost
Henry Martyn
The Devil And The Ploughman
The Golden Vanity
The Dover Sailor
The Bramble Briar
Six Dukes Went A-Fishing
The Shooting Of His Dear
The Bold Fisherman
The Bitter Withy
Down In Yon Forest