Shieldshaped present a night of "The New Old Time." Headlining on the night will be Brooklyn, New York's old-time string band 'The Dust Busters' who met while playing music with the legendary John Cohen (of the New Lost City Ramblers), and have since gone on to record albums both with Cohen and with Peter Stampfel (of the Holy Modal Rounders and The Fugs). Alongside their recent self-released Prohibition Is A Failure album:

The trio have another LP due on Smithsonian Folkways as well as an album-length collaboration with Stampfel and Michael Hurley (a follow-up to 1976's seminal Have Moicy LP).
The Dust Busters are hardcore aficionados of American primitive musics, devoting much time to the study of old 78s and field recordings, and channeling the wild energy of these records into their own performances. Just like the old time string bands that inspire them – the Skillet Lickers, the Mississippi Sheiks, Dykes Magic City Trio, etc – the Dust Busters know how to set the music on fire: this is old music stripped-down, raw, and made young again.
"Three of my favorite people to play and sing with ever, kicking musical ass all over the landscape. If you like your trad/roots benter and hotter than normal, you'll love this!" – Peter Stampfel of the Holy Modal Rounders and Fugs.
Accompanying them on what promises to be a timeless and atmospheric evening are Boxcar Alduous Huxley and Shellac Sounds Gramaphone DJs:
Boxcar Alduous Huxley
One might hear Balkan melody, old-time banjo and brass band pomp wrapped up in Tin Pan Alley melodrama. These are songs that speak of such esoteric topics as abandoned funeral trains, Messianic visions in the Canadian wilderness, and ill-fated amateur space exploration.
On stage, Boxcar Aldous Huxley are a cavalcade of dapper tweeds, inaccurate historical lecturing and rattertrap musicality, trading rickety banjo clatterings one moment for ornate choral refrains the next. The harmonium wheezes; the clarinet shrieks; Stephen Foster revolves slowly in his grave.
This is music rooted in the past, but not a past that ever actually happened.
"Like people from some grim future trying to figure out what Broadway sounded like." – Curtis Eller

Shellac Sounds gramophone DJs
members of Crescent and Movietone playing old 78s on wind-up gramophones.
The Detail
Thursday 28 June, 7.30pm
at The Benjamin Perry Scout Hut, Redcliffe Parade, Harbourside, Bristol (brown wooden building across the water from the Thekla).
£5 ADV BYO Liquor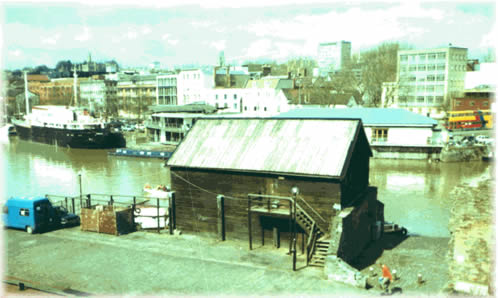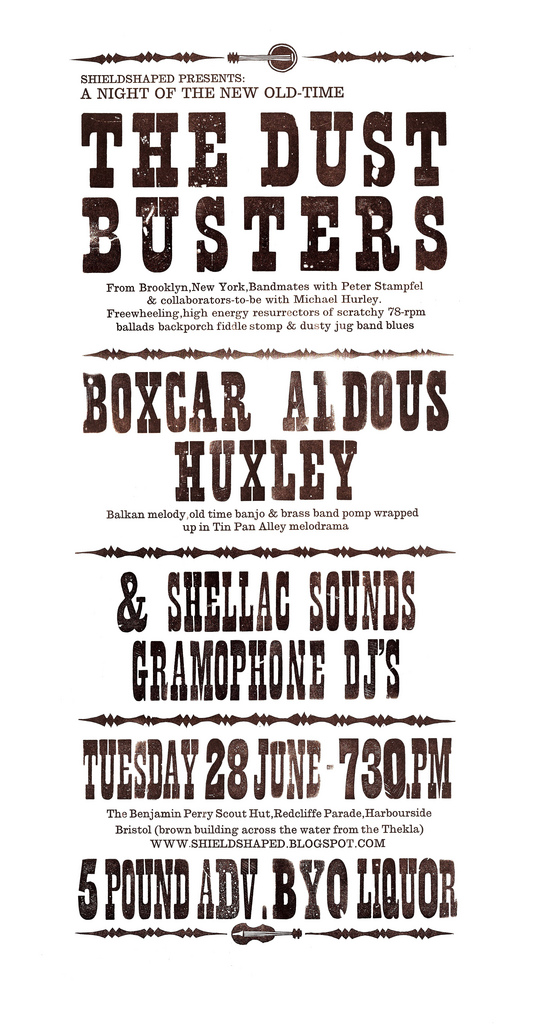 Main photo credit John Cohen
Links:
http://shieldshaped.blogspot.com/
http://thedustbusters.blogspot.com/