Jonathan Day's long awaited (16 years) third album 'Carved in Bone' offers a welcoming new sound to the FRUK playlist. It has the well roundedness of a classic folk recording which borders somewhere between traditional folk and the more progressive folk stalwarts of the seventies such as Pentangle who forged the ground for many contemporary folk acts today.
Jonathan adds some extra magical ingredients with the inclusion of Chris While, Joe Broughton, Kevin Dempsey and Paloma Trigas. The album has a great gentleness about it that sets a scene of great calm, possibly borne out of the contentment he has gained from where he now lives in Shropshire "between a forest and a stream". He admits in his short bio:
I like the quiet, the animals and the trees. It took me a long time to get here from where I grew up, in between factories, steel hard and iron grey. Long ago most of my family lived in these borderlands; I guess I've always been slowly heading home. There's something important in the curve of a bird's wing as it cuts the wind and the jumbled stones which break the earth on a round hill's top. It's not only the things, temporary and fleeting as we all are, frantic half seen ghosts to the oldest of trees. It's the intuitions which shimmer and call in the buzzard's mewl or the fox's flash. I try to hold this sparkling stuff long enough to sing it and remember, before it trickles through my fingers back into the earth. Some friends helped me make a recording of some of these songs.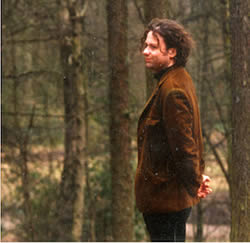 If that contemplative insight strikes a chord with you then you'll love this album as much as I have. From the unbridled beautiful duet with Chris While on 'Bonnie Light Horseman' to the touching 'My Grandfather the Boy' there is a great openess and intimacy to his songs. His songwriting is of the highest poetic calibre and his musical arrangements are equally complex and progressive. The use of strings on 'The Heron, The Stickleback and The Shrew' offer another layer of emotion, whilst the percussion rich 'Juniper May' creates a subtle but driving force, proof that Jonathan is more than capable of original creativity and balance in his music.
I would be hard pushed to name a favourite, but he is certainly up there with the likes of Chris Wood whom he reminded me of on several tracks. He has, like Chris, taken songmanship to the top level. Carved in Bone is definately in the exceptional league and sets a very high standard that should bring him the much deserved wider recognistion across the folk circuit.
Artist Link
Buy Link
Amazon UK: Carved In Bone