Bella Hardy's latest release, Songs Lost & Stolen
, finds her exploring new territory where self-penned originals replace her usual traditional folk canon. Musically, the album gets the fine Burns Unit treatment courtesy of Mattie Foulds, a popular and leading producer on the UK folk scene at the moment. Whilst the shift may surprise some, the results are equally spectacular.
Bella Hardy has pulled out all stops on this third album on which her song-writing skills are brought to the fore, matching her alongside the frontline of the more progressive folk acts such as Kris Drever, Roddy Woomble and Karine Polwart.
Songs Lost and Stolen offers a mix of pace and texture ranging from the more tradtional ballad sounding The Herring Girl and Flowers of May which features some beautiful harp from Corrina Polwart, to the rootsy uplifting Written in Green which could easily have been arranged for Eddi Reader. Songs such as Jenny Wren were lost or written when Bella was a teenager, which were in turn influenced by poetry she read in her young years. In a recent interview (video below) she explained that she wrote a lot during her maturing years on the school bus which was a lengthy journey from her Peak District home. Amongst the teenage angst she found some compassionate gems.
No expense has been spared on this album with some of the leading British folk musicians taking part. Kris Drever features on guitar and vocals making a significant contribution on Walk it With You on which he plays slide as well as accompanying Bella on vocals, a personal favourite…Other leading lights who feature include one of Scotland's foremost guitarists Anna Massie (Blazin' Fiddles and The Unusual Suspects); Corinna Hewat (The Unusual Suspects) on harp; Chris Sherburn (Last Night's Fun) on fiddle and anglo concertina and the fine fiddle player Patsy Reid who is no stranger to progressive folk projects (Bridging the Gap).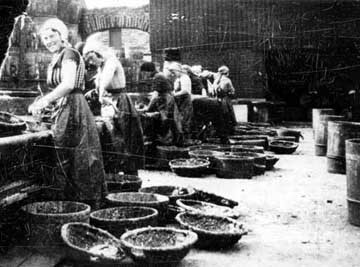 One track which particularly stands out for its storytelling and possibly because it has the feel of a traditional folk song is The Herring Girl: a young Yarmouth girl whose life as a beggar is changed when an opportunity arises to become a herring girl packer. A terrible fate awaits her: attempted rape and a murder charge. Herring girls had a hard life and travelled with the catches to the main curring stations from Lerwick and Stornoway to Yarmouth. The song is probably set in the 1920's and their work of cleaning and gutting fish was hard and dangerous. They would cover there hands in makeshift bandages to protect them from the sharp knives they used at speed. Many were very young which is why they referred to them as girls rather than women. This is storytelling at its finest and a unique perspective on the herring trade that all too often focuses on the sea rather than the work of young women/girls on the shore.
Songs Lost and Stolen is a great modern folk album on which Bella gets to show her brilliant songwriting gift. Along with the exceptional production of Mattie Foulds and a plethora of leading light musicians this album rockets Bella Hardy to new heights, long may it continue!
---
Tracks
Video
Artist Link:
Buy Link:
Amazon UK: Songs Lost & Stolen

iTunes: Songs Lost & Stolen – Bella Hardy
---