Mechanical Bride is 25 year old songwriter and self-taught musician Lauren Doss whose very roots are coated in talented musical influence from the likes of her mother who worked as a professional singer during the 70s and early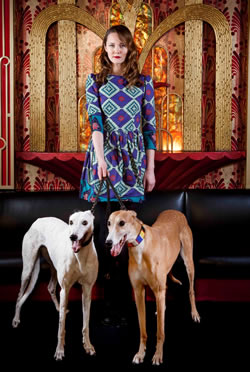 80s. Not everyone has childhood memories of a recording studio set being in their front room and watching artists perform, but it is these very experiences that encourage branching out and experimenting, individuality and creativity are clearly evident in her music.
Lauren is no newcomer having signed to Transgressive in 2007 who put out the Mechanical Bride debut EP In The Throes later that year and a mini-album in 2008 which brought her airplay across BBC Radio.
Mechanical Bride's forthcoming debut album (full) is titled Living With Ants
and promises to take her music to another new level, leaving past endavours well in the shadows. In her own words:
"I wanted to find the beauty and colour from dark places that exist inside and outside of ourselves, the title 'Living With Ants' means learning to co-exist alongside niggling issues and worries that we maybe create for ourselves".
If Colour of Fire is anything to go by then Living With Ants is a big musical evolution for Lauren, one which has probably been heavily influenced by her internship with Hollywood film composer Han's Zimmer's production company. Her music has a cinematic quality that is briming with tones and depth of colour that creates very visual music. The video for Colour of Fire is no less cinematically removed.
Artist Link
Buy Album:
Amazon UK: Living With Ants