The founder of the late Penguin Cafe Orchestra Simon Jeffes died in 1997. Now his son, Arthur, has taken up where his father left off, no easy task. Where do you draw the line of familiarity and creativity? Difficult as this may be the latest Penguin Cafe offering A Matter of Life… manages to offer familiar trademarks amongst new inventions.
The title of this new release A Matter of Life… suggests the drive behind the continuing efforts to further Simon Jeffes eccentric musical legacy. The new compositions are both well rooted in the orginal PCO influence but offer some new creativity and progression. The mix of African rythmns, folk and classical are still evident along with some fresh innovations such as the inclusion of Northumrian piper, Kathryn Tickell on Landau, by far the stand out track of the album!
Landau (feat Kathryn Tickell):
[audio:http://www.box.net/shared/static/2xzd5hn29v.mp3|titles=Landau|artists=Penguing Cafe feat. Kathryn Tickell]
Sundog has great vibrancy a suggestive Moondog influence with African syncopated beats. The results are catchy yet minimalistic and tribal.
[audio:http://www.box.net/shared/static/lf5v58map0.mp3|titles=Sundog|artists=Penguin Cafe]
For an instrumental album there is plenty of variety from the upbeat to the more meditative Finland, a piano piece accompanied by cello and violin. It has a loneliness to it, whether a refelction on landscape or solitude the results are beautiful.
Finland:
[audio:http://www.box.net/shared/static/ivmxt2lm5u.mp3|titles=Finland|artists=Penguin Cafe"]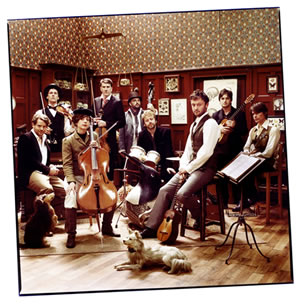 There is no question that the new Penguin Cafe has legs and A Matter of Life… is a great album. As a follow up to their 2007 live album (see below) this is a tentative yet bigger step into new ground. An indication that there is maybe more to come? This album will give them the further confidence that they will need to explore deeper and still be accepted by PCO fans as well as find new fans with their own less familiar yet beautiful creations.
Penguin Cafe continues to occupy a unique place in music: nothing else has ever sounded quite like it. Eccentric, charming, accommodating, surprising, seductive, warm, reliable, modest and unforgettable: it's a true friend Brian Eno (Feb 2010)
Tour Dates:
16 May 2011 – NORWICH – Norfolk and Norwich Festival
22 May 2011 – Bury St Edmunds Festival
24 May 2011 – Salisbury Festival
26 May 2011 – Perth Festival
29 May 2011 – Meadowlands Festival – LEWES
Background:
In 2007, to mark ten years since Simon's death, his son Arthur Jeffes, re-assembled the original musicians to perform a last run of concerts, spanning three nights at London's Union Chapel, in tribute to both his father and the music that he created. The reception to these concerts was an affirmation that the music held a vibrant life of its own and subsequently Arthur felt that it was appropriate to embark on a more extensive revisiting….
Commissioning a fresh set of musicians ranging from luminaries from The Royal College of Music to notable performers and members from bands such as Suede, Gorillaz, Delakota and Razorlight, the newly envisioned incarnation of the Penguin Cafe undertook a series of performances under the name Music from the Penguin Cafe.
The first of these would be invitation from The Teenage Cancer Trust to perform at The Royal Albert Hall, to be filmed for a future charitable release which you can listen to in full below:
The Original Pengun Cafe Orchestra:
It seems only right that I should include some of the original Penguin Cafe Orchestra classics:
Buy Albums: A Matter of Life / Original Penguin Cafe orchestra Albums
Links
Visit the Pengun Cafe Website
The original Penguin Cafe Orchestra website