We have a very special guest this month, James Apollo, who has just released his career-spanning compilation album Born Lucky. James has put together a great mix which has been put together as a Road Mix….we also have some free tracks and video so enjoy:
James Apollo's Road Mix:
James Apollo's Road Mix (Exclusive Guest Mix) by Folk Radio Uk on Mixcloud
::tracklisting::
jj cale – call me breeze
the walkmen – angela
the coasters – down in mexico
friends of dean mart – dusk
roy orbison – sunset
cotton jones – some strange rain
henry mancini – orson around
phosphorescent – hard to be humble
lee hazelwood/nancy sinatra – elusive dreams
dave dudley – six days on the road
In the summer of 2010, US troubadour James Apollo released his British debut, Til Your Feet Bleed. He now follows it less than 12 months later with Born Lucky, a career-spanning compilation that ducks and weaves through his extensive back catalogue, stretching back over six prolific years.
Hailing from Libertyville, Arkansas, but yet to fully establish where home really is, James Apollo is one of life's romantic, true journeymen. Rolling up the Mississippi before he could register his first emotion, it is a life drawn out upon a well-worn, coffee-stained map of the States.
Apollo's dusty vistas are ensconced in a weary, whisky-toned knowing. Life hasn't as such been tough, but relentless to this American soul. Leaving home when education was no longer educating, Apollo settled on the long road west, and when the land and money began to run out, he took to a docked boat in San Francisco simply to put a rusty roof over his head,
I'd write these songs about beauty and sadness and love and loss, but what did I know? I was captain of a sinking ship.
It was just one of a multitude of makeshift stop-offs for Apollo, from the backseats of cars to freshly swept diner floors all in conclusion of another evening, strumming lonesome in a smoke-filled back-room until the last finger of scotch had been sunk.
Free Four Track EP
MP3: Grandad's Morphine and Wine
MP3: Good Grief
MP3: Born Lucky
MP3: The Violins

Download them all as a zip.
Video: The Violins
Memories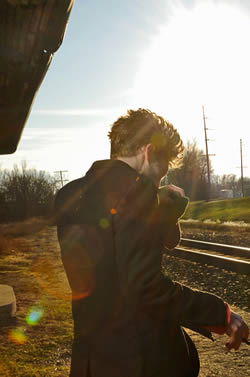 Here are those memories compiled, stretching from his first tentative steps on 2005's Good Grief to 2009's Angels We Have Grown Apart EP.
It's 2007's 'Hide Your Heart In A Hive' that features heaviest on this record, 'All Loves Pilgrims', the gorgeously unrestrained Calexico-toned, 'I've Got It Easy', the creaking and jaunty 'Wicked Was The Way', and the starkly-plucked 'Better To Be Born Lucky' are all lifted and carefully re-laid, evocative tales of love and loathing.
Informed by the imagery of William Faulkner and Flannery O'Connor's Southern prose, Apollo's music also recalls Ennio Morricone's spaghetti-western themes akin to fellow countrymen Giant Sand, all grizzled with a Tom Waitsian fervour, and the lush, warming tones of Roy Orbison.
Born Lucky is a record that sweeps through the emotions, both fleeting and fundamental, that document the bittersweet, cinematic legacy of both Apollo's past, and his ongoing journey – Americana at its most romantically sunset-strewn and desolate.
Buy Album
Amazon UK: Born Lucky
Links