Andrew Vladeck of New York City is releasing not only his EP Passing Knowledge this spring, but a book by the same title. It is also the first edition of the Pocket Songster Series, paying homage to the Pocket Poet Series of San Francisco and through which Beat poet Allen Ginsberg's works were printed. Published by End Up Records and in cooperation with BOOKlyn Artists Alliance the EP is a six track affair of alt-folk, slight tinges of Jeffrey Lewis' anti-folk and Springsteen's Americana guiding it along its ragged dirt track.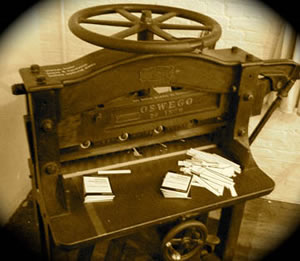 Hurtling down this route are Vladeck's lyric steered songs, which too are presented in this pocket-size book format alongside additional writings – a talent which won him first place in the International Songwriting Competition, judged by none other than Tom Waits and Brian Wilson! In keeping with this theme inspirations for the songs have been drawn from literature, while American writer Will Heinrich bookends Vladeck's short publication with an introduction and epilogue.
Opener 'Living the Dream' proceeds with horn and wind of instrumentation, before a flurry of guitar strums and stream of conscious type description of landscapes captured in the blink of an eye are blurted urgently. While a slide guitar effect to 'Coney Island's' banjo lend its sitar mimic a sinister edge; this similar disarming edge retained for the minor key organ squealing closer 'St Petersburg'. Conversely 'Within Reach' is a slice of sentimental balladry, while the vocal delivery of 'Can't See Why' screams Springsteen. Some intriguing lyrics are embedded within this EP, ("we inhaled pink clouds of the sunset"), which are neatly juxtaposed with observant unadorned language in between. An interesting collection of half-dozen songs whose selling points, despite the praise this writer receives, prick up the ears for the diversity of instrumentation each song features.

Review by: Melanie McGovern
photo credit: Brett Deutsch
Artist Link