Well I hope you all like the new site design, all done in-house. A record store theme seemed to fit the mood of what we're all about. Running a record store has always been a dream it would be the sort of place you could hang out in without hassle and browse and talk music all day and, like the image above, would have the obligatory record store cat. On that theme here is our new playlist insider update!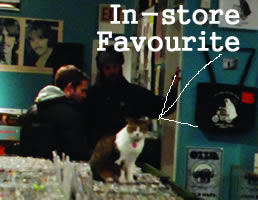 This weeks in-store favourite:
Pepe Belmonte – The Hermit's Waltz. Our album of the week being played on extra heavy rotation (one an hour). Check out our review, video, tracks and more here.
And with some Rough trade inspiration:
On the Counter
This is new stuff that we've got on Heavy Rotation but you may not have heard of yet.
Armistice (EP)
Cocoon – Where The Oceans End
Jeff Pianki – Paper Windows
The Bony King Of Nowhere – Elonore
The Memory Band – Oh My Days
Wes Swing – Wes Swing
On the Wall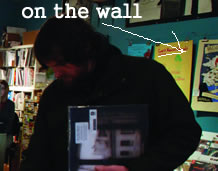 The stuff that's out there…in the press…and you want it!
Mountain Goats – All Eternal Decks
Noah And The Whale – Last Night on Earth
The Decemberists – The King is Dead
William Fitzsimmons – Gold in the Shadow
Unpacking out back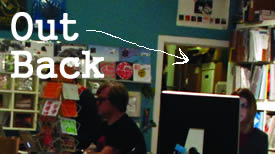 Stuff we're bringing in, more than likely for next week but we occasionally get pissed mid-week, have a party then want to share them early…to note: this list often grows!
* new releases
Alexander – Alexander*
Ben Weaver – Mirepoix and Smoke
Bobby Long – A Winter Tale*
David Dondero – A Pre-existing Condition*
Isbells – Isbells
Stealing Sheep – What If the Lights Went Out*
The Balky Mule – The Length of Rail
The Cave Singers – No Witch*
The Savings and Loan – Today I Need Light
The Son(s) – Space Age Jazz Classics*
and finally, what is she watching on that PC? It isn't stock inventories!
The Decemberists – Rise to Me (from The King is Dead)

Tallest Man on Earth NPR Music Tiny Desk Concert

NPR Music Tiny SXSW Concert: Sea Of Bees

Julie Doiron (two part video) at the Elder Schoolhouse with Fred Squire and Rick White on March 31st 2009.

Keep an eye on the website background as it will change….and if you fancy any of these tracks, please use the Amazon search below…we get a small comission on purchases…or if you're feeling really generous you could make a donation…it's what keeps us going!
Enjoy the tunes