Indiana-based singer-songwriter, Krista Detor returns to Europe this April, playing throughout the month in the UK, Ireland, and the Netherlands. Here, she talks to Mike Wilson about how she came to be a songwriter, how the writing process works for her, and her involvement in the 2009 Darwin Song Project. Krista has also provided a couple of demo tracks exclusively for Folk Radio UK, that you can listen to at the bottom of this article.
Krista Detor is probably a marketing nightmare. Steadfastly refusing all attempts to pigeon-hole her work, she continues resolutely to follow her muse wherever it should lead, producing along the way some of the most satisfying singer-songwriter albums that you are likely to hear. Effortlessly traversing genre boundaries, crafting songs that boast exquisite melodies and arrangements, and thoroughly absorbing lyrics, Krista possesses an assured originality without ever seeming aloof. Indeed there is a genuine warmth and empathy that permeates her work, as she elegantly recounts the drama of the human condition with an intimacy that can quickly carve out a precious place in your heart: it's almost as if she's telling you a story that you've waited to hear all your life, involving characters with whom you've been acquainted all your life.
So, where did it all begin for Krista? 'I have always been a writer of one sort or another; I wrote a little book of poetry when I was nine. I started taking piano lessons when I was seven, and played all the way through my childhood, and then went to university and got a degree in classical piano and performance. From a very young age I was very connected to music and the idea of writing music. I wrote my first ever song when I was fourteen. The first stanza was: "Maybe I'm a watercolour painting in a gallery, done in flowing shades of black and white; Maybe I'm an old man sitting on a park bench, with hands as cold as ice, and ice as black as the very blackest night; and maybe I'm a dream, look closely 'cause I'm never what I seem." I wrote the song and didn't necessarily think it was very good.' Though Krista almost cringes at lyrics that she insists are marred by a typical teenage angst, the poetry and vivid imagery that would feature in her songs as an adult are very much in evidence here, as is the healthy ability to self-criticise that would later provide the driving force behind her relentless mission to be the best writer and musician that she can be. An immersion in music at university would provide further inspiration and the technical ability to build the arrangements in which her lyrics could flourish: 'As soon as I got in to music school something clicked, and in the process of learning about classical composition and the technical aspects of of chord movement, I just started writing songs. I can't tell you how that evolution happened. I've read volumes of poetry in my life; I'm very inspired by poets, I don't consider myself a poet, but that kind of imagery plays in heavily into how I perceive the world and find my musical voice. It all developed pretty organically; there was never a minute where I woke up and said "I'm going to be a songwriter", I just woke up and I was. There was never a question about whether I was a musician; from the time I found the piano I felt connected to it viscerally'.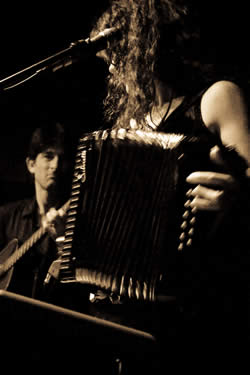 One might conclude from that Krista's eventual emergence as a singer-songwriter and recording artist would be a foregone conclusion, yet the truth is she spent quite a while denying her muse: 'I fought it for years because it's impractical, my family thought it was impractical. I thought the responsible thing to do was to make money, and to go about that within a corporate setting. So, I've worked in commercial real estate, I've owned a restaurant, I've been a legal secretary, a concierge, a caterer; but nothing made me happy, everything made me feel as if I was on the wrong path, doing the wrong thing. For those years I referred to music as "the ball and chain around my ankles": it wouldn't leave me alone'. As one might expect from someone who writes with an undeniably feminine eloquence, it would be the words of a similarly eloquent American woman that would set Krista back on the right track, though she would find this inspiration in the most unlikely of places: 'I was in a bar, and I walked in to the women's room, and on a chalkboard on the wall somebody had written an Eleanor Roosevelt quote: "you must do the thing you think you cannot do". So I thought "I've got a bunch of songs in my head, I'm going to try to record them, I'm going to change everything I'm doing, I'm going to figure out a way to do this". Then a chain of events happened that put me in the right place, at the right time, with the right person: David (Weber), who's now my husband, had a recording studio, was a producer, heard the songs, and knew lots of musicians.'
While many songwriters prefer to keep their art shrouded in mystery, Krista is extremely generous in describing the very personal nature of how she goes about her craft: 'Writing is a very solitary thing for me, I'm by myself all the time if I'm writing. I need to know there's a space in front of me, that nobody will be walking through the door, nobody will be calling me, that there will be no interruption. There has to be extreme solitude. The writing process is an extremely visual thing for me; even if it's a line from a poem that inspires me, I'll see it in a three-dimensional way. A friend of mine said to me about her husband "all our conversations are in doorways, we never see each other", and this gave me an instant snapshot in my head. I could see these people brushing hands as they each went in different directions through a doorway, which sparked a song; I literally said "I have to go now, and go write the song". It's almost always this way, just purely an inspiration'. There are colourful characters aplenty with whom to acquaint oneself throughout Krista's lyrics. Often occupying the margins of society, or the hidden intimacies of relationships, these are carefully studied characters who peer out from behind the lyrics, fuelled by an intuitive grasp of life and genuine emotions. Krista explains: 'I find writing out of character, away from my own experience, in someone else's shoes, to be a freer creative experience, because it forces me to have objectivity about the character I'm writing and therefore I think sometimes makes the subject matter more universal than if I'm writing about what's happening to me and my life.' The inspiration that Krista draws on to flood these characters with life can be traced back to a childhood filled with theatrical encounters: 'We lived in Los Angeles and my mother took me to every major theatre: The Ahmanson, The Dorothy Chandler Pavilion, The Mark Taper Forum; she had tickets to all of them. I saw Lena Horne in "Pal Joey", saw Patty Lupone in "Evita", Anthony Hopkins in Shakespeare's "The Tempest", and Richard Harris in "Camelot", and this really influenced the character writing that I tend to do'.
In 2009, Krista was invited to take part in the Darwin Song Project, an ambitious project to mark the bi-centennial of the birth of Charles Darwin, organised by the Shrewsbury Folk Festival. Given her stated preference for inspiration that owes more to an impulsive thought process, and particularly her need for solitude, one can appreciate how alien the concept of this project might have been to Krista: 'To me, given subject matter: "here's Charles Darwin, here's his history, here's his life, take a look… now, get inspired". This was just tragic for me in the beginning, it's just not the way it works for me. I'm in this house with seven other songwriters, with music in every room, and I knew I would not be able to do it, and I was crumbling at the seams by about day two. So I walked out to the old railroad bridge by the house where we were staying, to just get solitude. I was looking at the bridge and down the path thinking "this is just like the railroads I've seen in the South, in Louisiana" and I followed that line of thought, and in my minds eye I followed the rail down to a porch, and there was an old woman sitting in a rocking chair, and she said "no man is going to make a monkey out of me". So there it was, "Dear Mr Darwin", the whole song out in half an hour; I was just thrilled'. Having grasped these fleeting moments of solitude, Krista was able to rely on a grasp of the subject matter that was tenaciously metaphysical, and this was strongly evidenced on the wonderfully emotive "Emma's Lullaby": 'I got to the foot of the driveway, and as I was walking in to the house, the sun was just setting over the back of the house and the light had changed, and there was Emma Darwin, and she said "Charles, the light is soft tonight", and I just followed that line and stood there, and the sound of her talking to him about their child who had died just hit me like a wave. The whole piece was written standing on the end of the driveway in about ten minutes. It's very visual for me, it does feel in a way that a portal opens to somewhere else; it's like you're a conduit that a song comes through. I can't take full credit for "Emma's Lullaby", it's language I don't use, it's not the way I think. It can feel very other-worldly'.
Having fought to find her way in music, it seems that Krista isn't prepared to take this gift for granted, investing time and effort in seeking out inspiration and alternative means of approaching her work: 'I do other things to spark the creative impulse: I belong to a prose writing group, I blog every day. I also belong to a songwriting group, and there are things that we do to spark the impulses: we bring prompts in; such as "write out of genre", "write about food", or "bring in a single line of poetry", "open up the dictionary and point at a word". We have to come back with a piece of writing that meets the prompts; it feels like a homework assignment sometimes, but if you force yourself to do it, it opens up avenues that you don't ordinarily or readily access. Maybe somebody will bring in a snapshot and say "write in your voice from when you were five years old" and some of these things, if your childhood was not all bunnies and tulips, can be really challenging. When I'm really stuck, occasionally I'll listen to some music that is miles away from what I do, like some latin music, Italian cafe music, or old music from the 1920s. I'll really force myself to think outside of the box for a while. I've finally got to the point where I realise that if I hit a dry spell, it doesn't mean that I'll never write another song'.
One aspect of Krista's work that frequently stands out is the bold, eccentric imagery that adorns her album covers, being every bit as ethereal as the music that lies within. This is no accident, and Krista's use of the Canadian artist Hugh Syme, only serves to accentuate the statements made by her music: 'He listens to the rough cuts of the album and then puts his visual take on it. It's always a little on the surreal side, and that is really in line with my sensibilities. Some of my favourite authors and poets are the Spanish and Mexican surrealists: everything's bigger than life; such a vast array of colour and sound in their writing'. And with this final thought Krista perfectly sums up the very attraction of her own work: the larger than life characters occupying expansive, imaginatively detailed vistas, take their place alongside the meek and mild who find solace in the ebbs and flows of their personal reveries.
Krista also shares with Folk Radio UK two exclusive demo tracks: 'I wrote "As Interesting As You" about ten years ago, about a friend who was obsessed with an alcoholic intellectual wannabe, and a little about myself, always looking for 'Mr. Perfect'. "Nightshade" was written in 2004, about ruminating over the stupidity of things we've said or done – things we regret, wish to God we could undo – and then mistakenly assume the rest of the world feels as strongly about our actions as we do. The funny human paradox of seeing ourselves as either slightly more important or conversely slightly more messed up than everybody else'.
Exclusive Demo Tracks

Tour Dates
April 2011
Fri 1. The Spring Arts & Heritage Centre, East Street, Havant, Hampshire, PO9 1BS
Tel: 02392 472700 Tickets £12.50 – From 8.00 p.m. www.thespring.co.uk
Sat 2. The Bronte Music Club, Rathfriland, Co Down, Northern Ireland.
Tel: 028 4062 3322 £12.00 – From 7.30 p.m. http://www.brontemusicclub.com
Sun 3. Tobar Mhuire Monastry, Crossgar, Downpatrick, Co. Down BT 30 9EA
Tel: 02844 830242 Tickets £20.00 (Ticket is donation to rebuilding fund) – From 6.30 p.m. www.tobarmhuirecrossgar.com
Tue 5. Whelans, 25 Wexford St, Dublin 2, Co. Dublin, Ireland
Tel: 00 353 1 4780766 Tickets € 0.00 — From www.whelanslive.com
Wed 6. The Real Music Club @ the Errigle Inn, 312-320, Ormeau Rd, Belfast, County Antrim BT7 2GE
Tel: 028 9064 1410 Tickets £10.00 Doors 8.00 Show at 9.00 p.m. www.realmusicclub.com
Thu 7. The Green Note, 106 Parkway, London, NW1 7AN
Tel: 020 7485 9899 Tickets £8.00 – From 7.00 p.m. www.greennote.co.uk
Advance Bookings via www.wegottickets.com/event/104762
Fri 8. Theatre Severn, Frankwell Quay, Shrewsbury, Shropshire, SY3 8FT
Box Office: 01743 281281 Tickets £15.00 — From 7.30 p.m. www.theatresevern.co.uk
Sat 9. Radcliffe Centre, Church Street, Buckingham, MK18 1EG
Tel 01296 748268 Tickets Adv £12.00 Door £14.00 – From 7.00 p.m.
www.wegottickets.com/event/106603
Fri 29. Ashover Village Hall, Milken Lane, Ashover, Chesterfield, S45 OBA
Tel: 01623 812739 or 01246 862681 Tickets £0.00 – From 8.00 p.m.
E-mail: tickets@xelipromotions.co.uk
More information about Krista's music and her European tour dates can be found on her website: http://www.kristadetor.com/