I've got three books on my top list that come highly recommended. The first one I intend to get completely lost in with ale and mincepies over Christmas: Seasons They Change: The Story of Acid and Psychedelic Folk
Here's a bit on each:

Seasons They Change: The Story of Acid and Psychedelic Folk
Greg Weeks of Espers (Foreword), Jeanette Leech (Author)
In the late 60s and early 70s the inherent weirdness of folk met switched-on psychedelic rock and gave birth to new, strange forms of acoustic-based avant garde music. Artists on both sides of the Atlantic, including The Incredible String Band, Vashti Bunyan, Pearls Before Swine and Comus, combined sweet melancholy and modal melody with shape-shifting experimentation to create sounds of unsettling oddness that sometimes go under the name acid or psych folk. A few of these artists – notably the String Band, who actually made it to Woodstock – achieved mainstream success, while others remained resolutely entrenched underground. But by the mid-70s even the bigger artists found sales dwindling, and this peculiar hybrid musical genre fell profoundly out of favour. For 30 years it languished in obscurity, apparently beyond the reaches of cultural reassessment, until, in the mid-2000s a new generation of artists collectively tagged 'New Weird America' and spearheaded by Devendra Banhart, Espers and Joanna Newsom rediscovered acid and psych folk, revered it and from it, created something new. Thanks partly to this new movement, many original acid and psych folk artists have re-emerged, and original copies of rare albums command high prices. Meanwhile, both Britain and America are home to intensely innovative artists continuing the tradition of delving simultaneously into contemporary and traditional styles to create something unique. "Seasons They Change" tells the story of the birth, death and resurrection of acid and psych folk. It explores the careers of the original wave of artists and their contemporary equivalents, finding connections between both periods, and uncovering a previously hidden narrative of musical adventure.
About the Author
Jeanette Leech is a writer, researcher, DJ and music historian.She writes regularly for Shindig! magazine, and as part of the B-Music collective she has DJ'd throughout the UK, including at the female acid folk events known as 'Bearded Ladies' and the Green Man Festival.
Buy from Amazon: Seasons They Change: The Story of Acid and Psychedelic Folk
Electric Eden: Unearthing Britain's Visionary Music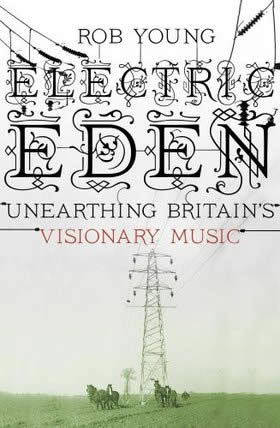 'A passionately researched, carefully written and compulsively readable map of the leys and songlines of an oral culture with its roots in pre-Roman times and its branches in the charts … Young s grasp of context is enviable, his knowledge encyclopaedic … Electric Eden constructs a new mythography out of old threads, making antiquity glow with an eerie hue. It can sit proudly on any bookshelf beside Alan Lomax s The Land Where Blues Began, Greil Marcus s Invisible Republic, Nick Tosches Where Dead Voices Gather or Jon Savage s England s Dreaming. If Mr Young never writes another word, he can count this epic book as the fruit of a beautiful labour.' –Peter Murphy, Sunday Business Post
Beginning with a striking riff on how music and image open up wormholes into past times, Electric Eden joins a multiplicity of dots. Moving from the folk revival of the early 20th century onto what the author calls Albion-centric, historically resonant folk-rock of the 60s and 70s, music fans will enjoy comprehensive analyses of Fairport Convention, Comus, Nick Drake and many others. Where Young takes more esoteric flight is when he convincingly works such disparate concepts as the free festival scene, Bagpuss and The Wicker Man into his meditations on an agrarian past that survives in the imagination. Fascinating. –Ian Harrison, Q Magazine
Stunning … The thread of mapping modern instruments on to traditional folk tunes leads Young from Peter Warlock to Bert Jansch, Steeleye Span and the Aphex Twin, via the bucolic psychedelia of the Incredible String Band, the Beatles and Pink Floyd. This is no easy path to navigate but Young rarely wavers. –Bob Stanley, Sunday Times
'A comprehensive and absorbing exploration of Britain's folk music, which serves, too, as a robust defence of the genre … What [folk music] emerges as, in this impassioned and infectious rallying cry of a book, is a musical tradition that is about so much more than morris dancing and a determination to hold onto the past. Folk, be it traditional, mystical, mythical, radical or experimental, is a living, breathing form, Young believes. It is everywhere, in all the music we hear, in every song we sing. Electric Eden defies you to disagree.' –Dan Cairns, Sunday Times
'Hugely ambitious … What keeps it consistently readable is the happy marriage between Young s incisive observation and his talent for a vivid phrase … A thoroughly enjoyable read and likely to remain the best-written overview [of the modern British folk phenomenon] for a long time … I ve already made several precious musical discoveries thanks to this book and I expect to make more.' –Michel Faber, Guardian Book of the Week
Buy from Amazon: Electric Eden: Unearthing Britain's Visionary Music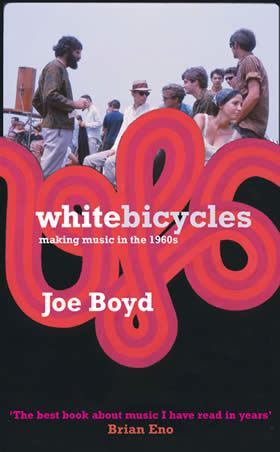 White Bicycles: Making Music in the 1960s
White Bicycles – Making Music in the 1960s is the memoir of music producer Joe Boyd. It is published by Serpent's Tail. A companion CD of music he had brought to the public in the 1960s and associated with the book was published by Fledg'ling Records at the same time.
When Muddy Waters came to London at the start of the 60s, a kid from Boston called Joe Boyd was his tour manager; when Bob Dylan went electric at the Newport Festival, Joe Boyd was plugging in his guitar; when the summer of love got going, Joe Boyd was running the coolest club in London, the UFO; when a bunch of club regulars called Pink Floyd recorded their first single, Joe Boyd was the producer; when a young songwriter named Nick Drake wanted to give his demo tape to someone, he chose Joe Boyd. When, 35 years after it was recorded, "Just Another Diamond Day" by Vashti Bunyan came to the publics attention it was found that he had produced it.
His greatest coup is bringing to life the famously elusive figure of Nick Drake – the first time he's been written about by anyone who knew him well. As well as the 60s heavy-hitters, this book also offers wonderfully vivid portraits of a whole host of other musicians: everyone from the great jazzman Coleman Hawkins to the folk diva Sandy Denny, Lonnie Johnson to Eric Clapton, The Incredible String Band to Fairport Convention.
Buy from Amazon: White Bicycles: Making Music in the 1960s