James Yorkston has relased a book titled: It's Lovely to be Here The Touring Diaries of a Scottish Gent. As the title suggests, it's a book of tour diaries and if anyone read Jame's example of tour writing in the first edition of Loops, then you know it'll be fun. Here's what some nice folk have said about it:
Rob Da bank
'I've loved James' music for years now and booked him repeatedly for my festivals so what a joy to have a book by the man. His laidback prose is like having a conversation with an old chum sat by the fire nursing a wee dram on a windy night on some slightly desolate Scottish island. My kinda night out so thanks for the writing James!'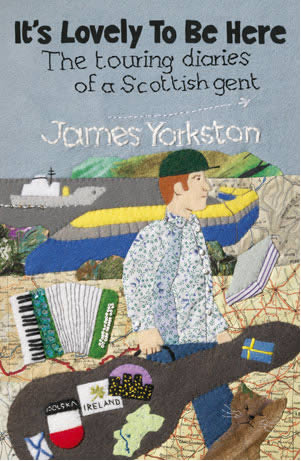 Johnny "Pictish Trail" Lynch
Reading a tour diary whilst being on tour is an unusual experience, to say the least.  The claustrophobic hotel rooms, the dark fug of perpetual hangovers, the unintentional / intentional moments of rudeness to complete strangers.    JY's diaries capture all this – and play out like Larry David trapped in Lost In Translation.  In other words, utterly hilarious!  I laughed, I winced, I sucked in through my teeth, I drank, I winced some more, and I drank some more. Braw as a craw!
James Barton
A beautiful book about being on the road: brilliantly funny, unsentimentally poignant and shot through with the clear-eyed honesty that James Yorkston brings to his music-making. It's Lovely To Be Here is, quite simply, unmissable.
David Shrigley
I wouldn't have imagined that the unglamorous reality of the tour bus, the antithesis of the rock-star lifestyle, would make for good reading. Yet this book succeeds in being both very readable and hugely enjoyable; full of poetic humour and honesty.
Here he is reading an extract:
[audio:http://c0028366.cdn1.cloudfiles.rackspacecloud.com/lovely_to_be_here_excerpt.mp3|titles=Book Extract|artists=James Yorkston]
Jame's informs us:
I'll be on the road to promote it next year. The Luminaire Christmas show sold out a few weeks ago, but fear not London folk, for another London show is built into this tour:
26th January: Glasgow Celtic Connections: 'Conversation Pieces' 12pm – 1pm, Ian Anderson interviewing JY live for Celtic Music Radio. Free event, Exhibition hall of The Royal Concert Halls – www.celticconnections.com
26th January: Glasgow Celtic Connections: 7pm – James Yorkston performing live at The Recital Room at Glasgow City Halls, Glasgow – www.celticconnections.com
3rd February: Berwick upon tweed, The Maltings Theatre & Cinema – www.maltingsberwick.co.uk/booking
5th February: Thirsk, The Old Courthouse – www.inthedock.net
11th February: Edinburgh, Old St Paul's Church Hall – www.wegottickets.com
16th February: Manchester Deaf Institute – www.ticketline.co.uk
17th February: Wakefield Henry Boons – www.wegottickets.com
19th February: Birmingham Midlands Arts Centre – www.macarts.co.uk
20th February: Cambridge The Junction – www.junction.co.uk
21st February: Norwich Norwich Arts Centre – www.norwichartscentre.co.uk
22nd February: Brighton Brighton Ballroom – www.ticketweb.co.uk
23rd February: London St Giles Church – www.ticketweb.co.uk
At these shows, I'll be playing solo, doing old songs and new and some readings from the book. I'm hoping they're going to be a lot of fun.