Lizzie Nunnery, from Maghull in Merseyside,  has two EP releases under her belt and a string of successful live appearances. Her debut album Company Of Ghosts, released on Fellside Records, provides even more evidence of her performing and song writing prowess.
I'm always glad to hear a regional accent in a singing voice and Lizzie's is an asset from the first line, as is her distinctive vocal style. In the opening track, England Loves A Poor Boy, strings build on the atmosphere provided by an attention grabbing military snare drum. But very soon it's clear there's more to this work than clever production, as the artist's song writing talent comes to the fore.
Inspired by the true story of Ernest Marke from Sierra Leone, a man recruited to the British Navy in WW1 then abandoned by the empire he was encouraged to fight for. This is a powerful piece that highlights issues of race, power and class.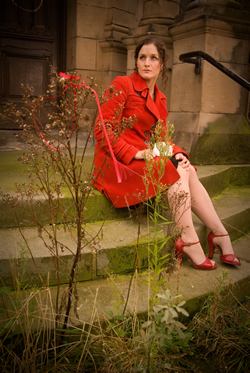 In Hungry, Lizzie's striking vocals take command of the song from the outset, with the instrumentation playing more of a supportive role (with consummate skill, nonetheless). 'We go hungry to bed' could just as easily be the beginning of a story, as the end of a chorus.
The title  track, Company of Ghosts should leave the listener with no room for questions about the strength of Lizzie's poetry.  'A refuse of cats on the windowsill / A wane of a whine to an embarrassed moon' (it's impossible to choose a favourite quote). The bulk of this song is delivered as a poem which drifts into a gentle jazz tempo for the chorus. A short, sad tale of the return of fathers, husbands, lovers from war – or, more accurately, their failure to return.
In Exit Signs, the soft acoustic feel continues with a lament for those lost in a life of bad gigs in worse venues. 'You bastards don't know the difference / If I'm in tune or passing out'
If you've been there, I'm sure you'll know exactly what she means.
Can't Sleep, with it's relentless industrial rhythm (further evidence of the clever atmospheric use of percussion on the album) provides some gentle musings on city life. The city being Liverpool. This is followed by On His 60th Birthday – A metronomic observation of passing time and life's regrets where minimal instrumentation allows the listener to drift off and enjoy the wonders of Lizzie's vocals.
Pubs That Never Close is one of the strongest songs on the album, not least because of some of the striking imagery in its lyrics. 'Let's all drag these high heels home / Fighting back the lows'. It's late nights and drunken fights – the realism makes you almost want to hear her slur the vocals.
In a more traditional vein, The Sleepers is based on a hundred year old ballad Lizzie discovered, in which an old sailor envies his fallen shipmates their watery graves. It's a sad and heart-wrenching song that, once again, provides an ideal vehicle for Lizzie's plaintive vocals. Take care if you're of a empathetic nature, this one's a tear jerker… but never mind, First Time Lucky comes right back at you with a cheery ukulele skiffle that will get your foot tapping and have calling yourself a soppy old so and so in seconds.
Lizzie wrote Don't Dream Of Me at seventeen, further evidence that, although young, her writing skills have been at work for some time. Concertina may well have been written at a similarly young age. I'm unsure whether this song's is about a respected elder or a heavenly body, but it's enjoyable  and relaxing. We've heard Lizzie play the ukulele on one or two tracks already, on this outing her playing exudes confidence and the song is all the stronger for it.
I'm sure I must have heard a good many albums that close with a lullaby. Lullaby for Alice succeeds in bringing a thought provoking collection of songs to a gentle close.
There's more than good delivery here. Musically, the album is accomplished and impressive. Lyrically, this album shines. Every song feels like a work of poetry, with observational and imaginative skills that compare favourably with those of Karine Polwart, one of the most accomplished songwriters of our day.
Lizzie can't take all the credit though. The album has been expertly produced by Wave Machines' Vidar Norheim, whose influence as producer and also musician and co-composer on eight tracks, is unmistakable and invaluable.
Company of Ghosts is a surprising debut release – surprising because Lizzie is clearly an accomplished and gifted performer. Despite the undoubted strength of her poetry and the contrasting gentle, plaintive voice, it's clear Lizzie Nunnery is no sheltered academic. She writes about real life with sincerity, from a living perspective, drawing on her own experiences and of those around her. This is a fine debut.
Buy CD from Amazon UK
|