Following up 2007's debut Hopey; Rhode Island based Allysen Callery released her second album Hobgoblin's Hat in February this year. The LP's title tips its hat to Finnish author Tove Jansson, of Moomins fame, who happens to be one of Callery's favourites.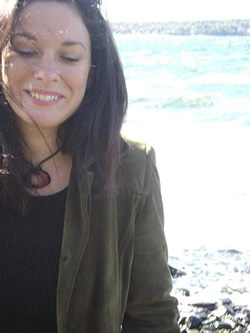 In keeping with this fairytale Moominland her songs are a collectively dark form of storytelling, with the singer songwriter often reworking her self-written poetry ("Vincenzo Part 1 & 2"). With a distinctive vocal and something almost English in her annunciations, this record is a pleasantly haunting listen. Her gently finger plucked classical guitar, although perhaps unconventional in the folk realm manages to retain an earthy vibe thanks to Brendan Whipple on upright bass, while Myles Baer's unobtrusive electric guitar adds to the often eerie atmosphere.
The title track is beautifully melancholic; recalling childhood games, imagination, discoveries and changes. Utterly otherworldly its sublime descriptions paint an image of dusky summer evenings in the countryside, with such vibrant lyricisms 'the drawing room became a jungle where I was a tiger' adding colour to the often black pitch of night-time that the scores evoke. While initially her style may not be markedly different from other folk artists working today it is in her lyrics that she proves to be worthy of the title "the Tim Burton of folk", given to her by John O'Hara.
The album is a tiny opening into an unknown world, snippets of almost macabre lyrics that seep through the instrumentation like the moonlight through rushes. "Button Boots" 'stiff as a board/light as a feather' obviously alluding to witchcraft, where in "Jack Jumps Back" 'bruised by the blush it was a rush of blood' is a double edged image, innocent romance holding darker connotations.
Marissa Nadler and Hope Sandoval are both strong vocal comparisons, and through channelling these Callery's voice becomes both compelling and transfixing – in this sense Hobgoblin's Hat is certainly an album to lose yourself in…if only for half an hour.